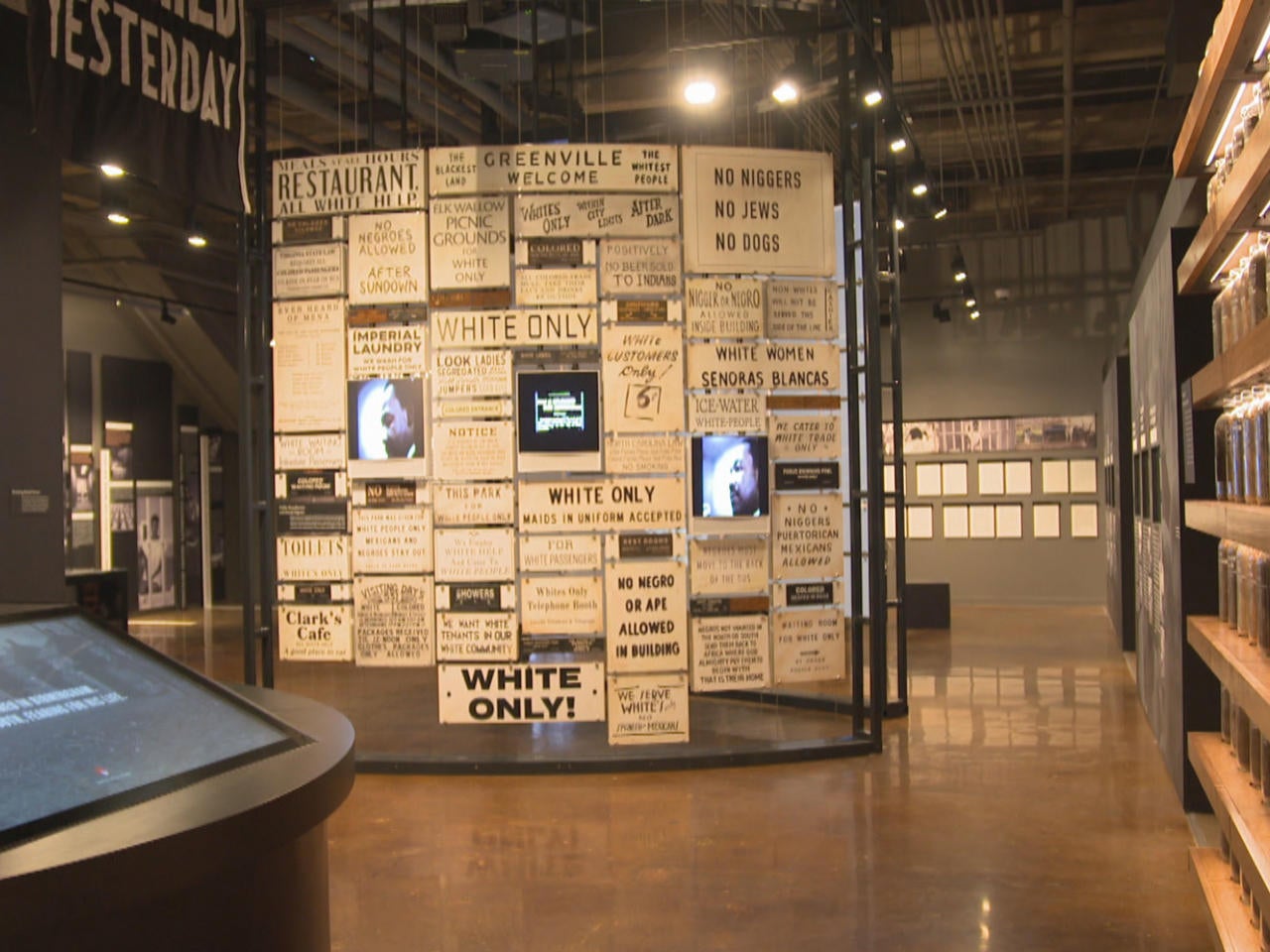 Exonerated death row inmate tells his story at Legacy Museum
Despite his innocence, Anthony Ray Hinton lingered on death row for nearly 30 years for crimes he did not commit. "If God hadn't intervened and sent me his best lawyer, within two years I would have gotten an execution date," Hinton said.
His attorney, Bryan Stevenson, said even the prison guards believed he was innocent: "When I would get out of my car and start walking to the prison, guards would start pulling me aside: 'When you gonna get Ray out? How can I help?' They believed he was innocent. They knew that he was innocent."
Stevenson spent 16 years fighting to free Hinton. He says that out of all of the clients he's represented, Hinton has inspired him the most.
Hinton tells his story at the Legacy Museum, created by Stevenson, in Montgomery, Alabama.
The museum uses first-person narratives to chronicle racial injustice, from enslavement to mass incarceration.
"The theory behind this space is really the evolution of slavery," Stevenson told CBS News correspondent Michelle Miller. "Slavery then becomes lynching. And lynching becomes codified segregation. And now we're in an era of mass incarceration, where we're still indifferent to the plight of people of color."
No country incarcerates more people than the United States. Out of those on death row, 41 percent are black.
The Equal Justice Initiative estimates that 1 out 10 of those sentenced to death are innocent.
It's a reality that Hinton has experienced first-hand.
Hinton recalled the words of the detectives who arrested him when he was falsely identified for the murders of two fast-food workers in 1985: "He said, 'There's five things that gonna convict you. Would you like to know what they are?' I said, 'Yes.'
"He said, 'Number one, you're black. Number two, a white man is gonna say you shot him, whether you shot him or not. Believe me, I don't care.
"'Number three, you gonna have a white prosecutor. Number four, you gonna have a white judge. And number five, more than likely you're gonna have an all-white jury. Do you know what that spell?' And he repeated the word, 'Conviction, conviction, conviction, conviction, conviction.'"
Stevenson took on his case 15 years later, discovering a botched defense, mishandled evidence, and a refusal by Alabama's highest court to admit a mistake had been made in the trial.
But in 2015, the U.S. Supreme Court recognized the injustice -- ruling unanimously to exonerate Hinton.
His story, and others like it, are the last stop on the museum's journey.
Miller asked, "Why was it so important that Anthony Ray Hinton's story be part of this museum?"
"Because you can't understand this history without understanding what we're doing to people like Anthony Ray Hinton," Stevenson said. "If we had confronted the legacy of slavery, if we had confronted the ideology of white supremacy and the narrative of racial difference at the end of the Civil War, Anthony Ray Hinton wouldn't have ended up on death row. If we had put down the signs that said 'Segregation forever' not just in our minds but in our hearts, we wouldn't have put that man on death row for 30 years.
"But because we didn't, we have a system of justice now where there are thousands of Anthony Ray Hintons still languishing in jails and prisons."
There are nearly 3,000 people currently on death row. Hinton lists each by name at the end of his new memoir, "The Sun Does Shine." He knows not all of them are innocent, but says they all deserve humanity.
"I want people to realize that we can teach hate, but we also can teach love," Hinton said. "So, as I look around this museum, I see lynching, a man that was lynched for nothing but the color of his skin. It's sad. But they died for a reason. And sometimes some of us have to pay a bigger price than others. And if that price for me [was] to spend 30 years in that 5' by 7' pure hell every day, so be it."
In 2016, Hinton told CBS News' Scott Pelley that he had not received any compensation, or an apology, from the State of Alabama. He informed "CBS This Morning" that that is still the case, three years after his release.
Thanks for reading CBS NEWS.
Create your free account or log in
for more features.