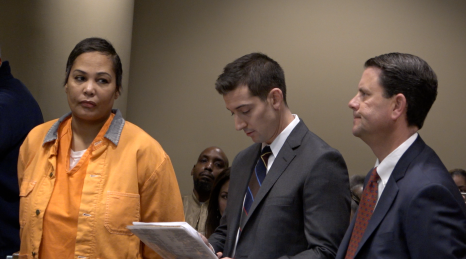 Ex-wife of slain NBA player Lorenzen Wright faces murder charge in court
MEMPHIS, Tenn. -- Former NBA player Lorenzen Wright's ex-wife has made her first court appearance since she was extradited from California to face charges in his shooting death.
News outlets say Judge Lee Coffee read charges against Sherra Wright during her Thursday arraignment in Memphis - first-degree murder, conspiracy to commit first-degree murder and attempted first-degree murder.
Two lawyers who appeared with her said they needed more time to finalize their hiring. Coffee set a Feb. 26 hearing date.
Sherra Wright was arrested in December in Riverside County, California, more than seven years after Lorenzen Wright's decomposing body was found in a suburban Memphis field. He was missing for 10 days before his body was found on July 28, 2010.
An indictment returned by the grand jury alleges that Sherra Wright conspired with a co-defendant, Billy R. Turner, and killed Lorenzen Wright with premeditation sometime between July 17, 2010 and July 20, 2010, reports CBS affiliate WREG.
Lorenzen Wright was shot multiple times. The seven-year investigation into his death has been one of the Memphis Police Department's most high-profile unsolved cases.
Turner was indicted on a first-degree murder charge Dec. 5 in Wright's death. He has pleaded not guilty. Media reports have said Turner, a landscaper, and Sherra Wright attended the same church. Memphis Police Director Michael Rallings wouldn't comment last month on the connection between Turner and Wright, but he said police were confident they knew each other.
Police said in November that they had found a gun used in the killing in a lake near Walnut, Mississippi, about 75 miles east of Memphis.
"The weapon was key," Rallings said.
Rallings said police are looking at other people in the investigation.
Sherra Wright received $1 million from her ex-husband's life insurance policy. She agreed to a settlement in 2014 in a court dispute over how she spent the insurance money meant to benefit their six children, The Commercial Appeal has reported.
Born and raised in Memphis, Lorenzen Wright was a fan favorite thanks to his charity work with youth and his father's involvement as a coach in summer leagues. Former NBA players and friends including Anfernee Hardaway and Elliot Perry attended a memorial service for Wright in the days after his body was found.
Sherra Wright spoke with police after her ex-husband's body was found. According to an affidavit, Sherra Wright told police she saw him leave her home carrying money and a box of drugs on July 18, 2010.
Before he left, Sherra Wright said she overheard her ex-husband on the telephone telling someone that he was going to "flip something for $110,000," the document said.
Sherra Wright said Lorenzen Wright left her home in a car with a person she could not identify.
In the early morning of July 19, a police dispatcher in the suburb of Germantown received a call from Wright's cellphone. Dispatchers acknowledged they heard noises like gunshots before the call was dropped.
Dispatchers said they didn't alert patrol officers or commanders because they couldn't confirm it came from their jurisdiction. They didn't send a patrol officer or relay the information to Memphis police until days later.
Wright's mother filed a missing-person report with Collierville police on July 22, 2010. Authorities in Collierville were accused of dragging their feet in the days after the report was filed, and an apparent lack of communication kept authorities from linking the 911 call to the missing-person report.
Wright's body was found in a field near some woods at the height of summer, complicating the investigation because evidence had likely deteriorated in the heat. An autopsy report showed bullet fragments were lodged in Wright's skull, chest and right forearm.
If convicted, Sherra Wright could face life in prison, life in prison without parole, or the death penalty, reports WREG. The state has not indicated which they will be seeking.
Thanks for reading CBS NEWS.
Create your free account or log in
for more features.