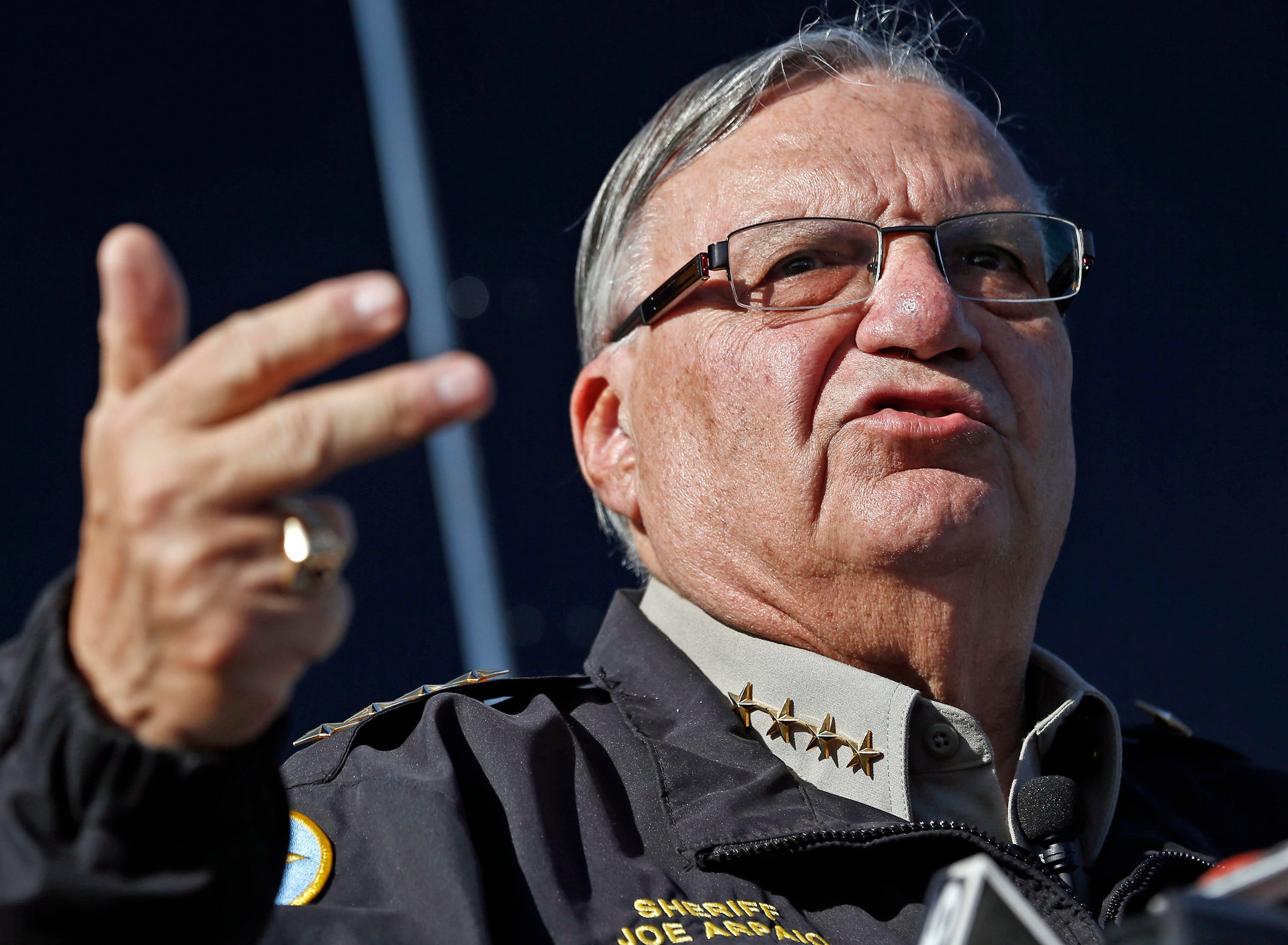 Ex-Sheriff Joe Arpaio, pardoned by Trump, plans to run for Senate
Former Sheriff Joe Arpaio, who was pardoned by President Trump over the summer after being convicted for defying a judge's order, plans to run for Senate in Arizona.
The Republican tweeted about his bid Tuesday, linking to a story about it by The Washington Examiner.
"I have a lot to offer. I'm a big supporter of President Trump," Arpaio told the conservative-leaning newspaper in a phone interview. "I'm going to have to work hard; you don't take anything for granted. But I would not being doing this if I thought that I could not win. I'm not here to get my name in the paper, I get that everyday, anyway."
He is running for the seat held by Sen. Jeff Flake, R-Arizona, who announced in October that he would not seek re-election.
Arpaio was convicted in July for contempt after he ignored an order to end traffic patrols that targeted immigrants. A federal court said that the traffic stops to find undocumented immigrants amounted to racial profiling.
He served as Maricopa County sheriff in Arizona between 1993 and 2017. He once flirted with his own gubernatorial run, and has called himself "America's toughest sheriff." In 2014, dozens of inmates in his Arizona jail were put on a diet of bread and water for desecrating U.S. flags that hung in each cell.
He told the Examiner that serving in the Senate would be a different job.
"Being a U.S. senator is a little different than being the sheriff, because you can do a lot of things in the U.S. Senate, and I have many plans, believe me. It's tough. It's a tough decision. But, if you're going to come across that border, you should be arrested and get the consequences of it," Arpaio said.
Rep. Martha McSally, R-Arizona, is expected to run for the seat. Dr. Kelli Ward, a conservative activist who attempted to defeat Sen. John McCain in a 2016 primary, is also running in the GOP primary as well.
Thanks for reading CBS NEWS.
Create your free account or log in
for more features.