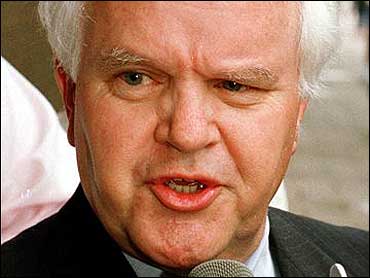 Ex-Lawmaker Charged With Indecent Exposure
A former U.S. congressman from Pennsylvania was accused Wednesday of exposing himself to at least two women at a Florida beach resort.
Joseph M. McDade, 75, was issued a summons on a charge of "exposure of sexual organs," a misdemeanor that carries up to a year in jail and a $1,000 fine.
A court date was not immediately set.
Calls to McDade's Fairfax, Va., home and at the Washington lobbying firm where he works were not immediately returned.
McDade was seen "masturbating on the beach and by the pool area of the hotel" by three witnesses on one day last month, according to police reports.
The Naples (Fla.) News reports that three police complainants detailed similar scenarios. The first witness said she saw McDade masturbating 10 to 15 feet away from her. The second said McDade followed his wife from the beach while masturbating, while the third said McDade watched her leave her lawn chair at the beach, and proceeded to follow her while masturbating, according to reports.
The third witness "thought Mr. McDade was a mental patient," according to reports.
McDade, a Republican, served in the House of Representatives from 1963 to 1999. He did not seek re-election in 1998.
He was the longest-serving Republican in the House when he was indicted in 1992 on charges he accepted gifts from defense companies in exchange for helping them win lucrative contracts.
He was cleared by a federal jury in August 1996, but not before losing the opportunity to become chairman of the House Appropriations Committee when Republicans won the congressional majority in 1994.
Thanks for reading CBS NEWS.
Create your free account or log in
for more features.