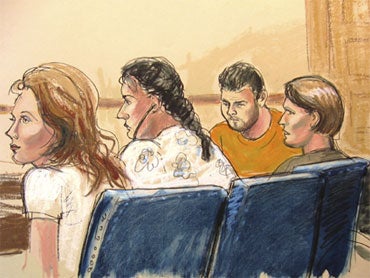 Ex-KGB: Russia May Have 50 Spy Couples in U.S.
Updated 9:49 a.m. ET
One of the Cold War's most famous defectors said Tuesday that Russia may have as many as 50 deep-cover couples spying inside the United States.
Oleg Gordievsky, a former deputy head of the KGB in London who defected in 1985, said Russian President Dmitry Medvedev would know the number of illegal operatives in each target country.
The 71-year-old ex-double agent told The Associated Press that, based on his experience in Russian intelligence, he estimates that Moscow likely has 40 to 50 couples operating under cover in the U.S.
"For the KGB, there's usually 40 to 50 couples, all illegal," said Gordievsky, who defected to Britain after supplying information during the Cold War to the U.K.'s MI6 overseas spy agency.
Gordievsky said he spent nine years working in the KGB directorate in charge of illegal spy teams.
"The president will know the number, and in each country how many - but not their names," Gordievsky said.
The FBI announced Monday the arrests of 10 alleged deep cover Russian agents after tracking the suspects for years. They are accused of attempting to infiltrate U.S. policymaking circles while posing as ordinary citizens. All 10 are charged with conspiracy to act as an agent of a foreign government without notifying the U.S. attorney general - an offense that carries a maximum penalty of five years in prison.
An 11th person allegedly involved in the Russian spy ring was arrested Tuesday in Cyprus.
Some of the alleged spy tradecraft was high-tech, with secret messages encrypted inside pictures on publicly-available web sites and others sent in scrambled radio transmissions, reports CBS News correspondent Bob Orr. Money and information was often passed in personal meetings, with the suspects and their handlers speaking in code.
Not all of the payoffs involved face-to-face contact. In one case, the court papers said, suspects allegedly buried a packet of money that was dug up two years later by other clandestine Russian agents, reports Orr.
There was no clue in the court papers unsealed Monday about how successful the agents had been, but they were alleged to have been long-term, deep cover spies. Among them were four couples living in suburbs of New York, Washington and Boston. One woman was a reporter and editor for a prominent Spanish-language newspaper in New York whom the FBI says it videotaped contacting a Russian official in 2000 in Latin America.
Photos: Meet the Alleged Russian Spies
Were the Russian Spies a Threat to National Security?
Accused Russian Spy a "Practiced Deceiver"
Russian Spy Arrests and Burger Diplomacy
Who Did the Alleged Spies Work For?
Countries often have a number of intelligence officials whose identities are declared to their host nation, usually working in embassies, trade delegations and other official posts.
Gordievsky said he estimates there are 400 declared Russian intelligence officers in the U.S., and likely 40 to 50 couples charged with covertly cultivating military and diplomat officials as sources of information.
He said the complexity involved in training and running undercover teams means Russia is unlikely to have significantly more operatives than during his career.
"I understand the resources they have, and how many people they can train and send to other countries," Gordievsky said. "It is possible there may be more now, but not many more, and no more than 60."
The ex-KGB official said deep cover spies often fail to deliver better intelligence than their colleagues who work in the open.
"They are supposed to be the vanguard of Russian intelligence," Gordievsky said. "But what they are really doing is nothing, they just sit at home in Britain, France and the U.S."
He said undercover operatives may report to Russia once or twice a year, but otherwise work largely without any support network.
"The illegals don't have the support of the office behind them, and they are very timid as a result, so they don't produce a lot," Gordievsky said.
In Britain, the case stirred memories of the country's own illegal Soviet spy - Melita Norwood, a civil servant who spent about 40 years passing atomic research and other secrets to Moscow. Authorities ruled against prosecuting the elderly grandmother when she was exposed in 1992. Norwood died in 2005 at the age of 93.
Britain and Ireland's foreign ministries said Tuesday they are seeking clarification over the alleged use of forged passports by suspects arrested in the case by the FBI.
Documents filed at the U.S. District Court for the southern district of New York allege that suspect Richard Murphy used a false Irish passport and accuse suspect Tracey Lee Ann Foley of using a fraudulent British passport.
Ireland's foreign ministry said it had asked the U.S. embassy in Dublin for confirmation. In London, the Foreign Office said it was checking the claim.
Thanks for reading CBS NEWS.
Create your free account or log in
for more features.