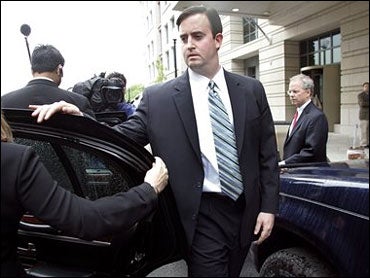 Ex-Aide To Ney Pleads Guilty
A former congressional chief of staff to Rep. Bob Ney, R-Ohio, pleaded guilty Monday in the Jack Abramoff lobbying scandal, admitting he participated in a conspiracy to corrupt Ney and his aides with trips, free tickets and meals.
Neil Volz, 35, admitted that he engaged in the conspiracy for more than four years, both while he was Ney's chief of staff and after he left to go to work for Abramoff.
Volz's admissions during a hearing before U.S. District Judge Ellen Segal Huvelle are part of a widening influence peddling and public corruption investigation involving lawmakers and their aides.
This latest guilty plea follows a pattern of federal prosecutors going after congressional aides, and presumably moving closer to the members of Congress for whom they worked, reports CBS News Capitol Hill correspondent Bob Fuss.
Ney's office issued a defiant statement saying "the congressman is more confident than ever that he will be vindicated" in the investigation. "The Department of Justice has now appeared in federal court four times and has been unable to even allege that Congressman Ney was bribed," said Ney spokesman Brian Walsh.
The trips to Ney and members of his staff included golfing at the Old Course at St. Andrews in Scotland, the Fiesta Bowl in Tempe, Ariz., Lake George in upstate New York, and New Orleans in 2003, according to court papers.
There were regular meals and drinks at Abramoff's Washington restaurant, Signatures; as well as the unreported use of Abramoff's box suites at the MCI Center, now named the Verizon Center, and Camden Yards in Baltimore, home of baseball's Baltimore Orioles, for campaign fund-raisers, the court papers added.
As part of the course of conduct, Abramoff, Volz and others received Ney's agreement and that of his staff to perform official acts — including halting legislation adverse to Abramoff's clients and supporting legislation that favored them, the papers stated.
Are these accusations "accurate?" the judge asked Volz.
"Yes, your honor," Volz replied.
"Mr. Volz, how do you wish to plead?" asked the judge.
"Guilty, your honor," Volz replied.
Ney was identified as Representative 1 in court papers submitted with Volz's plea.
Volz joins a growing list of former Republican aides in Congress who joined Abramoff's firm, pleaded guilty to bribery-related felonies and are now cooperating with prosecutors, reports Fuss.
He faces up to five years in prison and a $250,000 fine. The penalties could vary, Huvelle said, depending how helpful Volz is in the government's ongoing investigation of influence-peddling involving lawmakers, their aides and members of the Bush administration.
"The purpose of the conspiracy was for defendant Volz and his co-conspirators to unjustly enrich themselves by corruptly receiving, while public officials, and providing, while lobbyists, a stream of things of value with the intent to influence and reward official acts and attempting to influence members of Congress in violation of the law," according to a criminal information filed in U.S. District Court in Washington.
Two former aides to Rep. Tom DeLay, R-Texas, the former House majority leader, already have pleaded guilty to their roles in the conspiracy that was centered on the work of Abramoff, once a powerful Republican lobbyist.
Ney has not been charged, but his lawyer has acknowledged that he is Representative #1, described in court papers as the recipient of gifts and travel from Abramoff.
Shortly after leaving Ney's office, Volz joined Abramoff's firm and did lobbying work less than a year after leaving government employment. Federal law requires congressional staff members to wait a year before they do private work involving their previous government employer.
Among the projects on which Volz worked was securing a lucrative contract for Foxcom Wireless, an Israeli communications company, to improve cell phone reception in House office buildings.
Also during that period, Volz pressed Ney to support projects by the firm's Indian tribe clients.

Thanks for reading CBS NEWS.
Create your free account or log in
for more features.