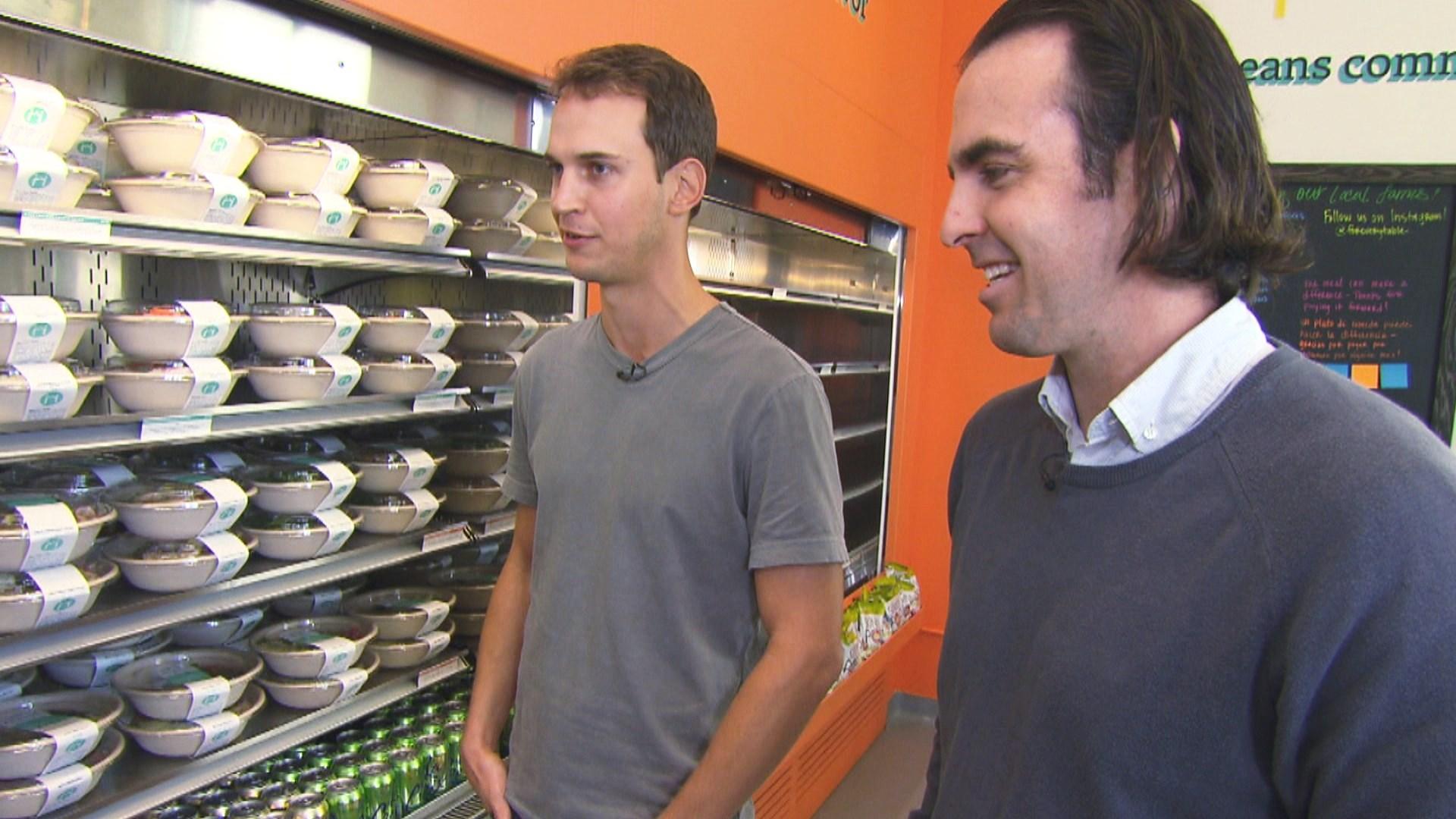 Los Angeles' Everytable helps community access affordable, healthful meals
You may have heard of so-called "food deserts," sections of American cities where options for buying healthy food are few and far between. Two entrepreneurs in California saw the situation as both a social problem to be addressed – and a business opportunity.
In a Los Angeles storefront nestled in a neighborhood made up of fast-food chains and second-hand shops, Everytable co-founders Sam Polk and David Foster are trying to change the way residents eat.
"The real mission and the ethos of the company, which is that no matter where you're born, no matter where you live within the U.S. we think everyone deserves access to healthy, fresh, delicious food," Polk said.

Polk and Foster left their jobs in finance to do something purely good in the world. But their business is still based on hard numbers, reports CBS News contributor Jamie Wax.

"We price our meals so that everyone in the neighborhood can afford them. So here in south L.A., where the per capita income is $13,000 a year, our meals are sold for $4. In more affluent areas we have the same stores selling the same food but for about $8," Polk said.

The idea for Everytable grew out of a nonprofit Polk created called Groceryships, which educates low-income families on how to eat more nutritious meals. But they found education wasn't always enough. They wanted to make healthful eating simple by bringing pre-made meals to areas where quick and easy often means high calorie and low nutritional quality.

"Do you find that people are surprised when they walk in here and see what they get for the same price of a value meal at a fast food restaurant?" Wax asked.
"Totally. I mean I think they're surprised at the price. They're also surprised at the quality and the selection of the food," Foster said. "We designed this menu so that it would work very well in Brentwood but also so it would work very well in Inglewood and what that meant for us was talking to the families that we were working with through Groceryships to basically find out what they wanted to eat and so that grew into a menu that celebrates the cultures and cuisines of Los Angeles."

The menu includes everything from Jamaican jerk chicken to a California cobb salad, all cooked not on-site, but in a central kitchen a few miles away, further reducing costs.

"The whole thing has been designed to be as economical as possible. So that's why we're not producing meals here in the store, at each store," Foster said. "Having these small-footprint stores then enables us to save on rent and labor. And the combination of those two things enables us to price at a level that gets some people to laugh."

Jessica Spear is the head chef for the company.
"How personal is flavor when you're trying to make a community that's not used to healthy eating eat well?" Wax asked her.
"They're used to a certain flavor and a thing that resonates home to them, so if you don't have the right flavors in there and it's completely something that they don't understand, they're not going to eat it," Spear added.

Which is something Everytable employee Juan Bravo has seen firsthand with his father.
"He's a traditional, Mexican guy, used to want his red meats, beans. But he's also got diabetes to deal with now and other conditions and he's come around. He's never had kale before until now. Now he has chicken caesar kale salad," Bravo said.
Also changing is the way organizations like Everytable operate. With a mission you'd associate with a non-profit, Everytable is every bit a business – but one committed to the idea of doing well by doing good.
"We still really believe in the power of nonprofit and charity and think that there will always be a place for that in society," Foster said.
"You can create a profitable company that fully expresses our humanity as well. We want to make money, we want to be profitable, but we also want to do work that we connect with at a heart level to lift all of us up," Polk said.
Saturday is the grand opening of a second Everytable store in Los Angeles' Baldwin Hills community. The company's scheduled to open two more locations. Their hope is that one day there will be an Everytable everywhere.
Thanks for reading CBS NEWS.
Create your free account or log in
for more features.