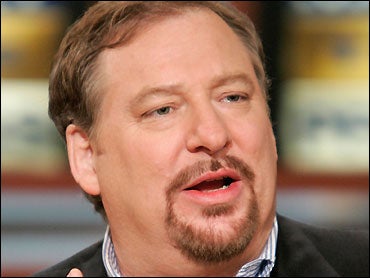 Evangelicals Start Adoption Push
Prominent evangelical Christians are urging churchgoers to strongly consider adoption or foster care, not just out of kindness or biblical calling but also to answer criticism that their movement, while condemning abortion and same-sex adoption, does not do enough for children without parents.
With backing from the evangelical group Focus on the Family and best-selling evangelical author Rick Warren, the effort to promote "orphan care" among the estimated 65 million evangelicals in the United States could drastically reduce foster care rolls if successful.
Yet sensitive issues lie ahead: about evangelizing, religious attitudes on corporal punishment, gay and lesbian foster children, racially mixed families, and resolving long-standing tensions between religious groups and the government.
Warren and others are scheduled to speak at a Focus on the Family summit on May 9-11 in Colorado Springs that aims to elevate the initiative onto the national stage.
"In some people's minds, the church has been very pro-life up until the point of birth," said Michael Monroe, who co-founded an adoption and foster care ministry at Irving Bible Church outside Dallas. "But a lot of people are saying it's not enough to be pro-life, we need to be pro-children, as well."
The effort has two major thrusts.
Aware that adoption and foster care are not for everyone, organizers are suggesting alternatives such as providing support networks for foster families, taking short-term mission trips and sponsoring orphanages.
But largely, the goal is to get evangelicals to think about children seeking "forever families" in their own communities.
"Many times, we think of orphans as 3,000 miles away," said Mark Andre, head of the new Orphan Initiative at Focus on the Family, an evangelical group heavily involved in abortion politics. "Many people don't think of foster kids as orphans. If you look at the numbers, it just really makes sense."
More than 500,000 children were in the U.S. foster care system in 2005, the last year for which federal statistics were available. About 115,000 were waiting for adoption.
The new campaign urges churches to follow the example of groups such as Denver-based Project 1.27, which takes its name from a James 1:27 passage to "look after orphans and widows in their distress."
Project 1.27 has agreements with five Colorado counties to provide training to prospective foster parents. So far, families have taken in 47 children and 21 children have been permanently adopted, Padbury said. The group is not a child placement agency, so it receives no money from counties.
Although Padbury said politics is not at the forefront of the effort, it is a factor: "If we are spending all our time complaining about homosexuals adopting, then why are we not coming forward to adopt these kids?"
Catholic and Jewish charities have long offered adoption services, and a multistate effort called One Church, One Child has heightened awareness in the African-American church community since the 1980s.
But conflicts do arise. Last year, Catholic Charities of Boston got out of the adoption business after it was revealed it has been placing children with same-sex parents for a decade. The organization was caught between a Vatican statement calling gay adoptions "gravely immoral" and a Massachusetts state law requiring agencies that take state money to make adoption available to same-sex parents.
That controversy did not escape the notice of Tammie Snyder, executive director of Antioch Adoptions in Redmond, Washington, a Seattle suburb. The nonprofit, which grew out of Antioch Bible Church, recruits and trains parents for free and has placed 216 children since 2001 through a partnership with the state.
The agency will not work with gay and lesbian parents, and the state does not require it. But Snyder said she fears court decisions and laws granting gays and lesbians expanded rights might change that. As it is, Snyder said Antioch refers gay and lesbian parents to agencies that cater to them and have similar state partnerships.
"We want to make sure people know we are a Christian agency and our families are Christian," Snyder said. "We don't want to have to tiptoe around it."
Still other questions have arisen over gay and lesbian foster-care children. The Child Welfare League of America — which opposes efforts to change a child's sexual orientation — encourages case workers to talk with prospective parents and children about sexual orientation, said Rob Woronoff, who works on this issue for the group.
"Better to discuss that than have someone answer, 'I'll take any child,' and make the child's life miserable," Woronoff said.
Organizers also are up front about another complication: The churches targeted by the campaign are predominantly white, while the majority of foster-care children are minorities. Paul Pennington, who heads an orphan initiative through FamilyLife, a Little Rock, Arkansas-based evangelical group, said parents need to brace for stares and other less-than-accepting behavior from families around them.
"We want people to come in with eyes wide open," he said.
Evangelizing is another potential problem.
Focus on the Family president Jim Daly wrote supporters that he hopes the orphan-care effort "will not only equip God's people to help meet the physical needs of orphans worldwide, but will ultimately introduce them to the eternal hope that is found in Jesus Christ."
Generally, foster children can be taken to places of worship unless parents who maintain legal rights say otherwise, but forcing religion on foster children is not allowed.
"The best practice is to give kids a good, loving home," said Adam Pertman, executive director of the Evan B. Donaldson Adoption Institute in New York. "Some people interpret that to mean a good home as having a strong faith in it. As a parent, I get that. What I'm suggesting is kids not become a tool" for evangelism.
For Matt and Kristen Donovan, abortion and same-sex adoption politics did not factor in their decision to become foster parents. After experiencing two miscarriages in the past year, the suburban Dallas couple decided it was time to expand their family beyond their 3-year-old biological daughter.
The couple worried about bureaucratic red tape. But they also felt tugged by adoption metaphors in the Bible. Now, they share their home with a 4-month-old foster child after receiving training from Irving Bible Church.
"Our church is very much our community," said Matt Donovan, a 26-year-old graphic designer. "Having the church involved made this a journey we didn't have to take on our own."
Thanks for reading CBS NEWS.
Create your free account or log in
for more features.