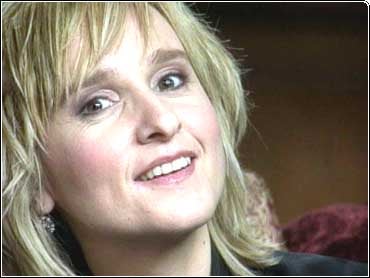 Etheridge And Crosby Talk
Entering the 21st century, gay Americans are fighting for more rights: the right to marry, the right to share benefits, even the right to have children and create a different kind of family.
For instance, rock star Melissa Etheridge and her partner, filmmaker Julie Cypher, recently publicly named the father of their two young children: rock star David Crosby.
The announcement raised questions about family values, gay parents and how the unusual arrangement would affect the two children. To find out more about their arrangement, Charlie Rose interviewed Etheridge, Cypher and Crosby.
---
"I do not believe that my children will be wanting in any way because they didn't have a father in the home every single day," Etheridge says. "What they have in the home is two loving parents. I think that puts them ahead of the game."

When Etheridge talks about the two loving parents, the arrangement sounds old-fashioned. But this is not, statistically, the typical American family: two lesbians using a sperm donor to create their family.

Four years ago, that idea was unusual enough that Newsweek put Etheridge on its cover - in part because of Etheridge's status as a rising rock star.

Their announcement last week made the cover of Rolling Stone.

Etheridge and Cypher have two children: Bailey and Beckett. "The definition of family is changing and evolving in our society so quickly," Cypher says.

This kind of family may be rare, but it is not unique. The Census Bureau estimates that there are at least 167,000 family units in the United States made up of same-sex parents.

Both Cypher and Etheridge say that they realize that their children will be treated differently, because their parents are celebrities and because they are lesbians. They say they are prepared for the inevitable questions.

Etheridge has already thought about how she will answer her children's questions about their family's arrangement. "The strongest thing that I feel that I can say to them is I have relied on the truth, and it has never let me down," she says.

Etheridge, who says she is less strict with her children than Cypher, is called "Mama." Cypher is called "Mamo."

"We were trying to do 'Mamee' and 'Mama,'" says Etheridge. "But Bailey couldn't say 'Mamee' at the time. She kept saying, 'Mamo. Mamo.'"

Etheridge and Cypher say that Bailey has already asked who her daddy is. "First she said, 'Do I have a daddy?'" Cypher recalls.

"And I said, 'Well, yes, you do.' And then I waited," Cypher adds. "And the next question was, 'Well, who is he?' And I said, 'Well, you know, our friend David, with the funny mustache?' She said, 'Oh.'"

"Then I waited a little while longer," she continues. "And she said, 'Well, where does he live?' And I said, 'He lives just north of here.' And then we went on to whatever we were doingIt was that simple. And it was about six months ago. And then she hasn't said anything else since."

"Daddy" is rock legend David Crosby. He was an acquaintance of Cypher and Etheridge. They knew him from his music, with The Byrds and Crosby, Stills, Nash and Young. For years, Crosby and his wife Jan had struggled to have a baby. In 1995, they finally succeeded, with the birth of their son, Jango.

When Etheridge and Cypher visited the Crosbys in Hawaii a few months after Jango's birth, they talked about wanting a child of their own. Jan Crosby had an idea.

"I was fortunate enough to get pregnant and have a baby," Jan Crosby says. "And I was holding (Jango) in my arms when I heard them talking. And it fell out of my lips. I didn't think about it. I didn't even ask him first. And I was kind of surprised I said it, too....I believe I said 'What about David?'"

Crosby was, to say the least, surprised. But without any hesitation, he agreed. He says that later on, he thought about all the ramifications.

"Was there any hesitation in my mind about trying to help them? No. None," he says. "The truth is, I probably shouldn't say this, but I don't even think it should be a big deal. I think it's such a natural thing that a straight couple would do for a gay couple, if they were friends."

But there were some concerns. Because of severe physical effects from Crosby's long-time addiction to drugs and alcohol, he had to undergo a liver transplant in 1994. (He has been clean for about 10 years.) Cypher and Etheridge did research and decided that his past drinking and drug use would not harm their baby.

A year later, the couple announced that Cypher was expecting. But they didn't name the father or reveal that Cypher had undergone artificial insemination. Their daughter, Bailey Jean Cypher was born in February 1996. Two years later, they decided they wanted another child.

They called their friend David Crosby again.

"By this time we were closer even than we were the first time," Crosby recalls. "And I think they felt the same thing I did, that they had knocked it out of the park the first time. Why not?"

Their second child, Beckett, was born in 1998. Etheridge has formally adopted both children.

What about those who say that having a strong father figure is a key part of raising a child well?

David Crosby respectfully disagrees with this idea. "I'm not going to deny those people their opinion," he says. "I don't think there's any reason to think you can't do it the way (Cypher and Etheridge) are doing it. They're doing it very successfully. Those kids are happy."

The couple has many male friends and one in particular sees the kids at least twice a week, Cypher says. "We consider him their male role model, if you will," she says. "They get a taste of being with that sort of energy on a regular basis because I feel tha's important, too."

No one is sure how this kind of arrangement might affect children. There is little research on the topic.

Cypher, though, is confident that her children will turn out fine and hopes that her example will change the minds of those who may disagree with them.

"Hopefully they will see that we are just like any other couple with two kids," she says. "We have the same core issues and the same core beliefs: 'Do unto others as you would have them do unto you.'"

This, they say, is why they decided to publicize their story. But at this stage, even they admit that they don't know where this journey will end.

"This isn't happily ever after, two kids and happily ever after," Etheridge says. "I mean, it might be. Come talk to us in 40, 50 years," she says. "It's a day to day commitment, and work and communication. And it's hard."

Thanks for reading CBS NEWS.
Create your free account or log in
for more features.