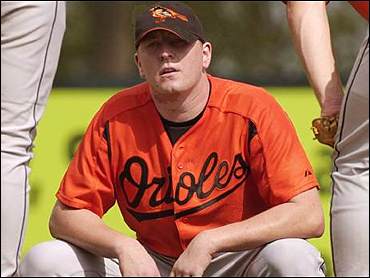 Ephedra Tied To Pitcher's Death
CBS News has a long-running investigation into Ephedra - the herbal supplement that millions of people take for weight loss and as an energy booster. Critics say it causes deaths, heart attacks and strokes.
Now CBS Correspondent Sharyl Attkisson reports, Ephedra is implicated in the death Monday of a 23-year-old athlete - Steve Bechler - a prospective pitcher for the Baltimore Orioles.
Coroner Dr. Joshua Perper not only found Ephedra partly to blame for Bechlar's sudden death, he went so far as to say no athlete should take it.
"This was certainly a preventable death; it didn't have to occur, this kind of tragedy," said Broward County's chief medical examiner.
As the Orioles resumed training Tuesday, they remembered the young pitching prospect as being under enormous pressure, fighting a losing battle for a top spot on the team.
"He wasn't able to finish his running the day before, he was really distraught," said Orioles pitcher Matt Riley.
Trying to help his performance, Bechlar likely took three Ephedra pills on an empty stomach the day he collapsed, according to the coroner, and along with other medical issues, and the heat, "converged in a catastrophic event."
Ephedra isn't banned by major league baseball, but the NFL, the NCAA and the Olympic Committee have issued bans.
Sales are also banned at military bases worldwide after two dozen soldiers died while taking Ephedra.
And just last week - based on the death of a college student - Suffolk County, New York voted to ban Ephedra sales.
An Ephedra spokesman said the supplement may have had nothing to do with Bechlar's death, and the industry will take responsible action as the facts dictate, but right now there are still many unknowns.
What is known - an athlete looking for an edge, who was also an expectant father - is now on record as a "preventable death" ... marked by a half-staff flag at centerfield.
Thanks for reading CBS NEWS.
Create your free account or log in
for more features.