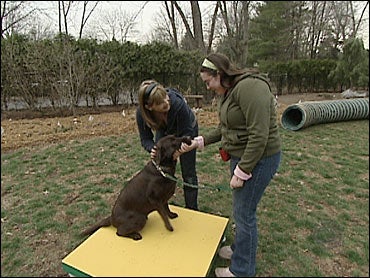 Empowering Kids Who Have Autism
Forming emotional bonds with others can be difficult for kids with autism.
But a new program helps kids who have the disorder develop social skills and connect with others.
"Paws Four Autism" does it by helping children with autism -- train the family dog!
It was started by longtime dog trainer Kathy Santo, reports Early Show correspondent and veterinarian Debbye Turner.
Santo conducts the program in the back yard of her Upper Saddle River, N.J. home.
Through Paws Four Autism, Santo explains, kids with autism begin to get a sense of empowerment as they take on a share of the training process.
Santo finds she can create a relationship and bond between the children and their dogs, where previously there hadn't been any.
"I reinforce that, for the dog to understand what you are saying, you have to make eye contact," Santo explains. Making eye contact is often difficult for kids with autism.
Judy Wilkes, the mother of an adolescent with autism, told Turner, "They go home and do it with the dogs at home. They walk around the neighborhood at home and they are proud to walk and hold their dogs. ... They have control over it. They don't get to have much control over things."
And because breaks are an integral part of each session at Santo's home, the children can take the focus off of their pets and socialize with each other.
"When you see them communicating and able to talk with one another about a common factor," Wilkes reflected, "then -- this is wonderful."
Turner notes that, while dogs have long been trained to live alongside and even provide assistance for children with disabilities, these dogs are PETS.
"The dog will always listen to your secrets and never tell anybody," Santo points out. "The dog is always happy to see you and will never make fun of you. ... So, in some respects, it's the perfect friend!"
Santo was joined by student trainers Gower Nibley and Brittany Wilkes on the show Wednesday.
Paws Four Autism was made possible through the Daniel Jordan Fiddle Foundation.
To see Turner's report and the kids' and dogs' studio visit, click on the arrow in the image below.
Thanks for reading CBS NEWS.
Create your free account or log in
for more features.