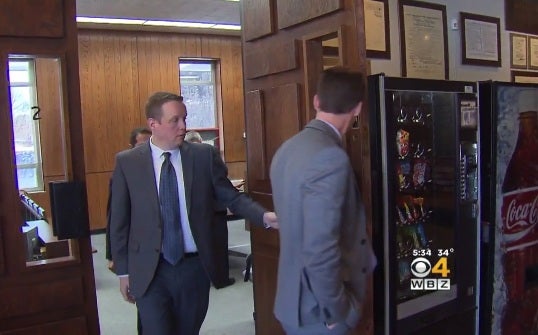 Employees at Massachusetts company face felony wiretapping charges
BOSTON -- Three employees at Wyman-Gordon company in Grafton, Massachusetts, are facing felony wiretapping charges for setting up a hidden camera with audio to record their coworker inside their workplace, reports CBS Boston.
As the investigative team at CBS Boston first reported in November, the hidden camera allegedly captured former Wyman-Gordon employee Mark Ferguson sleeping on the job. The company fired Ferguson last April.
Prior to his termination, Ferguson discovered the hidden camera in his work space. He took it home for a closer look.
A clip he provided to CBS Boston revealed the HR employees setting up the camera. They could also be heard discussing the camera placement.
Ferguson realized if they recorded audio without his consent, it could be a violation of Massachusetts wiretapping statute. He brought the camera to the Grafton Police Department. An investigation was launched.
Following a hearing on Jan. 14, a clerk magistrate determined there was enough probable cause to move forward with the criminal charges, reports CBS Boston.
Matthew Domenico, Brian Gaudette and Eric Smith will be arraigned in Worcester County on Feb. 24.
According to court documents that CBS Boston obtained, Smith and Gaudette placed the hidden camera at the request of their supervisor, Domenico.
The camera was examined by a forensic technician at the New England States Police Information Network, which reportedly recovered video files from the device. Gaudette allegedly told a Grafton police officer that the cameras were placed to "evaluate the work performance" of Ferguson.
Reached Monday by phone by CBS Boston, Ferguson expressed relief about news of the criminal charges.
"This was no accident," he said. "They knew the camera had audio. They enjoyed it. And they used it to its fullest intent."
The former employee is fighting to get his job back through the arbitration process, arguing the evidence used to fire him was gathered illegally.
Ferguson also filed a complaint with the National Labor Relations Board, alleging the hidden camera tampered with union activity because he was planning to run for president.
Thanks for reading CBS NEWS.
Create your free account or log in
for more features.