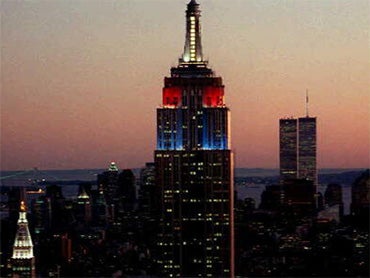 Empire State Building Won't Honor Mother Teresa
The Empire State building has gone green for Saint Patrick's Day and Earth Day, red for the 60th anniversary of the Chinese Cultural Revolution and even pink for the release of a Mariah Carey album. Wednesday night, the landmark will be bathed in yellow for the "Alliance For Young Artists And Writers." However, the management of New York's tallest skyscraper turned down a request by the Catholic League to go blue and white to honor Mother Teresa on her 100th birthday in August and the City Council wants to know why.
The Council will consider a resolution Wednesday to force the Empire State Building's management the honor the Nobel Peace Prize winner, champion of the poor and candidate for sainthood. City Councilman Peter Vallone Jr. introduced a bill formally requesting the tribute on behalf of the City. "She deserves better. She's one of the greatest women history has ever known," he said.
CBS 2's Lou Young tried to get answers from the Empire State building's management a few weeks ago, but came up empty. Neither was the City Council, and even the Archbishop of New York was perplexed.
"I kind of shrug my shoulders with everybody else," Dolan said on March 14. "I guess there must be a reason. It'd be tough for me to understand a credible one, but I wish they'd kind of tell us. It's tough to be against Mother Teresa?
The simple blue and white lighting would be the same colors used for a Yankees World Series win or an Israeli Independence Day. In this case it would be the colors worn by a crusader for the poor, yet the people who own the Empire State Building said they won't pay this simple tribute and they refuse to offer an explanation to people who made the application.
There's a number of reasons why they might not want to do this for Mother Teresa. Maybe they don't do it for individual people. Maybe they don't do birthdays. Maybe she's too short. The point is, they haven't talked at all, and they haven't given any reason at all why they won't light the building for her 100th birthday.

Thanks for reading CBS NEWS.
Create your free account or log in
for more features.