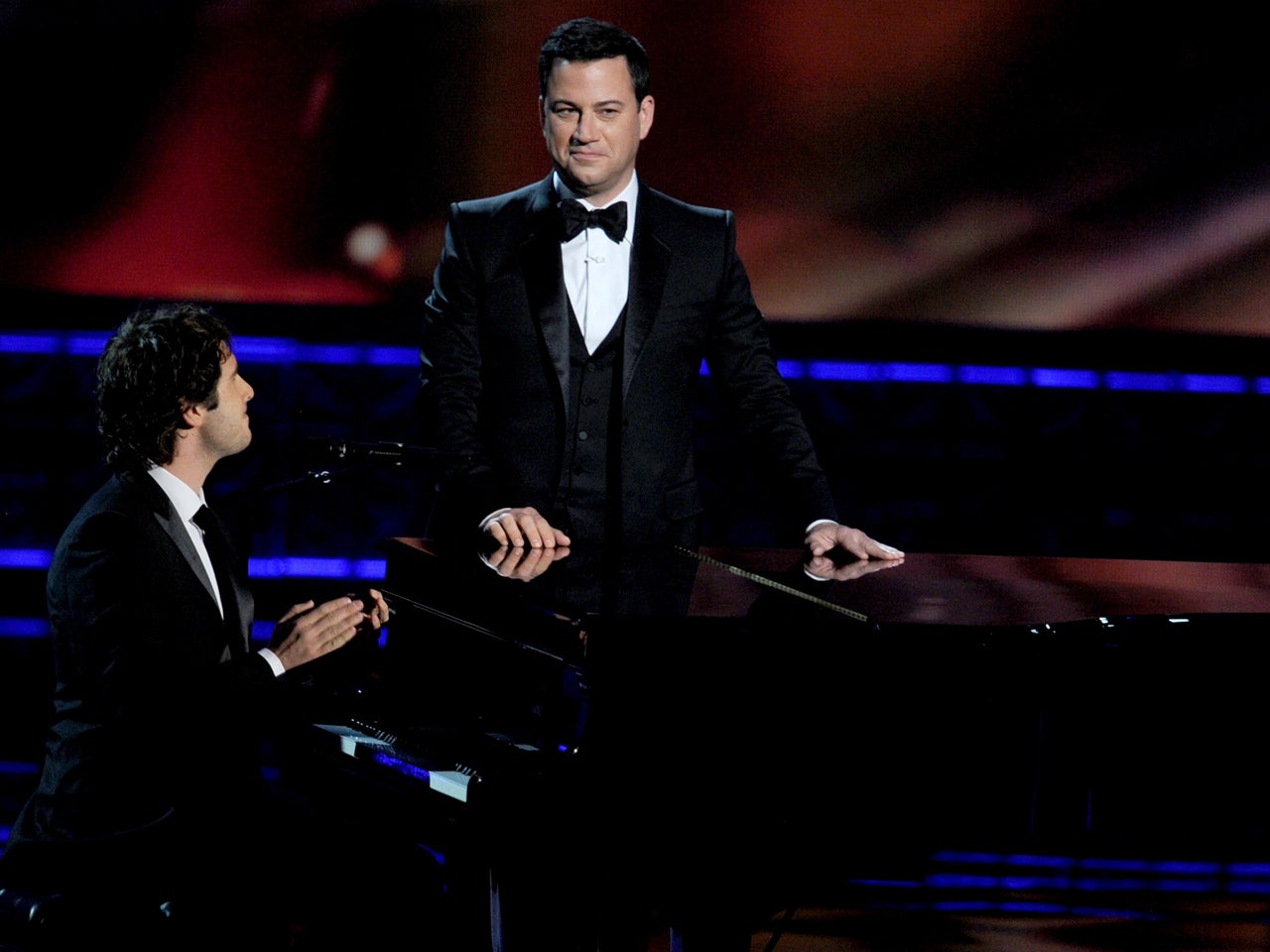 Emmys 2012 host Jimmy Kimmel: How did he do?
(CBS/AP) Jimmy Kimmel took the Emmy stage for the first time as host on Sunday night with a mix of jokes, sketches, and even a prank.
The show started with bathroom humor: A filmed bit with Kathy Bates, Zooey Deschanel and other nominated actresses prepping in the restroom, then discovering a weeping Jimmy Kimmel lamenting a Botox reaction he said would keep him off stage as host.
Pictures: Emmy red carpet 2012
Pictures: Emmy show highlights 2012
Pictures: Emmy press room 2012
Complete Coverage: 2012 Emmy Awards
"You look beautiful," he was reassured. "You look like a 'Real Housewife."'
Kimmel then launched into his opening monologue, which had a few zingers.
"If you're going to the HBO [Emmy] after-party, don't eat the sliders," referencing the horse racing drama "Luck," which was cancelled after horses died on the set.
He also took a dig at Republican presidential nominee Mitt Romney. "'Downton Abbey' is an amazing show ... It really gives you a sense of what it must have been like to grow up in Mitt Romney's house," Kimmel said.
"Being a Republican in Hollywood is like being a Chick Fil A sandwich on the snack table on the set of 'Glee,'" Kimmel added.
He also called out President Barack Obama: "Does it bother anybody else that President Obama said his favorite show is 'Homeland?' I don't think the president should be watching 'Homeland' for the same reason Charlie Sheen shouldn't be watching 'Breaking Bad.'"
But Kimmel also had a few kind words, too. He praised Lena Dunham for her ability to act, direct and write. But he said she makes the rest of Hollywood look bad.
Perhaps his most notable achievement was a prank: Inviting "30 Rock" star Tracy Morgan to lie on the stage, then asking viewers to post on Facebook and tweet that Morgan "just passed out" and turn on ABC right now to see it. It worked, with the message going viral and maybe even boosting the Emmy audience for a few moments.
Otherwise, Kimmel kept the show moving, with a few forgettable jokes greasing the skids.
He offered up a parody of the "In Memoriam" fixture that's a part of all awards shows. But this one was meant to salute someone still living, "to the life and work of someone everyone in this room admires, respects and loves."
The person, of course, was Kimmel, who was displayed in slow-motion video clips while Josh Groban sang a sonorous song.
The late-night TV host also set up one of the night's best filmed comedy bits by musing on what "Breaking Bad" would have been like, had it aired in a G-rated, pre-cable era.
The answer: a spoof of the opening to "The Andy Griffith Show," with "Breaking Bad" stars Bryan Cranston and Aaron Paul, fully suited up to cook crystal meth, out at the lake with their fishing poles as the "Andy Griffith" whistling theme song was heard.
Tell us: How do you think Kimmel did as host?
Thanks for reading CBS NEWS.
Create your free account or log in
for more features.