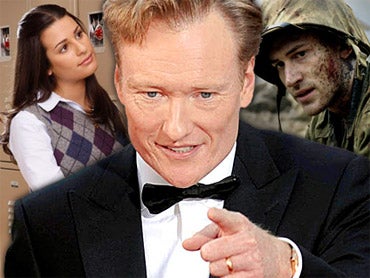 Emmy Nominees React to Nods
Reaction from some of Thursday's Primetime Emmy nominees:
Pictures: Emmy Nominees 2010
Full List of Nominees
"That's literally just Tina Fey's Emmy sauce rubbing off on me." Jon Hamm, on his nomination for outstanding guest star on "30 Rock." He's also nominated as lead actor in a drama series for "Mad Men."
---
"Congrats to my staff on 4 Emmy nominations. This bodes well for the future of The Tonight Show with Conan O'Brien." - Twitter post from Conan O'Brien, whose now-defunct show was nominated for variety, music or comedy series.
---
For me, Emmys are more important than love or family. It's not about the work with me. It's actually about winning a statue." - Kathy Griffin, nominated for outstanding reality show for "My Life On The D-List."
---
"I assure you, it is play acting. I didn't go home and strangle anybody." - John Lithgow on his Emmy-nominated guest role as a serial killer on "Dexter."
---
"I am going to celebrate by eating a piece of cheese. Just kidding designers, I promise, no cheese will cross these lips or hips until after the ceremony." - Jane Krakowski on her nomination for supporting actress in a comedy series for "30 Rock."
---
"I have never had this much fun on anything I've ever worked on. All I can say is, I don't know why people are so obsessed with vampires, but I'm really happy that they are." - Alan Ball, creator of drama series nominee "True Blood."
---
I've been around long enough to have struggled through some jobs, struggled through periods where I didn't work. You're so appreciative of something like this that allows you to be creative and do the kind of work that you always thought or hoped you could do. - John Slattery, supporting actor nominee for "Mad Men."
---
"They announce the nominations so early in the morning, that this year I just stayed up all night and had an Emmy rave. So I must say, I'm deeply honored to be nominated, and also, my hair feels just amazing..!" - Double nominee Neil Patrick Harris, up for supporting actor in a comedy for "How I Met Your Mother" and guest star in a comedy for his turn on "Glee."
---
"I'm hoping for a big party bus with a stripper pole!" - Chris Colfer, on the possibility of the "Glee" cast and crew going to the Emmy ceremony together.
---
"I'm not a big partier, as it is, so I certainly won't be grabbing a bottle of Jack and hitting the town. Maybe I'll have dessert tonight? I'm a wild man." - Jim Parsons, on how he'll celebrate his nomination for lead actor in a comedy series for "The Big Bang Theory."
---
"I was relieved to see that the Academy spelled my name right and as I am now a free agent, LeBron and I will be announcing our plans later this evening." - Julia Louis-Dreyfus, nominated for lead actress in a comedy series for "The New Adventures of Old Christine."
---
"At 67, I'm still capable of giggling." - Sharon Gless on her nomination for supporting actress in a drama series for "Burn Notice," her 10th Emmy nod.
---
"The ceremony is on my birthday, so it's like the best birthday present in the entire world... What a great birthday party. I think last year mine was at a sushi restaurant or something." - Lea Michele, now 23, of "Glee," whose nomination for lead actress in a comedy series was one of the show's 19 nods.
---
"I've been planning going to the Emmys since I was 6 years old. So for me, getting the dress and all that kind of stuff, I was built for that. The Emmy dress finding machine starts now. I've been fueling it up for, you know, 30 years." - "The Office" star Mindy Kaling, nominated for writing an episode of the comedy series.
---
"It's a double celebration. It's my 21st anniversary today. However, when I turned to my wife and said, 'Is being nominated enough of an anniversary present for you?' And she said, 'No.' I went, 'OK. I'll be right back."' - Bryan Cranston, nominated for lead actor in a drama series for "Breaking Bad."
---
"I'll be sitting next to my real wife and my TV wife. It's going to be a great night." - Kyle Chandler, nominated for lead actor in a drama series for "Friday Night Lights."

Thanks for reading CBS NEWS.
Create your free account or log in
for more features.