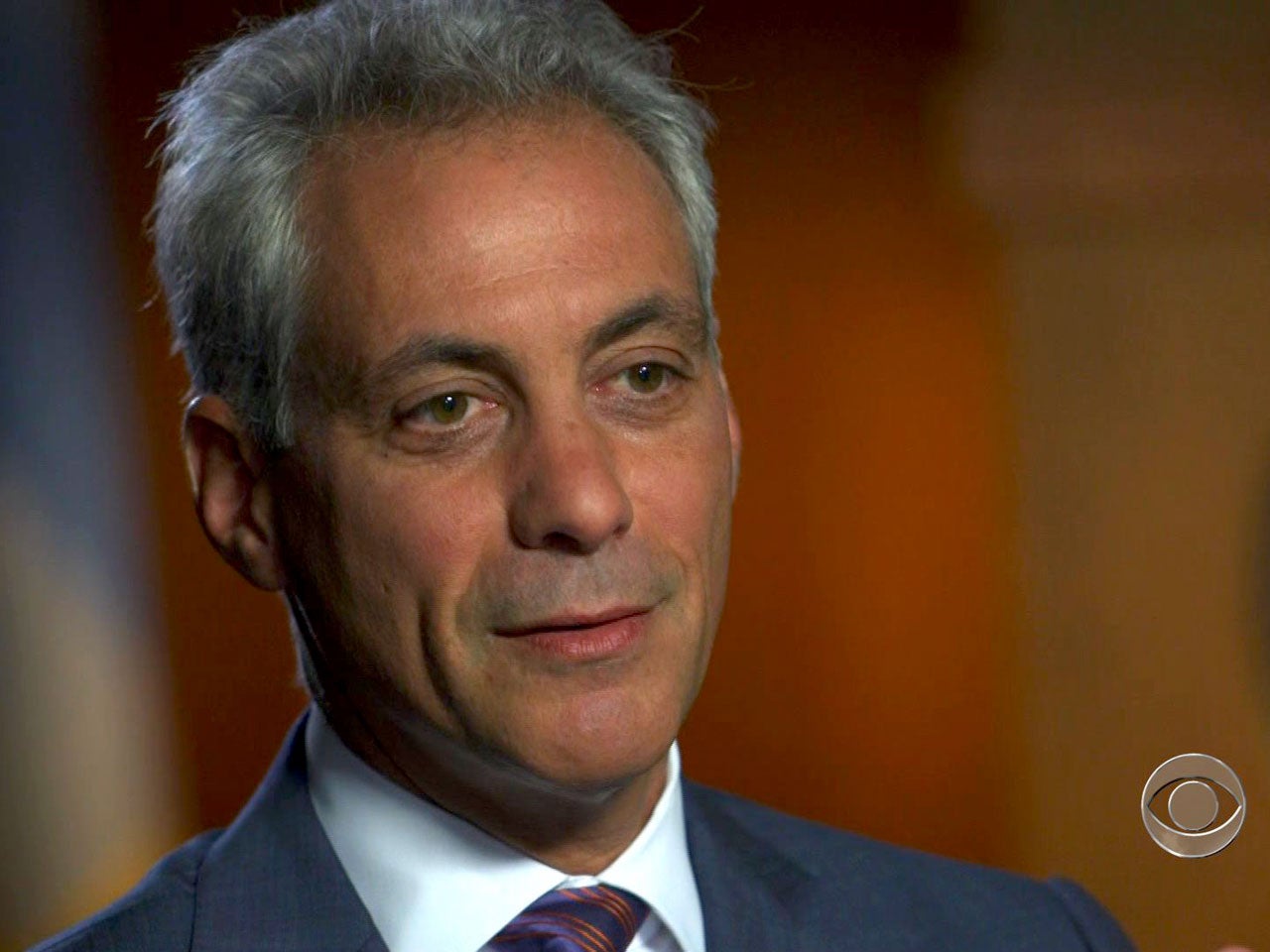 Emanuel: Chicago's escalating crime about "values"
(CBS News) CHICAGO - When Rahm Emanuel became Chicago's new mayor a little over a year ago, the city was experiencing an explosion of gun violence.

While crime in America has fallen five straight years, there have already been 275 homicides in Chicago this year -- most of them gang related.

The former White House Chief of Staff and Chicago-area congressman brought in a new police superintendent. Since then, crime is down in America's third-largest city about 10 percent in nearly all categories -- with the exception of murder. Mayor Emanuel pointed out that there are 23 police precincts in Chicago and gang violence is limited to eight of them.

CBS Evening News anchor Scott Pelley sat down with the mayor in City Hall Monday to talk about violence in America's third-largest city.

Below is the full text of the interview.

In Chicago hospital, damage -- and "collateral damage" -- of gang war never subsides
How Rahm Emanuel won Chicago
Watch: As heat soars, so does Chicago crime

Scott Pelley: I got a letter from a viewer the other day who asked us why we were spending so much time at "The Evening News" covering Afghanistan when more people were dying in Chicago. Why is the murder rate up 30 percent?

Rahm Emanuel: Well, first of all, Scott, let's give everybody -- your viewers a fair view. Crime year over year is down 10 percent.

Pelley: Other kinds of crime, other than homicide.

Emanuel: Burglary, armed robbery, theft -- 10 percent. So we have a gun violence issue specifically tied to gangs. So we've readjusted the strategy closing liquor stores and communities that are a magnet and cancer on the community for gangs and narcotics, boarding up buildings or tearing them down where gang bangers have taken them over, putting the command and district leaders in responsible positions and holding them accountable for results.

Pelley: One of the things New York City has done to attack its gun issue is the procedure that's known as stop and frisk. A police officer is allowed to frisk someone he believes is suspicious. Will you go to that in Chicago?

Emanuel: We have a Chicago version of that and we're going to stay with what we have here in Chicago. But you have to be very aggressive in making sure that the gangbangers know that the police force and the community run those streets and they don't.

Pelley: When seven-year-old Heaven Sutton was killed last month, caught in the crossfire, you said "It's not about crime, it's about values." What did you mean?

Emanuel: We've got two gangbangers, one standing next to a kid. Get away from that kid. Take your stuff away to the alley. Don't touch the children of the city of Chicago. Don't get near them. And it is about values. As I said then, Scott, who raised you? How were you raised? And I don't buy this case where people say they don't have values. They do have values. They have the wrong values. Don't come near the kids -- don't touch them.

Pelley: What promise can you make to the people in the city who do worry about their safety and the safety of their children?

Emanuel: I will make a pledge, because the most important thing I care about is when you have violence in the city, I want you to think about your safety. Us adults -- your pastor, your parents, your principals -- we'll take care of those problems. That's our problem. You think about your studies. Tune in later this week to hear Mayor Emanuel tell CBS News what he's doing about jobs and the economy.
Thanks for reading CBS NEWS.
Create your free account or log in
for more features.