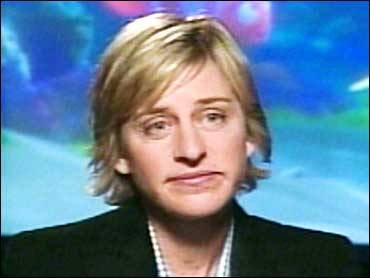 Ellen DeGeneres Molested As Teen
Ellen DeGeneres reveals in the latest issue of Allure magazine that her stepfather molested her as a teenager.
While speaking about her messy breakup with actress Anne Heche, the talk-show host said her stepfather insisted on feeling her breast while DeGeneres' mother was fighting breast cancer. She said the incident later escalated into "other things" and her stepfather, now deceased, tried to break into her bedroom.
"I had to kick a window out and escape and sleep in a hospital all night long," DeGeneres told Allure.
DeGeneres said she's speaking about the incident because "it's important for teenage girls out there to hear that there are different ways to say no. And if it ever happens to them, they should tell someone right away."
She said the occurrences, which happened in her late teens, had no effect on her sexual orientation. DeGeneres' "coming out" was featured on a 1997 Time magazine cover and as a plot in her ABC sitcom.
"People I've confided in about this before say, 'Oh, that's why you're a lesbian,'" said DeGeneres. "But I was a lesbian way before that. My earliest memories are of being a lesbian.''
The 47-year-old host of "The Ellen DeGeneres Show" also said she hopes she and girlfriend Portia de Rossi are "together the rest of our lives."
"I never would have thought my life would have turned out this way," said DeGeneres. "To have money. Or to have a gorgeous girlfriend. I just feel so lucky with everything in my life right now."
Thanks for reading CBS NEWS.
Create your free account or log in
for more features.