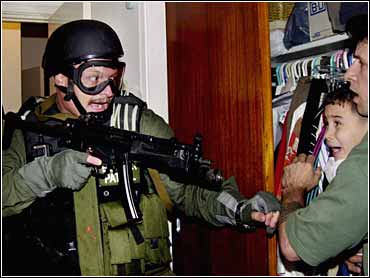 Elian Parody Sparks Legal Threat
The media blitz over the fate of Elian Gonzalez has touched off a new powder keg. This time, it's a legal battle, brewing over a web video parody of the now infamous AP photo of heavily armed federal agents raiding the house in Miami to reunite Elian with his father.
In an interview with CBSNews.com, the creators of the video say the Associated Press threatened them with legal action, calling the spoof "an unauthorized defacing and display of AP pictures."
The web video's creators, Chris Lathrop and Sean Bonner, first posted the parody on April 25, only three days after the actual raid by immigration agents and federal marshals. Three days later there had been more than a million hits on the site that created and posted the video, they said.
It uses news photos including the image of the trooper pointing the gun at Elian and fisherman Donato Dalrymple and has the trooper say "Whassup?", with Dalrymple answering "Watchin' the game, havin' a Bud." Most of the other faces in the video also echo "Whassup?"
The video is done in the style of the "Superfriends" video, a web favorite which itself is a parody, of Budweiser's well-known "Whassup?" beer commercial. That video features cartoon superheroes; the Elian parody, following that style, uses armed INS agents, U.S. Attorney General Janet Reno, Cuban President Fidel Castro and Marisleysis Gonzalez, Elian's Miami cousin.
Bonner says as the hits climbed to 20 or 30 a second, he quickly switched to showing the video on a GeoCities site instead, before the number of hits the 550K video was getting could overwhelm the bandwidth of his own small server.
Bonner says the number of hits grew exponentially as each hour passed and then legal trouble came to call, in the form of an e-mail Thursday from AP executive David Tomlin, stating "We've already written the GeoCities copyright agent about your unauthorized defacing and display of AP pictures on your site there...You are exposing yourself to liability for copyright infringement that can include both fines and possible criminal penalties. We'll go for whatever it takes to get our material out of your hands. Please acknowledge immediately that you understand and are taking down the display of AP pictures at the address above."
Lathrop says that notice got their attention in a big way. "He (Bonner) called me over, and I said 'Joke's over, take it down.' "
Bonner says he replied to the AP e-mail right away, saying, in essence "Sorry, I wasn't trying to cause any problems, I'll pull it off."
Which he did, immediately.
But he didn't drop the matter entirely, or shut down the site. Bonner says he instead posted the e-mail from the AP, and not wanting "to deface his letter in any way," he posted the AP e-mail in its entirety on the GeoCities site. Bonner also put in a long list of links to other sites, which are still running the video, including payboy.com, where he works as a web designer and Lathrop is a senior copywriter.
Altogether, says Bonner, there are some 60 sites not connected with either himself or Lathrop that are now running copies of the video.
Tomlin, who is assistant to the president of the Associated Press, was asked if he plans to send e-mail to the other Elian parody sites. "At this point we've said what we think our corporate interests are," says Tomlin. "The citizens of the net have said what their interests are. They want to enjoy a lighter perspective of a subject that has been very emotional and we're going to let the conversation sit there."
Tomlin says some staffers in the photo department first brought the video to his attention, at which point he clicked on the link and "laughed." Tomlin says he did find the parody funny, "but after I laughed, I fired off the cease and desist e-mail that was heard round the world."
That's certainly how it felt to the AP executive. "I received dozens of phone calls and over 100 e-mails before I turned off my e-mail and phone...It was a perfect demonstration of what Internet consensus can achieve."
"Thousands of people believed that this was a case in which free expression was more important than anybody's intellectual property rights," acknowledges Tomlin. "One day (after sending the e-mail warning), I have to say that reasonable people could disagree" on the right balance between freedom of expression and property rights.
Tomlin declined to say specifically whether the AP plans to pursue legal action against the Chicago duo.
Lathrop says the idea for the parody "just popped into my head as I was walking my dogs Monday night...I got home and called Sean (Bonner) and ran the idea past him."
Bonner says it took him about 45 minutes to put the whole video and soundtrack together. Next morning, Bonner showed the video to Lathrop, and the two e-mailed about 60 friends. It wasn't long before word spread all over the web, onto the radio, and finally to AP headquarters at Rockefeller Center in New York.
Lathrop and Bonner were asked their feelings about copyright laws in general, given that both men are professionals in the creative field. "We both assumed we would hear something from somebody. But not like that," says Bonner, who was shocked at the threat of possible criminal penalties.
Neither has a quarrel with copyright laws per se. Lathrop emphasizes that "the whole point of copyright to begin with" is that if someone else takes your work and makes a profit, you should be compensated. "We haven't generated one red cent from this. If someone were to proceed with a lawsuit against us for use of this material, I don't see where the damages would be."
Not that the offers of money weren't there, according to Lathrop. "We got a lot of e-mails from sites offering to host the clip, in exchange for 25 or 30 cents hit." The two reveal that they also got an offer from a man who wanted to pay them $5,000 for T-shirts, hats and other merchandising items.
"We turned them all down flat," stresses Lathrop. "We turned down all these people because if we made one nickel – once you start making a profit off other people's copyrighted work, you can be legitimately sued in court."
Lathrop points out that he has a journalism degree from Michigan State and took courses there dealing with copyright issues. "I knew we were on shaky ground...but I thought it wouldn't be a problem."
Bonner says if he were in the shoes of the AP photographer, he'd be flattered that his work was so well known, it was being parodied. "If I'd done an ad that someone spoofed, I'd be flattered. It shows not only that they liked it, but also that others did (because) it's gotta be something that you can recognize."
But was it the wrong thing to do? "I sort of view what we've done as the modern day version of the political cartoon, using well-known images, faces, and names to make a humorous statement about a political situation," explains Lathrop.
Lathrop, a Mad Magazine fan since age 6, says the clip nonetheless was not intended to make any political statement and was "just for fun." That's despite the fact that the phrase STORMTROOPERS TRUE is prominently displayed in one frame of the video. Lathrop says word 'stormtroopers' was used only because it has the same number of syllables as 'Budweiser,' and as such, was a good choice to more closely mimic the style of the Superfriends video.
Bottom line, says Bonner,"It's a joke."
By Francie Grace
©2000, CBS Worldwide Inc., All Rights Reserved
Thanks for reading CBS NEWS.
Create your free account or log in
for more features.