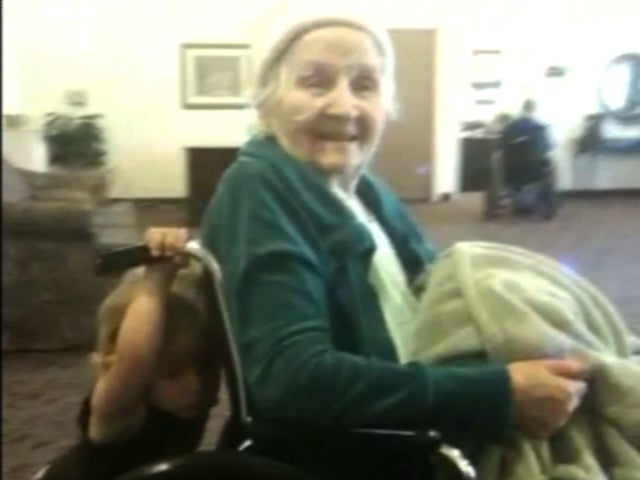 Eleven states get failing grades for nursing home care
(CBS News) DALLAS -- More than one-and-a-half million Americans live in nursing homes, but the quality of care varies greatly. A report out Friday shows, for the first time, which states do a good job of caring for seniors and which fail to ensure that they won't be neglected or abused.
Minnie Graham was a great-grandmother. At 97, she suffered from dementia.
"She was a fine Christian woman," her granddaughter, Shirley Ballard, says. "And very loving. She would do anything for anybody."
Graham lived in a nursing home outside Dallas for about a year when her family noticed bruises on her, then two black eyes.
"They said she fell out of her wheel chair," Ballard says, adding she "absolutely" did not believe that had happened.
Graham's family placed a clock, equipped with a hidden camera, in her bedroom, recording video for weeks. Graham resisted being changed; a nursing aide mocked her, pulled, pushed, then what sounds like a slap can be heard. The video also caught another aide shoving her.
"That should never happen to people, ever, in nursing homes, anywhere," says Brian Lee, executive director of Families for Better Care.
His nonprofit elder advocacy group released what it says is the first comprehensive state-by-state reviewof nursing home care. It ranks and grades states based on 2012 federal data combining staffing, inspections, deficiencies and complaints.
Motion sensors in seniors' homes may be tracked by loved ones, nurses
Renovating seniors' homes may lead to longer independence
States that got As: Alaska, Rhode Island, New Hampshire, Hawaii, Oregon, Maine, Utah, Idaho, South Dakota and North Dakota.
States that got Fs: Texas, Louisiana, Indiana, Oklahoma, Missouri, New Mexico, New York, Michigan, Nevada, Illinois and Iowa.
In Oklahoma, a hidden video caught a nursing assistant shoving a glove in a 96-year-old woman's mouth. In Ohio, which lacks staff, video caught a caregiver flinging a senior onto her bed.
"You've got to be able to have a good vetting process to be able to determine which people, the caregivers, are going to treat the residents with dignity and respect," Lee says. "You've got to hire the right people. State officials need to hold nursing homes accountable. And nursing homes need to hold themselves accountable and step up and start providing better care."
According to the report, just seven states provided nursing home residents with more than one hour of professional nursing care daily. States that did the best had larger and more experienced staff.
We tried to speak with Minnie Graham's nursing aides about what the hidden camera recorded. They declined. Both were fired and arrested; their cases are still pending. Minnie Graham died within weeks of the video.
"She just gave up on life," Ballard says. "She didn't want to live anymore, and then to be treated like that in her last days --."
Advocates for the elderly say improvements must be made soon. The nursing home population is expected to increase 40 percent over the next decade.
Thanks for reading CBS NEWS.
Create your free account or log in
for more features.