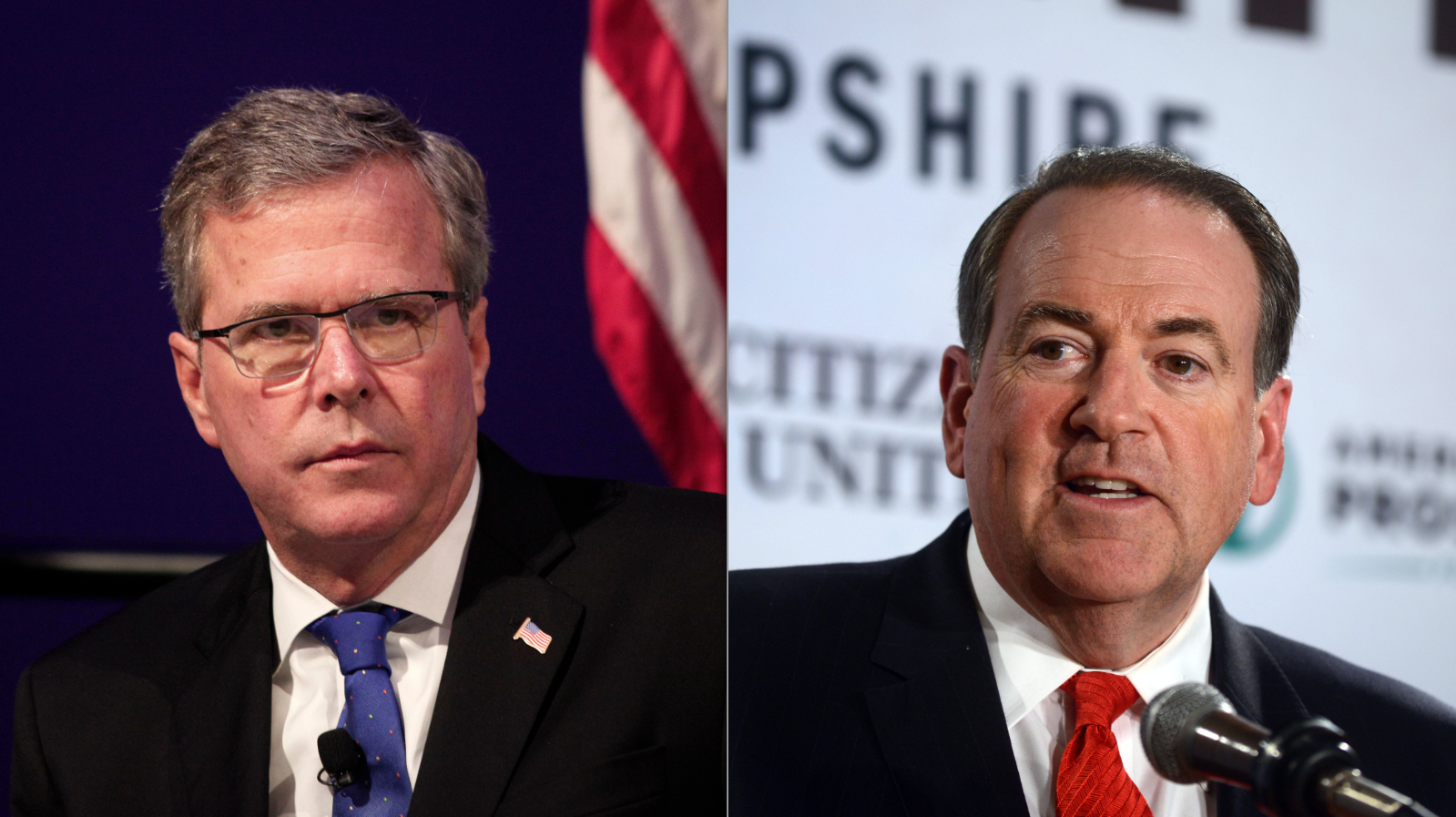 Election 2016: Who would you consider voting for?
By Sarah Dutton, Jennifer De Pinto, Anthony Salvanto, and Fred Backus
With less than a year to go before the first contests of the 2016 presidential election are underway, the latest CBS News Poll asked Americans which candidates they would consider supporting for their party's nomination.
The Republicans
Among the potentially crowded Republican field, self-identified Republicans are most likely to say they would consider voting for Jeb Bush (49 percent) and Mike Huckabee (46 percent) for the GOP nomination. These political figures also appear to be the best known of the potential candidates.
Following Bush and Huckabee is Marco Rubio. Among Republicans, 37 percent would consider backing him for the nomination.
Slightly fewer Republicans would consider supporting Rick Perry (34 percent), Ben Carson (34 percent), and Scott Walker (30 percent) for the party's nomination, but very few Republicans would not consider voting for Carson (10 percent) or Walker (10 percent). Still, more than half of Republicans nationwide don't know enough about either of these two potential candidates to express an opinion.
At this point, there is little enthusiasm for Chris Christie. Forty-three percent of Republicans would not consider supporting Christie for the Republican nomination for President - the highest of any Republican figure asked about, while 28 percent would consider backing him.
Republicans nationwide are divided on Rand Paul at this early stage: 30 percent of Republicans would support him, but 31 percent would not. Republicans are also split on Ted Cruz and Rick Santorum.
Eighteen percent of Republicans say they would consider Bobby Jindal for their party's nomination, and 15 percent would not. But 67 percent of Republicans don't know enough about Bobby Jindal to have an opinion - the highest of any Republican asked about in the poll.
Among Americans who are very conservative (and identify as either Republican or independent), 50 percent would consider voting for Walker for the Republican nomination, followed by Huckabee (47 percent), and Ben Carson (45 percent). This group is slightly less excited about Jeb Bush -- 39 percent would consider backing him for the Republican nomination, but 37 percent would not.
The Democrats
Democrats are most likely to say they would consider supporting Hillary Clinton for their party's nomination: 81 percent would consider voting for her; only 12 percent would not.
Vice President Joe Biden follows Clinton; 47 percent of Democrats would consider backing him for the Democratic nomination, although 35 percent would not vote for him.
A third of Democrats would back Elizabeth Warren, and only 14 percent would not consider her for the party's nomination. Still, Warren remains unfamiliar to 53 percent of Democrats nationwide.
Democrats are divided in their opinions of Andrew Cuomo and Bernie Sanders. Sixty-eight percent of Democrats don't know enough about Sanders to have an opinion.
At this point in time, Jim Webb and Martin O'Malley are largely unknown to most Democrats - more than three-quarters don't know enough about each to offer an opinion.
Among liberals who identify themselves as either Democrat or independent, the percentage that would consider backing Elizabeth Warren for the nomination rises to 40 percent -- but she still lags behind both Hillary Clinton (76 percent) and Joe Biden (45 percent).
In some presidential primaries and caucuses, independents (those voters unaffiliated with a major political party) can cast a vote. Independents are not especially excited about any potential candidate in the Republican field. On the Democratic side, Clinton is the only contender that more independents would consider supporting, than not.
Are Americans tuning in to 2016?
Fewer Americans are now paying attention to the presidential campaign compared to this point during the 2008 campaign, the last election in which an incumbent was not seeking re-election. Forty-five percent of Americans are paying a lot or some attention to the 2016 campaign, down from 68 percent in February 2007. At this point in the 2008 election cycle, a number of White House hopefuls had formally announced their candidacies.
Currently, more Republicans (56 percent) than Democrats (44 percent) are paying attention to the campaign.
Views of the Major Political Parties
Overall impressions of the country's major political parties are negative, although more hold a favorable view of the Democratic Party (43 percent) than the Republican Party (36 percent).
When asked to compare the two parties on some key issues, Americans give the Republican Party a large advantage on terrorism, while the Democrats have a nine percentage-point lead on doing more to help the middle class, 47 percent to 38 percent. On the economy -- still the top concern for Americans - Republicans currently have a slight edge, 45 percent, compared to 41 percent for Democrats.
________________________________________________
This poll was conducted by telephone February 13-17, 2015 among 1,006 adults nationwide. Data collection was conducted on behalf of CBS News by SSRS of Media, PA. Phone numbers were dialed from samples of both standard land-line and cell phones. The error due to sampling for results based on the entire sample could be plus or minus three percentage points. The error for subgroups may be higher. The margin of error for the sample of Republicans is 6 points, and the margin of error the sample of Democrats is also 6 points. Interviews were conducted in English and Spanish. This poll release conforms to the Standards of Disclosure of the National Council on Public Polls.
Thanks for reading CBS NEWS.
Create your free account or log in
for more features.