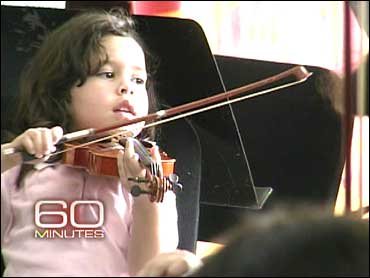 El Sistema: Changing Lives Through Music
This segment was originally broadcast on April 13, 2008. It was updated on July 16, 2008.
What comes to mind when you mention Venezuela? Hugo Chavez probably, or oil, or baseball? What probably does not come to mind is classical music.
And yet, Venezuela is the home of a music program that's so extraordinary it has been hailed as the future of classical music itself.
As correspondent Bob Simon first reported in April, it's called "el Sistema" - "the system" - and it's all about children, about saving them - hundreds of thousands of children - through music.

---
In the world of classical music, the Simon Bolivar National Youth Orchestra is unique. The musicians, kids mainly, are not graduates of some conservatory or music school - they're alumni of the school of hard knocks in the slums of Venezuela. And their orchestra is about the exuberance of youth.
It recently made its Carnegie Hall debut with Gustavo Dudamel, its celebrated young conductor.
Carnegie Hall was the last stop on the orchestra's first American tour, and a long way from its home in Venezuela. Many of the kids come from neighborhoods which are so poor, desperate and crime-ridden, that hope is often extinguished in children at an early age.
Instead, these kids travel the world, playing to sell-out audiences. The National Youth Orchestra and hundreds of others are the brainchild of Dr. José Antonio Abreu.
Asked if he remembers the night he first started, Dr. Abreu, told Simon through a translator, "We only had 11 children - rehearsing in cramped conditions. But I had the feeling that this was the beginning of something very big."
Abreu, a 69-year-old retired economist, trained musician, and social reformer founded "the system" in 1975 and has built it with religious zeal, based on his unorthodox belief that what poor Venezuelan kids needed was classical music.
"Essentially this is a social system that fights poverty," Abreu explained. "A child's physical poverty is overcome by the spiritual richness that music provides."
"So, music actually becomes the vehicle for social change?" Simon asked.
"Without a doubt," Abreu replied. "And that is what's happening in Venezuela."
Every afternoon, small children line up for free music lessons at their local branch of "the system."
Raphael Elster runs one of the branches. He told Simon children join the music program as young as two years old.
Two-year-olds start learning the basics, like rhythm, and the language of music. By the time they're four, they're being taught how to play an instrument. By the time they're six or seven-year-old veterans, they're playing in orchestras.
"A regular kid who will play in two or three years, we make it happen in three, four months," Elster told Simon.
Asked how that's done, he said, "We work hard. And they love it."

Hard work is an understatement. Every day after school throughout Venezuela, you can see kids practicing. Fifteen thousand trained musicians work with them, but the system also uses gifted kids to teach other kids. After eight hours of school work, it makes for a long day.
"So, a kid is here from 7:00 in the morning from 6:00 in the evening?" Simon asked.
"Twelve hours, almost," Elster said. "Every day from Monday to Saturday."
"They only have Sunday," he added.
"Only Sunday to get into trouble," Simon remarked.
"To practice at home," Elster replied, laughing.
Home, for most of the kids in Elster's branch, is called "Sarria," one of the poorest and most crime-ridden neighborhoods in Caracas. "These people, they don't have almost anything. So they decide to build a house here and it's like five people per room," he said.
The worst section of Sarria is a labyrinth of illegal shacks and alleyways, built into the side of a ravine. "And 80, 90 percent of our kids come from here," Elster said. "You can see the kind of construction. This is really bad. It's really poor."
Asked how dangerous it is there, Elster told Simon, "Oh, pretty dangerous. So you cannot be walking around here by yourself."
"Not even you?" Simon asked.
"Not even me. No one. No one," he said. "Even the people from the neighborhood can get robbed here. But it's part of the poverty."
In the midst of that poverty, the system uses classical music to instill in the kids self-esteem and confidence. Popular music, Rafael says, wouldn't work.
"What they have on home at the radio is popular music all the time. Their father, who drinks every day, he get drunk with that music," he told Simon. "So you have to give them something different. When they sit in one of these chairs in the orchestra, they think they're in another country, in another planet. And they start changing."
Their sound might be a little rough, but what they lack in experience the kids make up for with enthusiasm. Trumpeter Paola Chistoni says the system teaches kids a lot more than how to play an instrument.
"Kids who are poor wouldn't be able to join an orchestra on their own. It's really good because not only do they learn a daily routine - but they also learn another culture," she said.
Paolo first chose the violin when she joined the program, but decided the liked the trumpet better.

Nearly 300,000 kids like Paola are in "the system." There are 176 orchestras for children, 216 for young people, and 400 more ensembles, orchestras and choirs. The sound of children playing classical music is everywhere. If it seems they're playing as if their lives depend on it, Dr. Abreu says they do.
"Eight hundred thousand children have passed through the system in 32 years," he told Simon.
"The majority of them have not, will not become musicians?" Simon asked.
"Music produces an irreversible transformation in a child. This doesn't mean he'll end up as a professional musician. He may become a doctor, or study law, or teach literature. What music gives him remains indelibly part of who he is forever," Abreu said.
Take Lennar Acosta, who 60 Minutes first met eight years ago when he was serving time in a juvenile detention center in Caracas. He was 17, had a violent criminal background, and the scars to prove it. When the detention center started an orchestra, Lennar tried the clarinet.
Ed Bradley asked him about it.
"Tell me what it was like the first time you picked it up to play it?" Bradley asked.
"It's completely different than when you hold a gun," Lennar replied.
Asked if he thought his life was different because of the clarinet and the orchestra, Lennar told Bradley, "Yeah, a lot. The music taught me how to treat people without violence."
That's not all he learned. 60 Minutes caught up with him one morning recently on his way to work, in Germany. The system sent him here to work as an apprentice, learning how to build and maintain organs.
Back in Venezuela, Lennar will be responsible for maintaining the organ in the system's new headquarters.
The day Simon was there, the National Youth Orchestra - made up of the system's best musicians - was rehearsing. Their conductor, Gustavo Dudamel, is the orchestra's first international superstar and a product of Dr. Abreu's system, which in the beginning most people thought would never work.
"For a lot of people he was a crazy man. Kids, Venezuelan, poor, playing classical music. Oh my God!" Dudamel told Simon.
"Dr. Abreu often says that the system saves children. Saves them from what?" Simon asked.
"From a lot of things," Dudamel replied. "We have cases with kids with big problems. With big problems. And they change their life with music."
Consider the life of Jose Gregorio Hernandez. His blindness didn't stop the orchestra from letting him be as much a part of it as any other kid.
"Do you think that the system is changing Venezuela?" Simon asked Dudamel.
"Absolutely," he said. "Three hundred thousand kids and young people play music. In the future, a million. I'm sure of this. When Venezuela will be full of orchestras. Now it's full. Will be more. I think we are helping a lot, and the orchestra now is a symbol of the country. It's like the flag."
The National Youth Orchestra shows the flag every time it travels abroad. It's so much in demand, it's on the road more than most professional orchestras. 60 Minutes caught up with them in London, where they performed before a packed audience at Royal Albert Hall.
Back home, their success is a source of national pride. But all that comes at a price. The system's annual budget is $80 million. Most of it comes from the Venezuelan government. Dr Abreu has kept the program alive through eight Venezuelan governments. But he's always on the phone, looking for additional funding.
Not surprisingly, the system's need for all kinds of instruments is enormous. So since 1995 they've been making some of their own from scratch.
"We are literally begging all over the world, everyone who has a penny who can give us to buy a string violin, a trumpet, shoes. Whatever we can help this kid," Elster told Simon.
"A trumpet or shoes?" Simon asked.
"Yeah. Whatever. Both. If it's possible," Elster replied.
Asked if he thinks the system could work in the United States, Elster told Simon, "Yeah. But I mean, kids are kids. It doesn't matter where they come from. And if you can help a poor kid in here, you can help a poor kid everywhere. It doesn't matter the culture, it doesn't matter the race. I mean, it's music. Everybody love music."
The sistema's motto is "tocar y luchar," Spanish for "to play and to fight." In Venezuela, it's often the same thing.
Produced by Harry A. Radliffe II
Thanks for reading CBS NEWS.
Create your free account or log in
for more features.