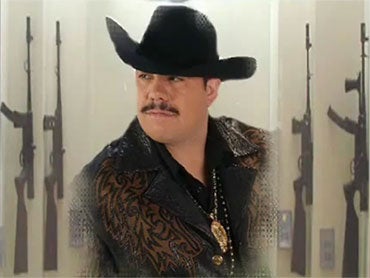 "El Halcon de la Sierra": Death of a Cartel Singer
Fabian Ortega Pinon, 28, better known as the "Falcon of the Sierra" died at the hands of the people he sang about -- Mexico's increasingly vicious drug traffickers.
Ortega, killed Oct. 19 in the northern Mexican state of Chihuahua, was a "grupero" musician. Gruperos often sing ballads, called "narcocorridos," about drug trafficking and drug traffickers. Ortega's body, along with two others, was found riddled with bullet holes on a highway. While unconfirmed, drug-related violence is suspected.
Carlos Gonzalez, a spokesman for the local prosecutor's office, said the bodies had multiple gunshot wounds and looked like they had been killed by several men, judging from the number of empty bullet casings.
Musicians like Ortega often compose "narcocorridos" in honor of particular drug traffickers. The corresponding videos frequently appear on YouTube. The songwriting is "not always an outright celebration of the cartel bosses," says Elijah Wald, a music journalist and author of Narcocorrido: A Journey Into the Music of Drugs, Guns, and Guerrillas.
Ortega is known for his song "Puros huevos y frijoles", (Only scrambled eggs and beans), which explains the temptation of drug-trafficking to many Mexicans. "I was tired of eating eggs and beans, of being humiliated by everyone, I dedicated myself to trafficking to find better things," he sang.
And find better things he did -- along with a criminal record. Ortega was arrested last year after being found in possession of crystal meth, illegal weapons, $20,000 in cash and more than 844 assault rifle rounds. That arrest, and the seizure of the illicit goods, took place on a yacht off the coast of Baja California, while Ortega was in the company of a hitman for drug kingpin Teodoro Simental, who earned the nickname "The Stewmaker," for having the corpses of tortured rivals dissolved in acid.
Ortega was the fifth grupero singer killed in Mexico in just three years. Other narcocorrido musicians who met the same fate were Valentin Elizalde, known as the "Gallo de Oro" (Golden rooster), Sergio Gomez, of the group K-Paz, and Sergio Vega, known as "El Shaka," who was killed earlier this year as he made his way to a concert in his red Cadillac. The grandfather of narcocorridos, Chalino Sanchez, was assassinated in the early 90's.
Why was Ortega killed? The Mexican newspaper La Jornada reports that Ortega was known for being friends with drugtraffickers who often hired him to sing at their parties. Grupero music, in general, is known for its connections with organized crime.
In 2009, Mexican authorities arrested Ramon Ayala and Los Bravos del Norte, for their alleged links with the Beltran Leyva cartel. They were arrested at a "narcofiesta" which the Beltran Leyva brothers were hosting near Cuernavaca, Morelos a few days before Arturo Beltran Leyva "the boss of bosses" was killed by Mexican security forces.
It may be an actual drug trafficker who explained the execution of the singers best, admitting the futile reasons for their slayings.
Edgar Valdez Villareal, aka La Barbie, one of Mexico's top capos arrested in August told authorities the cartels kill grupero musicians, "because they go around with different groups or cartels, because they didn't go and sing to a certain narco, or for other silly reasons."
This story was filed by CBS News producer Susana Seijas in Mexico City.
Thanks for reading CBS NEWS.
Create your free account or log in
for more features.