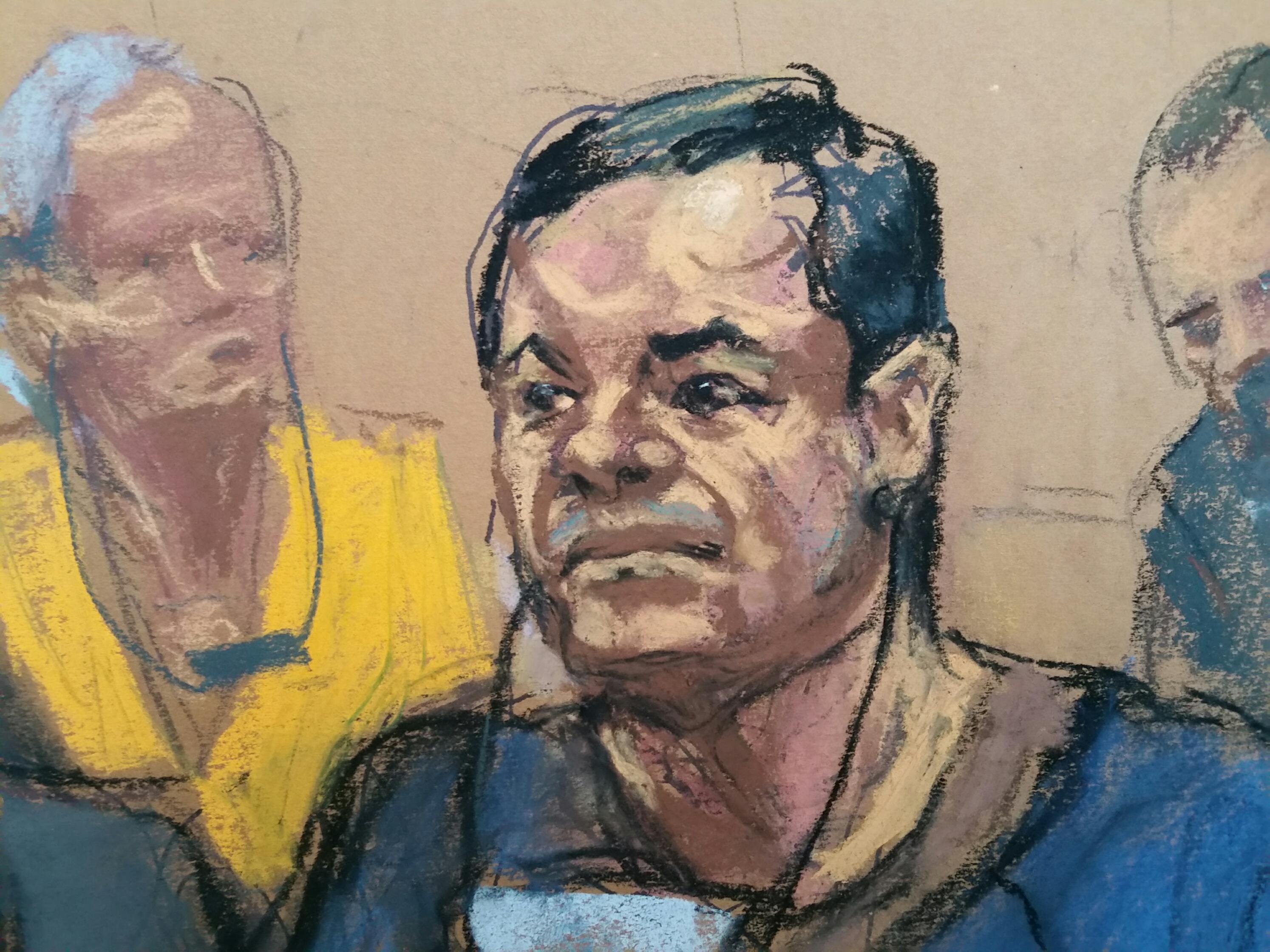 Witnesses in crosshairs as accused drug lord "El Chapo" faces NYC trial
NEW YORK -- Security was tight Monday as jury selection started in the federal trial of notorious accused drug kingpin Joaquin "El Chapo" Guzman in New York City. Special security procedures are also expected to be in place for jurors, once they are seated, CBS New York reports.
Guzman is accused of having a hand in dozens of murders, of using his drug cartel to smuggle more than 200 tons of cocaine into the United States, even pulling off running the massive operation from behind bars. That's when he wasn't busy escaping from jail — twice.
The almost-mythical criminal pedigree of the Mexican drug lord, who was extradited in 2017 to face U.S. drug conspiracy charges, has sparked security concerns for the trial that at times have drawn as much attention as the case's sensational allegations.
A look at those concerns:
Witnesses in the crosshairs
Prosecutors say Guzman was in the habit of ordering the killings of anyone who got in his way during his heyday in Mexico as boss of the Sinaloa cartel.
In his way now is a lineup of government witnesses who survived the wave of violence and are expected to give details about the ruthless way he kept power for 20 years in the cutthroat world of international drug trafficking. The defense says the witnesses are the true bad guys whose testimony shouldn't be trusted.
The names of the witnesses have been blacked out on court documents with prosecutors saying their identities need to be protected because their cooperation could put them in the crosshairs of a vengeful cartel. According to court papers, some are being held in special jail units for their protection, while others are in witness protection programs.
The list of people who could turn up on the witness stand is long. Two standout possibilities are twin brothers Pedro and Margarito Flores, former Chicago-based narcotics wholesalers who did business with Guzman before their arrest in 2008. They agreed to cooperate and record phone conversations with Guzman about the size of shipments smuggled on boats and airplanes.
In one, a voice identified as Guzman's asks, "How much can you get rid of in a month?"
The now imprisoned brothers paid a steep price for flipping: Prosecutors say in 2009 their father was murdered in Mexico by a cartel hit team.
Fortifying the courthouse
The Eastern District of New York federal court in Brooklyn is taking unprecedented measures to protect the potential jurors with police and U.S. marshals are stationed outside the courthouse, the station reports.
The judge also agreed with prosecutors that the jury for the case should be kept anonymous, a measure typical in terrorism or mob cases where jury intimidation is a concern.
No one's hiding the ominous nature of the case from potential jurors. Questions for them on an initial screening form ask if they've ever heard of "El Chapo" along with, "Have you, or has anyone close to you, ever felt fearful of or threatened by people who you thought were associated with drug crimes?"
Jurors also will be escorted to and from the courthouse by federal officers and sequestered from the public while inside. As a reason, the judge cited prosecutors' contention that Guzman's cartel "employs 'sicarios,' or hit men, who carried out hundreds of acts of violence, including murders, assaults and kidnappings."
Guzman's defense attorneys have argued the level of security creates a public spectacle that's prejudicial to jurors, CBS New York reports.
Keeping an eye on El Chapo
After Guzman was brought to New York, authorities here decided he should be housed in solitary confinement in a high-security wing of a federal jail in Manhattan that has held notorious terrorists and mobsters.
Central to that calculation was Guzman's history of giving directions to his lieutenants from Mexican jails and credentials as a two-time escapee there. The second time was via a mile-long tunnel dug to the shower in his cell.
The logistical problem for his keepers: The case is being prosecuted across the East River in federal court in Brooklyn. Before dawn Monday, the 61-year-old was driven in a heavily armed motorcade from a Manhattan correction facility to Brooklyn, shutting down part of the Brooklyn Bridge, as was the procedure during pre-trial hearings, CBS New York reported.
The judge indicated he thinks the time and expense involved with the transport would add up to a logistical nightmare — and an inconvenience for New Yorkers who rely on the bridge to commute — for a trial expected to last as long as four months. He said there would be adjustments, but didn't elaborate.
Guzman has pleaded not guilty to international drug trafficking, money laundering, kidnapping and murder. If convicted, he faces life behind bars. Opening statements are likely to begin Nov. 13.
Thanks for reading CBS NEWS.
Create your free account or log in
for more features.