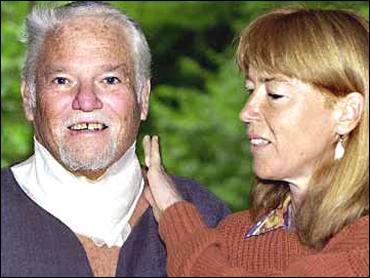 Einhorn Flying Solo In Court This Week
The wife of longtime fugitive guru Ira Einhorn won't be by his side when his murder trial begins in Philadelphia this week.
Annika Flodin Einhorn, a 51-year-old Swede who went into hiding with Einhorn after they met in 1987, says she planned to attend, but was told she could be charged with aiding a fugitive. She feared she would also be branded "the hated Ira's wife."
"I have knowingly supported a fugitive for years," Annika Einhorn told The Philadelphia Inquirer, in an interview published Sunday. "What more can you do for someone?"
Einhorn is charged with the 1977 bludgeoning death of former girlfriend Holly Maddux, whose mummified body was found in a trunk in the couple's apartment 18 months later. Opening statements are set for Monday.
"I feel cautiously optimistic that he is going to be acquitted," Annika Einhorn told the newspaper in a daylong interview last week at her home in the Charente region of France, about 100 miles north of Bordeaux.
Einhorn, who fled the country before his scheduled 1981 trial, has been in jail since he was brought back from France last year. The two write frequent letters and are allowed one telephone call a month, his wife said.
"Today both Ira and myself feel in good spirits," said Annika Einhorn, who echoes her husband's contention that he is innocent.
Einhorn has had few visitors while jailed at Graterford Prison in Montgomery County and at Houtzdale Prison in central Pennsylvania, she said.
"He's definitely coped," she said from their 5-acre property. "Coming from here to being in a prison, it's a major difference."
Einhorn, a bearlike New Age philosopher who earned a Harvard fellowship and once ran for mayor, presided over the city's first Earth Day celebrations in 1970 and mixed with counterculture figures Abbie Hoffman and Jerry Rubin.
He met Maddux, a willowy blond from Texas with a love for art and nature, in 1972. Voted "most likely to succeed" by her high school class in Tyler, Texas, she had moved to the East coast to attend Bryn Mawr University.
Maddux's four surviving siblings plan to be in Philadelphia for the trial. They have tried to keep the pressure on Einhorn over the years, for the sake of both Holly and their parents, who died believing he had beaten the system.
"If you love somebody, this is the kind of thing you're supposed to do. You're supposed to fight for them, and do what you can," Buffy Hall, a sister from Texas, told KYW-AM.
Einhorn, who jumped bail before his scheduled 1981 trial, was convicted in absentia of first-degree murder in 1993. To ensure that France would extradite him, the Legislature passed a law setting aside that conviction.
Annika Einhorn, whose family money helped finance her 14 years underground with Einhorn, said she has renewed her relationship with her elderly parents.
Meanwhile, she sends Einhorn subscriptions to the International Herald Tribune and the New Yorker, as well as clothes from Lands' End for his court appearances. The sharp blazers, shirts, ties and slacks are an abrupt change from his unkempt hippie days.
"Ira never wore clothes like this," Annika Einhorn said with a smile.
The couple hoped to hire Philadelphia lawyer Norris Gelman, who represented Ira Einhorn at the 1993 trial but was never paid. That, however, would have required selling the 5-acre spread in France, she said.
"Of course I wanted him to have Norris Gelman," she said, "but I just couldn't" lose the property, known locally as Moulin de Guitry. Her husband is being represented by two court-appointed attorneys.
"I am personally fine on my own, which is a help," Annika Einhorn said. "But the amount of disappointment we've faced during this year has been wrenching."
Thanks for reading CBS NEWS.
Create your free account or log in
for more features.