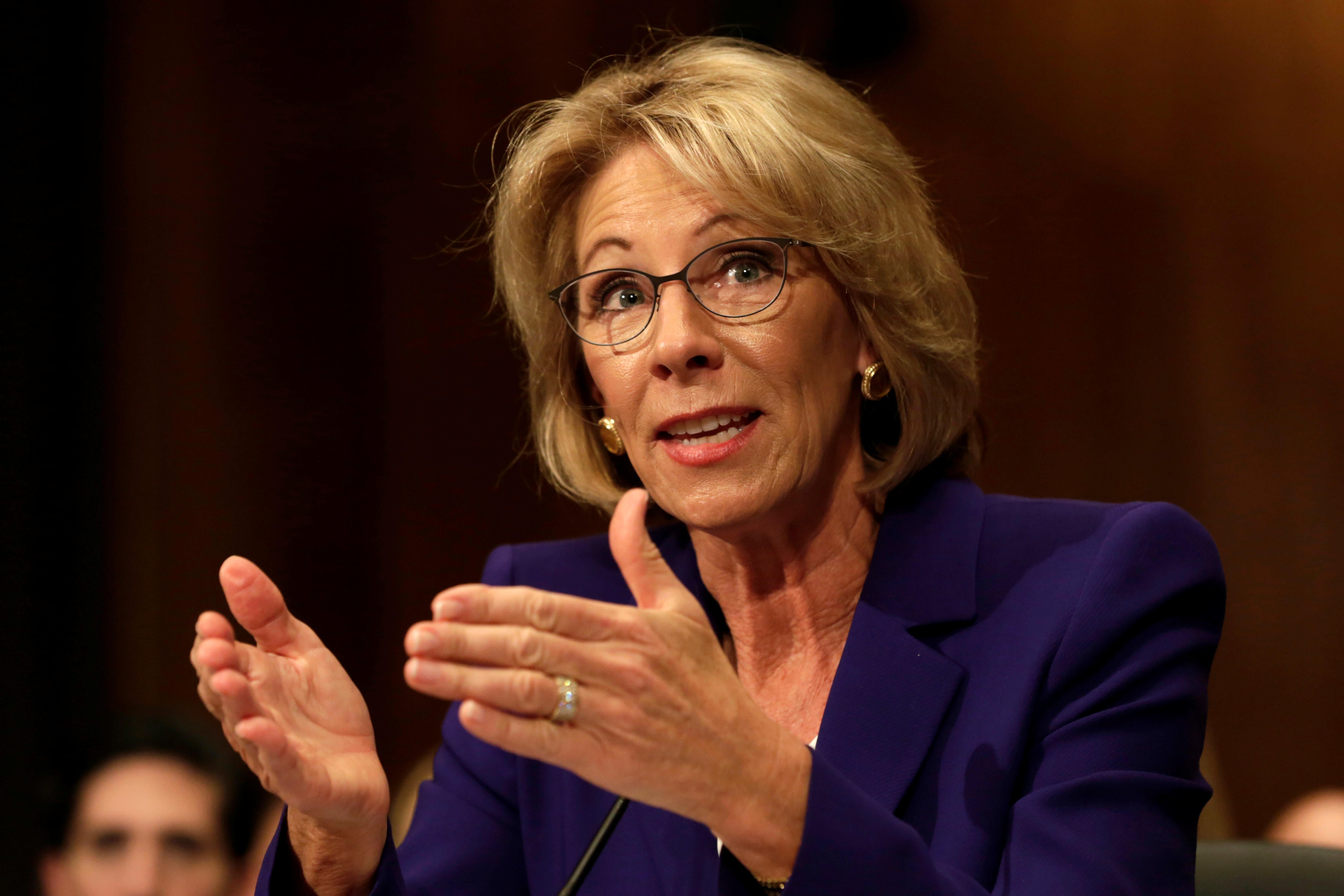 Education pick Betsy DeVos argues for school choice, disavows conversion therapy
WASHINGTON -- Education secretary nominee Betsy DeVos said Tuesday that American parents must be able to send their children to high-quality schools, including charter, magnet and religious schools, if public schools are failing.
Responding to fierce criticism from teachers unions that the Republican donor and school choice activist is working against public education, DeVos told the Senate Health, Education, Labor and Pensions Committee that she will be "a strong advocate for great public schools."
"But," she added, "if a school is troubled, or unsafe, or not a good fit for a child - perhaps they have a special need that is going unmet - we should support a parent's right to enroll their child in a high-quality alternative."
Committee Chairman Lamar Alexander, R-Tenn., a former education secretary, expressed confidence that DeVos is an "excellent" choice for the job. "She is on the side of our children," he said.
But Sen. Patty Murray of Washington state, the top Democrat on the committee, said she was "extremely disappointed" that DeVos has not yet finalized her financial and ethics disclosures ahead of the hearing.
DeVos, 59, also said she will seek to address rising higher education costs and massive student debt, but also advance trade and vocational schools as well as community colleges because "craftsmanship is not a fallback - but a noble pursuit."
DeVos, the wife of Dick DeVos, the heir to the Amway marketing fortune, has spent more than two decades advocating for charter schools in her home state of Michigan, as well as promoting conservative religious values.
Labor unions, Democrats and civil rights groups have opposed her appointment. She and her family have donated millions of dollars to Republican politicians and groups over the years, including campaign contributions to several committee members.
Murray, in a statement, said she wants DeVos to answer questions about her "extensive financial entanglements and potential conflicts of interest" and also to provide additional information about her finances, calling her disclosures incomplete. The senator lamented that DeVos has spent her career and wealth "fighting to privatize public education and gut investments in public schools."
DeVos says she will take a salary of only $1 if confirmed to head the Education Department, because she says does not want to take a government salary as Mr. Trump's new education secretary.
DeVos has used her vast wealth to promote charter schools, vouchers and traditional family values. Yet she is trying to assure Democrats that she will also divest in financial investments that are deemed a conflict.
She pledges that she "will not be conflicted. Period."
LGBT groups also have protested Trump's choice of DeVos, saying she has funded conservative religious groups that promote what they consider to be traditional family values, including one organization that supports conversion therapy - counseling of gay, lesbian, bisexual or transgender people with the aim of changing their sexual orientation.
In an apparent response to that criticism, DeVos said in her statement, "Every child in America deserves to be in a safe environment that is free from discrimination."
DeVos disavowed any support for conversion therapy - the controversial counseling of gay, lesbian, bisexual or transgender people with the aim of changing their sexual orientation.
She told the Senate panel she has "never believed in that."
DeVos said she "believes in the innate value of every single human being," and she says all children have a right to attend a safe school.
Also, DeVos vowed to work on weakening "burdensome" federal regulations and giving local communities greater control over education policies.
"President-elect Trump and I know it won't be Washington, D.C., that unlocks our nation's potential, nor a bigger bureaucracy, tougher mandates or a federal agency," DeVos said. "The answer is local control and listening to parents, students and teachers."
Thanks for reading CBS NEWS.
Create your free account or log in
for more features.