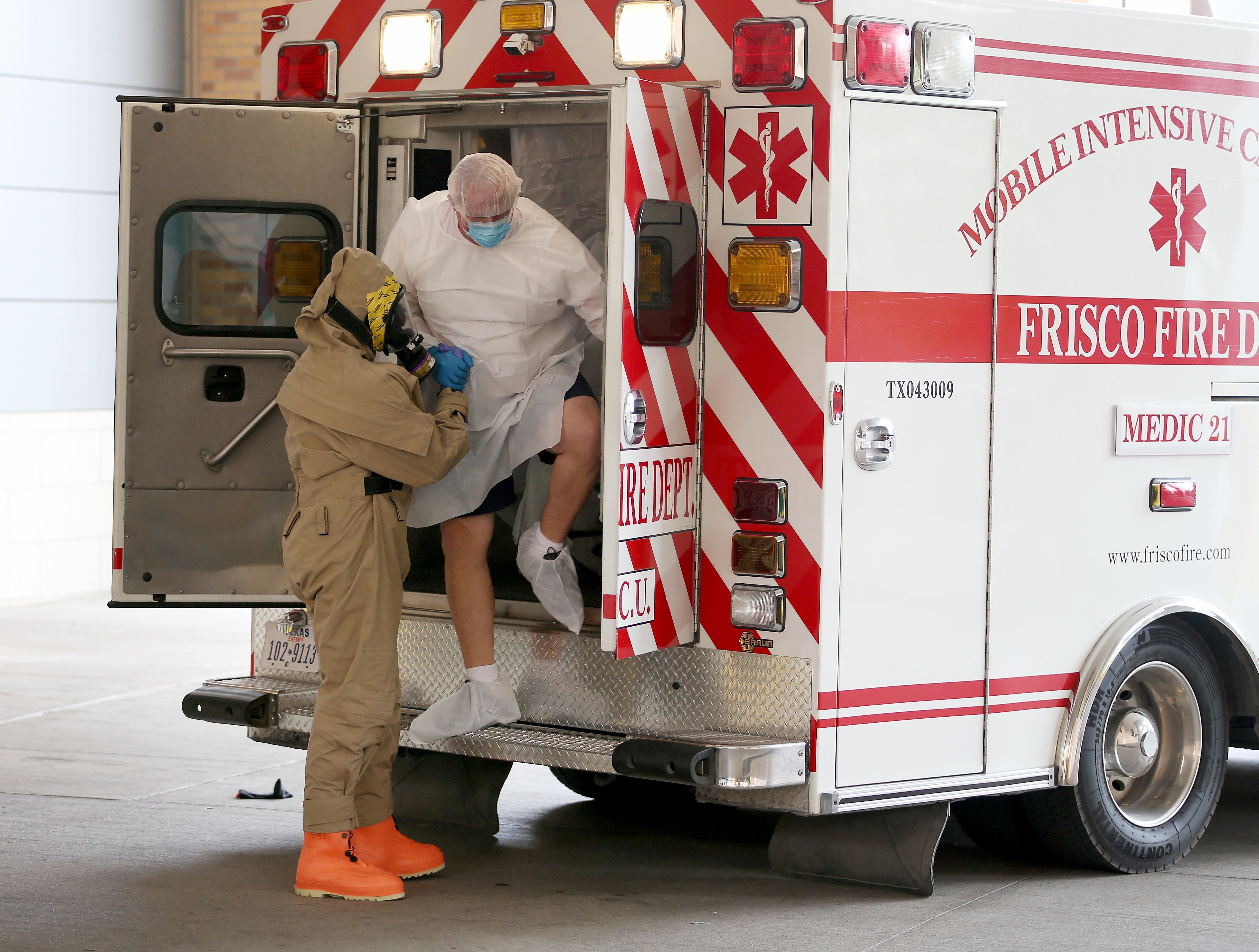 Sheriff's deputy with possible Ebola symptoms hospitalized in Texas
FRISCO, Texas -- Suburban Dallas officials say a sheriff's deputy who went into the apartment where the first U.S. Ebola patient had stayed is hospitalized "out of an abundance of caution" after falling ill.
But the deputy did not have contact with Thomas Eric Duncan, the Ebola patient who died today in a Dallas hospital, a spokesman for CareNow told CBS News.
The patient, Michael Monnig, was transported from a Frisco Care Now facility where he was complaining of "stomach issues," sources told CBS station KTVT in Dallas.
The Dallas County Sheriff's office released a statement Wednesday, saying "the deputy expressed concern and we directed that deputy to the Dallas County Health & Human Services for care. We now wait for further information as medical staff attends to the deputy."
Frisco officials say the deputy was transported Wednesday after an urgent care facility reported a patient "exhibiting signs and symptoms" of Ebola claimed to have had contact with relatives of the man diagnosed with the disease in Dallas.
Texas Health Presbyterian Dallas confirmed that a patient was admitted "after reporting possible exposure to the Ebola virus."
Frisco Fire Chief Mark Piland says the deputy entered the apartment where Duncan had been staying and had contact with some members of the family that lived there.
Health officials say none of the family members has exhibited symptoms and wouldn't have been contagious.
At a press conference Wednesday, the mayor of Frisco said his office was told the risk that this patient has Ebola is minimal.
Frisco is about 28 miles north of Dallas, a city on edge as public-health officials wait to see if any of the people who may have been exposed to Ebola develop symptoms of the deadly disease.
Several residents of the neighborhood where Duncan emerged as the first U.S.-diagnosed Ebola case told city officials they had been sent home from work. Some community volunteers shunned a nearby after-school program. And the hospital at the epicenter of fear acknowledged for the first time that some patients were staying away.
Health officials tried to present a unified front of both preparedness and reassurance, almost two weeks after the Liberian man who brought Ebola into the U.S. first developed symptoms.
"This is a very critical week," said Dr. David Lakey, the Texas health commissioner. "We're at a very sensitive period when a contact could develop symptoms. We're monitoring with extreme vigilance."
CBS News chief medical correspondent Dr. Jon LaPook said he believes Duncan won't be the last person to be diagnosed with Ebola on U.S. soil.
"We're going to see individual cases [of Ebola] in the U.S. However, that is not the same as an individual outbreak," LaPook said Wednesday. "We need to beef up our ability to follow protocol as cases come into emergency rooms."
Public health officials are watching for any signs of Ebola's spread. Ten of the 48 people being monitored are confirmed to have had close contact with Thomas Eric Duncan, who died Wednesday after being hospitalized for more than a week. The federal Centers for Disease Control and Prevention says people infected by the virus can begin showing symptoms of Ebola eight to 10 days after exposure. Duncan first sought care at a hospital emergency room on Sept. 25 and was admitted three days later.
The Ebola outbreak has triggered huge interest on social media, as evidenced by this Twitter heat map:
Vickery Meadow, a collection of low-income apartment complexes just a short drive from some of Dallas's toniest neighborhoods, appeared calm on Tuesday. Women in traditional Muslim head coverings, mothers carrying children and workers headed to the bus stop walked along the road next to The Ivy apartments, where Duncan had stayed.
But some tensions have surfaced.
Dallas City Councilwoman Jennifer Staubach Gates said three residents of Vickery Meadow reported that their employers sent them away from work out of fear that they could be carrying the virus. Gates said Tuesday that she had contacted a lawyer to help those men.
The city has also enlisted doctors to explain Ebola to neighborhood residents and assure them that they are safe, Gates said. Vickery Meadow is home to thousands of immigrants from Afghanistan to Mexico, many of whom do not speak English.
Even Dallas County Judge Clay Jenkins had to assure residents that his presence in the apartment where Duncan stayed posed no risk to others, including students at a school attended by his daughter. Jenkins released two letters Tuesday night from state and federal health officials saying he "was not at risk and posed no risk to others through his interactions with the family."
"We can never forget that the enemy here is a virus," said Dr. Tom Frieden, director of the CDC. "The enemy is Ebola, not people, not countries, not communities - a virus."
Heart House, an after-school program serving the neighborhood, said about 20 volunteers had declined to come in for their shifts due to fear of the virus. Lenita Dunlap, director of Heart House, said the loss of volunteers made it harder to have enough adults to serve the 120 children in the program.
But Heart House remained open, with Dunlap and other staff watching Tuesday as dozens of children ran around a playground.
"We're standing strong," she said. "We believe in this community and we believe in the people here. And we have an incredible opportunity to serve."
Gustavo Villalobos stopped on his way to work at the nearby NorthPark Shopping Center. He said he felt assured by officials that his neighborhood was safe. But he noted that some at the high-end mall seemed nervous.
"People at the mall, if they hear someone coughing, they'll look at them weird" and recoil, he said.
Texas Health Presbyterian Hospital Dallas, which is treating Duncan, acknowledged that a small number of patients had changed or canceled appointments because of Ebola fears. But spokesman Wendell Watson said the number was insignificant and that the hospital was safe.
"They don't need to be terrified of this," Watson said.
Thanks for reading CBS NEWS.
Create your free account or log in
for more features.