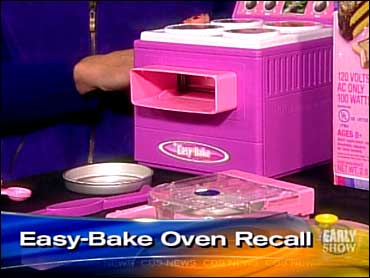 Easy-Bake Ovens Recalled - Again
For the second time this year, toy-maker Hasbro is recalling Easy-Bake Ovens due to reports of kids getting their fingers caught in them, and sometimes suffering burns, some of them severe.
Approximately 1 million ovens are affected.
The toy has been among the nation's most popular for more than 40 years.
But in February, after what it and the Consumer Product Safety Commission said were 29 reports of children getting their hands or fingers caught in the oven's opening, including five reports of burns, Hasbro offered free retro-fit kits designed to eliminate the danger.
Since then, say Hasbro and the CPSC, there have been 249 reports of children getting their hands or fingers caught, including 77 reports of burns, 16 of which were reported as second and third-degree burns. There was one report of a burn serious enough to require a partial finger amputation to a 5-year-old girl.
The Easy-Bake Oven is a purple and pink plastic oven that resembles a kitchen range with four burners on top and a front-loading oven. "Easy-Bake" is printed on the front of the oven. Model number 65805 and "Hasbro" are stamped into the plastic on the back of the oven.
The recall includes all units with the retrofit kit.
The Easy-Bake Oven is an electric toy and isn't recommended for kids under eight-years-of-age.
Ovens sold before May 2006 aren't included in this recall. The units that are were sold at Toys "R" Us, Wal-Mart, Target, KB Toys and other retailers nationwide from May 2006 through July 2007, for about $25.
They were made in China.
The CPSC's Julie Vallese discussed the latest recall on The Early Show Thursday with co-anchor Hannah Storm. To see the interview,
For more on the new recall, and to get a refund form, click here.

Thanks for reading CBS NEWS.
Create your free account or log in
for more features.