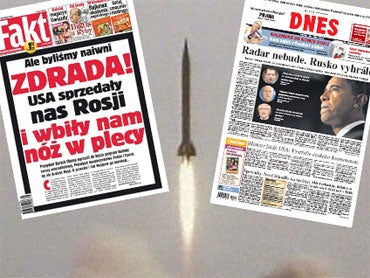 East European Officials: U.S. Betrayed Us
President Obama is feeling heat from some quarters after deciding to drop the Bush administration's missile defense plans in Eastern Europe.
Republicans say the president's decision is naïve, while Democrats say the new plans will do more for defense and diplomacy with both Iran and Russia than the missile program, which had increased tensions in the region.
Moscow had resisted President Bush's plans to install interceptor missiles in what it considered Russia's backyard.
Polish President Lech Kaczynski said he was concerned that Mr. Obama's new strategy leaves Poland in a dangerous "gray zone" between Western Europe and the old Soviet sphere.
Recent events in the region have rattled nerves throughout central and Eastern Europe, a region controlled by Moscow during the Cold War, including the war last summer between Russia and Georgia and ongoing efforts by Russia to regain influence in Ukraine. A Russian cutoff of gas to Ukraine last winter left many Europeans without heat.
The Bush administration's plan would have been "a major step in preventing various disturbing trends in our region of the world," Kaczynski said in a guest editorial in the daily Fakt and also carried on his presidential Web site.
President Kaczynski's editorial (in Polish)
Secretary of Defense Robert Gates said he still sees a chance for Poles and Czechs to participate in the redesigned missile defense system. But that did not appear to calm nerves in Warsaw or Prague.
Kaczynski expressed hopes that the U.S. will now offer Poland other forms of "strategic partnership."
In Prague, Czech Foreign Minister Jan Kohout said he made two concrete proposal to U.S. officials on Thursday in hopes of keeping the U.S.-Czech alliance strong: for the U.S. to establish a branch of West Point for NATO members in Central Europe, and to "send a Czech scientist on the U.S. space shuttle to the international space station."
An editorial in Hospodarske Novine, a respected pro-business Czech newspaper, said: "an ally we rely on has betrayed us, and exchanged us for its own, better relations with Russia, of which we are rightly afraid."
The move has raised fears in the two nations they are being marginalized by Washington even as a resurgent Russia leaves them longing for added American protection.
The Bush administration had said its missile plans were aimed at countering any threat from Iran's ballistic missile program. But Poles and Czechs saw it as protection against Russia, and Moscow too considered a military installation in its backyard to be a threat.
Russian President Dmitry Medvedev said last summer that a U.S. deployment of an anti-missile system close to Russian borders "will of course create additional tensions," and might be met with a military response.
"They don't want us messing around [in] former client states of the Soviet Union," Michael Crowley, senior editor at The New Republic, told "Early Show" anchor Harry Smith. "They saw that as hostile, although it really wasn't about Russia."
Saying that the old Cold War foes must forget any lingering animosity, , calling for the U.S., Russia and NATO to link their missile defense systems against potential new nuclear threats from Asia and the Middle East.
"We should explore the potential for linking the U.S., NATO and Russia missile defense systems" to our mutual benefit, Secretary-General Anders Fogh Rasmussen said.
Russian envoy Dmitry Rogozin praised the NATO chief's address for its "very positive tone," but added that "cooperation with Russia is not a matter of choice [for NATO but] of necessity."
Speaking in Brussels yesterday, Rogozin also advised against "childish euphoria" over the U.S. decision to drop construction of a land-based missile plan. "Washington has simply corrected its own mistake and has chosen a more flexible and efficient approach to its global missile shield. ... I believe we can say that the new system will have missiles placed on military naval vessels, which is not very good for Russia, because military ships can be in one location one day, and near St. Petersburg the next."
Meanwhile, the front-page headline of today's largest Czech daily, Mlada Fronta Dnes, declared, "No Radar. Russia won."
Walking Back Missile Defense
There was tremendous public anger in the host nations over the proposed deals, as well as fears that installation of a missile system in Eastern Europe would spark a new arms race with Russia.
Despite Czech Foreign Minister Karel Schwarzenberg's assurance that the missile defense shield would increase the security of Europe and beyond, , which was approved in July 2008, leading to protests in Prague.
(AP Photo/Czarek Sokolowski)

In August 2008, after a year and a half of negotiations (and demonstrations by Polish protesters), American and Polish officials signed an agreement in which the U.S. would augment the country's defenses with Patriot missiles in exchange for .

(Left: Poles in Warsaw protesting a proposed U.S. missile defense base in Poland, March 24, 2007.)

Now that the Obama administration has scrapped the original plans, officials in the host countries who had supported the program at huge political costs feel betrayed.

"They're thinking we've been sold out," Crowley said. "They're so upset that in Poland they didn't even take the phone call from Hillary Clinton at first. They're very upset at the Obama administration [thinking] 'We went out on a limb.'"

The timing of the decision was unfortunate as well, suggested Crowley, being on the 70th anniversary of the Nazi invasion of Poland. But, he added, the White House is seeking to assure Warsaw that they are not being abandoned and still will be protected from any Russian actions under the revised military agreement.

"But the real deal here is, is this a quid pro quo with Russia?" Smith asked.

"That's the question," Crowley replied. "The Obama administration says there was no quid pro quo and no tit for tat tradeoff, but what you have to do is look to see when we start pressuring the program, we start doing big arms reductions treaty, will [Russia] be playing ball? Will they be helping . . . more than they have been? So look down the road to see if Obama gets something in return."

Replaying Old Battles Over "Star Wars"

Defense Secretary Gates, who was in charge at the Pentagon in 2007, backed Mr. Bush's move then, but now tells reporters that two big changes since have led him to conclude that the Bush approach is outdated.

The first factor, Gates said, was a changed U.S. assessment of Iranian missile capability, which he said was years behind what the Bush administration claimed.

The second was advances in U.S. missile interceptor and missile-tracking sensor technologies, which Gates said allow the U.S. to pursue defensive capabilities through the use of anti-missile weapons based on U.S. Navy ships in the Mediterranean and the waters of northern Europe, plus more advanced land-based interceptors than what the Bush plan comprised.

Marine Gen. James E. Cartwright, vice chairman of the Joint Chiefs of Staff, said the new proposed plan for Eastern Europe would also offer opportunities in the future to easily upgrade to new systems to expand the capability of defending not only potential European targets but also the United States.

In addition, the new plan is less expensive - roughly half the $5 billion which the Bush plan would have cost.

Gates' explanations did little to shield the administration from a barrage of political strikes by Republicans who portrayed the president's shift as a weak-kneed capitulation to Russia and an abandonment of U.S. allies.

Before Gates had even finished his news conference, House Republican leader John Boehner of Ohio issued a statement accusing President Obama of a "willful determination to continue ignoring the threat posed by some of the most dangerous regimes in the world." He said Mr. Obama's decision had sold out the allies and empowered Iran.

Rep. Ileana Ros-Lehtinen, R-Fla., likened it to appeasement.

The ideological schism is not new. Supporters and skeptics has tussled over a missile "umbrella" since the defense system got its first boost from President Ronald Reagan in his famous "Star Wars" speech of March 1983.

The Clinton administration quickly killed the Reagan program, but a scaled-down version was revived by President George W. Bush, leading to a decision in 2007 to go ahead with the system in Europe. Mr. Bush also gave the go-ahead in 2004 for a U.S.-based system to defend against a long-range missile threat from North Korea.
Thanks for reading CBS NEWS.
Create your free account or log in
for more features.