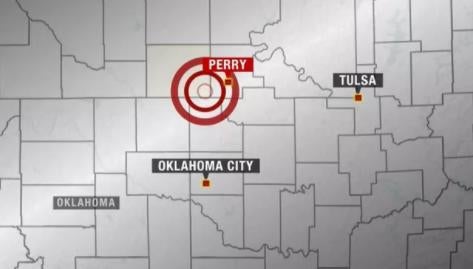 Earthquakes rattle northwest Oklahoma
COVINGTON, Okla. -- Earthquakes are rattling part of northwest Oklahoma where more than a dozen temblors have struck since Friday. The U.S. Geological Survey recorded an earthquake of preliminary magnitude 4.3 at 5:22 a.m. Monday, nearly an hour after a magnitude 3.3 quake struck the area near Covington, about 55 miles north of Oklahoma City.
Garfield County Emergency Management Director Mike Honigsberg says there are no reports of injury or severe damage from any of the quakes, which have ranged in magnitude from 2.4 to 4.6. The magnitude 4.6 earthquake that shook Oklahoma on Saturday was also felt in neighboring Kansas and Missouri, according to the USGS.
Thousands of earthquakes have been recorded in Oklahoma in recent years, with many linked to the underground injection of wastewater from oil and natural gas production. State regulators have directed several oil and gas producers in the state to close injection wells or reduce volumes.
The strongest earthquake on record in Oklahoma was a magnitude 5.8 recorded near Pawnee on September 3, 2016, CBS affiliate KOTV reports.
Thanks for reading CBS NEWS.
Create your free account or log in
for more features.