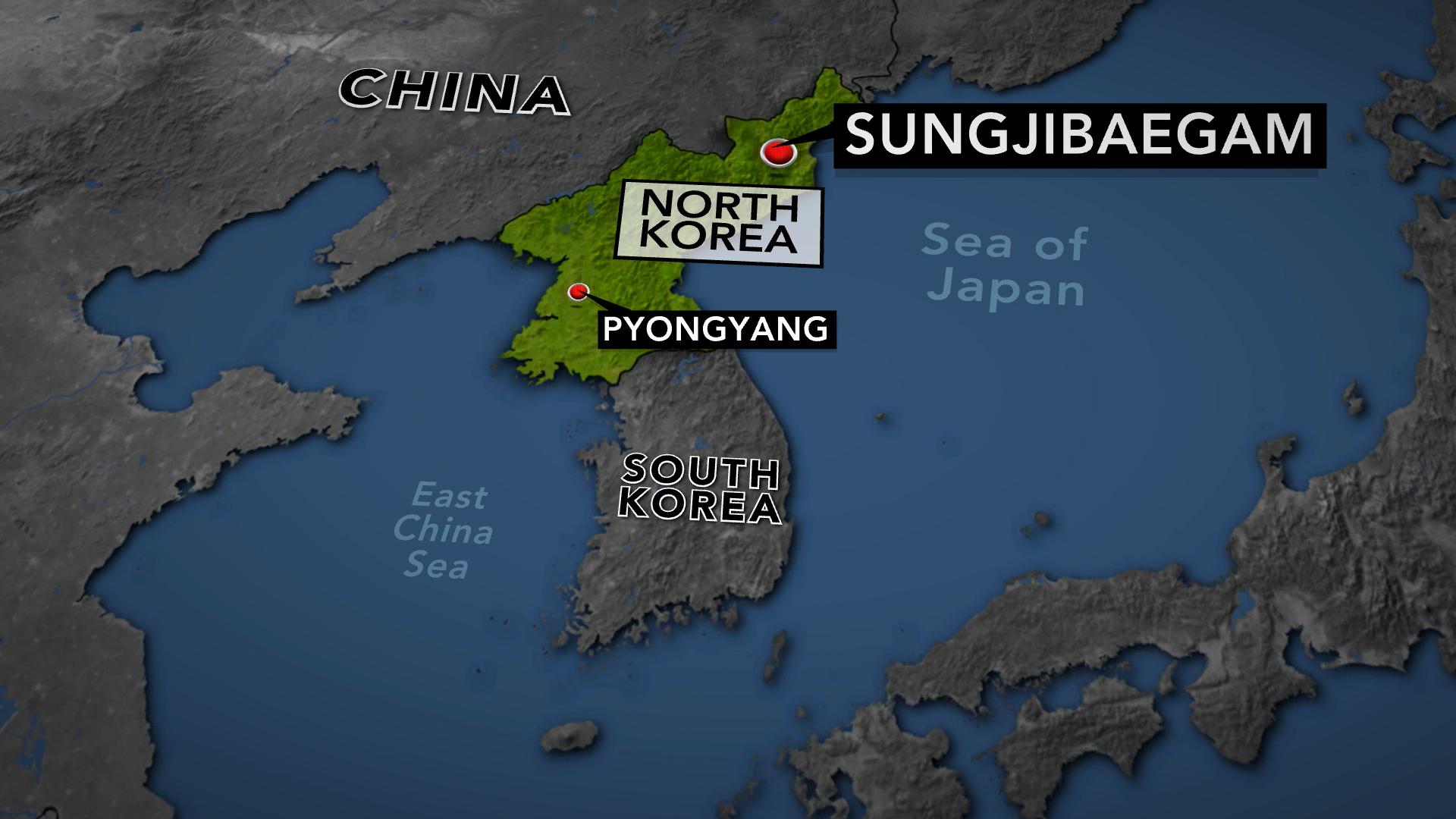 North Korea claims successful H-bomb test
SEOUL, South Korea -- North Korea said Wednesday it had conducted a hydrogen bomb test, a defiant and surprising move that, if confirmed, would put Pyongyang a big step closer to improving its still-limited nuclear arsenal.
A television anchor read a typically propaganda-heavy statement on state TV saying North Korea had tested a "miniaturized" hydrogen bomb, elevating the country's "nuclear might to the next level" and providing it with a weapon to defend itself against the United States and its other enemies.
The statement said the test was a "perfect success."
Pyongyang also claimed the test was "conducted in a safe and perfect manner" and "had no adverse impact on the ecological environment."
Crowds dressed in thick winter coats gathered outside a large video screen near a Pyongyang train station to cheer and take video and photos on their mobile phones as the state TV anchor, dressed in a pink traditional Korean hanbok, delivered the statement.
South Korean president Park Geun-hye convened an emergency meeting of the country's national security council, ordered her military to bolster its combined defense posture with U.S. forces, and called the test a "grave provocation" and "an act that threatens our lives and future." Japanese Prime Minister Shinzo Abe said, "We absolutely cannot allow this." China called the test "highly regrettable."
U.S. officials were "looking into" the event, CBS News correspondent David Martin reported.
"While we cannot confirm these claims at this time, we condemn any violation of UNSC Resolutions and again call on North Korea to abide by its international obligations and commitments," National Security Council spokesman Ned Price said.
"We will continue to protect and defend our allies in the region, including the Republic of Korea, and will respond appropriately to any and all North Korean provocations," Price said.
However, Seoul's intelligence agency said the device may not have been a hydrogen bomb, South Korea's Yonhap News Agency reported, according to the Reuters news agency. South Korea's meteorological agency said it hadn't detected any radiation after the supposed test, Reuters added. And South Korea's vice defense minister said it was difficult to believe the device was a hydrogen bomb, Yonhap said, again according to Reuters.
Japan's government also said its environmental detectors noted no radiation after the claimed test.
The test, if confirmed by outside experts, would lead to a strong push for new, tougher sanctions at the United Nations and further worsen already abysmal relations between Pyongyang and its neighbors.
The U.N. Security Council tentatively set an emergency meeting for Wednesday morning to take up the possible test .
North Korean nuclear tests worry Washington and others because each new blast is seen as pushing North Korea's scientists and engineers closer to their goal of an arsenal of nuclear-tipped missiles that can reach the United States.
While a hydrogen bomb is much more powerful than an atomic bomb, it is also much harder to make. In a hydrogen bomb, radiation from a nuclear fission explosion sets off a fusion reaction responsible for a powerful blast and radioactivity.
Writing in December, after North Korean leader Kim Jong Un bragged of H-bomb capabilities, nuclear expert Jeffrey Lewis noted that building such a bomb "would seem to be a bit of a stretch for the North Koreans."
"Thermonuclear weapons are tricky; making one work requires a bit of test experience," he wrote on the North Korea-focused 38 North website. But, he added, "The North has now had a nuclear weapons program for more than 20 years. This program has yielded three nuclear tests. North Korean nuclear scientists have access to their counterparts in Pakistan, possibly Iran and maybe a few other places. We should not expect that they will test the same fission device over and over again."
In the first indication of a possible test, the U.S. Geological Survey measured an earthquake Wednesday morning with a magnitude of 5.1. It was centered about 12 miles from Sungjibaegam at a depth of 6.2 miles, according to the USGS.
The size of Wednesday's quake is bigger than seismic activity reported in previous atomic bomb tests. Yonhap reported that quake monitoring agencies detected magnitudes of seismic activity of 3.7 in 2006; 4.5 in 2009 and 4.9 in 2013.
An official from South Korea's weather agency said it believed it was an "artificial earthquake," based on an analysis of the seismic waves and because it originated 30 miles north of Kilju, the northeastern area where North Korea's main nuclear test site is located. The country conducted all three previous atomic detonations there.
China's Earthquake Network Centre said on its website the quake was at ground level, describing it as a "suspected explosion," AFP reported. Officials in Japan also expressed concern about a possible nuclear test.
North Korea is thought to have a handful of rudimentary nuclear bombs and has spent decades trying to perfect a multistage, long-range missile to eventually carry smaller versions of those bombs. After several failures, it put its first satellite into space with a long-range rocket launched in December 2012.
Experts say ballistic missiles and rockets in satellite launches share similar bodies, engines and other technology. The U.N. called the 2012 launch a banned test of ballistic missile technology.
Some analysts say the North it's unlikely that the North has achieved the technology needed to manufacture a miniaturized warhead that could fit on a long-range missile capable of hitting the U.S. But there is a growing debate on just how far the North has advanced in its secretive nuclear and missile programs.
The test is a surprise, both in its purported type and its timing.
North Korea hadn't conducted an atomic explosion since early 2013, and leader Kim Jong Un did not mention the country's nuclear weapons in his New Year's speech. Outside analysts speculated that Kim was worried about deteriorating ties with China, the North's last major ally, which has shown signs of greater frustration at provocations and a possible willingness to allow strong U.N. sanctions.
China's official Xinhua News Agency called Wednesday's test "highly regrettable" and "a breach of U.N. resolutions and a blow to the Korean Peninsula denuclearization process," adding that Pyongyang had "pushed further away any viable solution of the Korean Peninsula predicament and thrusted more uncertainty into regional stability."
After the North's third atomic test, in February 2013, Pyongyang launched a campaign of bellicose rhetoric that included threats to launch a nuclear attack on the United States and Seoul. North Korea claimed in 2013 that it had scrapped the 1953 armistice that ended fighting in the Korean War. Pyongyang has also restarted a plutonium nuclear reactor shuttered after a 2007 nuclear deal that later fell apart.
Pyongyang says its nuclear weapons program is necessary to defend itself against the United States. North Korea under leader Kim Jong Un has pledged to bolster its nuclear arsenal unless Washington scraps what Pyongyang calls a hostile policy.
Washington sees North Korea's pursuit of nuclear weapons and ballistic missiles as a threat to world security and to its Asian allies, Japan and South Korea.
North Korea, analysts say, needs nuclear tests for practical military reasons. Such tests advance its aims to build nuclear-tipped missiles that can be used as deterrents against its enemies - and especially against the United States, which Pyongyang has long pushed to withdraw its troops from the region and to sign a peace treaty formally ending the Korean War.
The Korean Peninsula remains technically at war, as the 1950-53 conflict ended in an armistice. Washington stations more than 28,000 troops in South Korea as a buttress against any North Korean aggression. Tens of thousands more are in nearby Japan.
The test comes amid failed diplomatic efforts to persuade the North to give up its nuclear ambitions. Six-nation negotiations on dismantling North Korea's nuclear program in exchange for aid were last held in late 2008 and fell apart in early 2009, when North Korea was led by Kim Jong Un's father, Kim Jong Il, who died in late 2011.
Thanks for reading CBS NEWS.
Create your free account or log in
for more features.