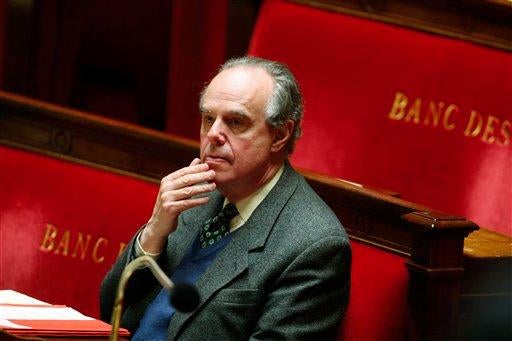 Earnhardt Jr.: Dad Helped Save Me
Among NASCAR's 75 million fans, Dale Earnhardt Jr. is far and away the most popular driver. That should come as no surprise, for there's a lot to like about this soft-spoken, 29-year-old country boy from North Carolina.
It's not just that he's the son of NASCAR legend Dale Earnhardt Sr. Fact is, "Junior" is as pure a stock car driver as there ever was -- born and bred to do one thing. Correspondent Mike Wallace reports.
---
For 38 weekends a year, you'll find Junior in the red Budweiser No. 8 car, racing for millions in prize money on the NASCAR circuit.

But it's not just the money he's after. It's the winning -- something he's done four times this season, including NASCAR's biggest race, the Daytona 500, last February

To tell Junior's story, you must visit the Daytona Motor Speedway in Florida. "This is our favorite venue for all the drivers," says Earnhardt Jr. "We start our season off here. It's kinda like our Super Bowl. We kinda start our year off with a bang."

Junior has a lot of history at this track, and to talk about it, he took Wallace on a tour in his new Corvette – at 120 miles an hour.

"Now, does this feel like 120," asks Daytona. "Doesn't it feel like interstate speed?"

Junior won the Daytona 500 on just his fifth attempt – a race his father, Dale Earnhardt, won only once in 23 tries.

Earnhardt Sr. was a seven-time NASCAR Cup champion, and winner of 76 races. He was known as "The Intimidator," but his career and life ended at the 2001 Daytona 500. While driving his black No. 3 Chevy, he was killed instantly when he hit the wall on turn No. 4, during the last lap of the race.

Junior was just a couple of hundred yards ahead of his father in the race and saw the wreck in his rearview mirror.

"I was driving just like today, just like with you. I was taking a bunch of my friends around the track, and we pulled over, and just sat for a while," says Earnhardt Jr. "We got out and we laughed and then joked around with each other and we talked a little bit. And just kind of in a way made kind of peace with it, for lack of a better term."

Junior knows that death and danger are occupational hazards. Two weeks after 60 Minutes left him at Daytona, he crashed during an off week for NASCAR. He was driving a road race in Sonoma, Calif., just for the fun of it.

It as during a practice lap in a modified Corvette. An in-car camera caught the crash, which didn't look like much at first. But it was.

"It was bad. They have sensors in the car. It went from 115 degrees to 750 degrees in a second-and-a-half," says Earnhardt Jr. "And then the sensor burned out. So, it was probably a lot hotter than that."

It took him 14 seconds to get out of the car. He suffered second-degree burns on his chin, neck and his legs. "At that moment, you think of everything. You know, you think, 'I could die here,'" says Earnhardt Jr. "This could be how I go. This would really suck if it's the way I'm going out."

"When you see that footage, you know, it's pretty spooky to see one of your buddies on fire inside a racecar like that," says champion driver Tony Stewart, one of Junior's best friends and fiercest NASCAR rivals.

He says that, without a doubt, Earnhardt Jr. is the most popular driver on the circuit. "I think it's his personality. Obviously, some of it is his last name, but he's kinda grown out of the shadow of his father now," says Stewart. "He had his own fan base when he came in. But once his father passed on, those fans were left without a hero. And the natural pick to go to next was Dale Jr."

Is Junior intimidating? "You drive out there on the racetrack with him and tell me he's not intimidating at times," says Stewart. "He's his father, just in a younger body."
---
You can see his father's aggressive style in every race. But he wasn't always that way. As a child, Earnhardt Jr. was more interested in goofing off than growing up. And because of that, his dad sent him to military school.

How did Junior and his father get along? "There were times when he would walk into the house and, I mean, I like being around him, so I didn't go the other way," says Earnhardt Jr. "But I stood on the other side of the room. …I mean, you know, he might have had a bad day."

Racing looked pretty good to Junior after two years in military school. At 15, he said: "I wanna be a racecar driver someday. It's a great sport. I love it to death, you know. It's all I've ever known, racing."

At 17, he was racing weekends on the local circuits. Seven years, and dozens of wrecks later, he made it to NASCAR's big league, where he quickly won fans by the truckload. 60 Minutes saw that firsthand while touring the infield at Daytona last July.

With his fans, he is as much a rock star as a racer. But the fact is, he's just like them. "If I wasn't racing, this is exactly what I'd be doing," says Earnhardt Jr. "I'd be running around here somewhere laid up in one of these pools. Looks like a good time, to me. ...I was going to races as a little kid. I'm a fan, first."

NASCAR fans are a special crowd, because they reflect the sport's southern roots.

Are NASCAR fans Republicans? "Yeah," he says. Are they white? "Majority. It's changing more and more," says Earnhardt Jr. "But you still go to the races and you still see the rebel flags in the infield. You still see, you know, the aggressive Southeast a little bit at the racetrack. ...You know, the guy that still flies his rebel flag pretty proudly."

But Earnhardt Jr. says he's not like that: "It never really was me."

Politically, Junior does side with a voting block known as NASCAR dads. He's a Republican and he supports George W. Bush. Yet, he took his crew to see Michael Moore's movie, "Fahrenheit 9/11." Why?

"I like hearing both sides of the argument. I thought the movie was well done. But my dad was a Republican, and I'm a Republican, and so [it's] not that I came out of there going, 'I ain't voting for Bush again,'" says Earnhardt Jr. "That didn't happen, and I didn't expect that to happen. I just wanted to go and enjoy the movie. Because I knew Michael Moore would try to push a few buttons. And I just wanted to see how hard he mashed them."
---
Junior's product endorsements add millions to his income. Forbes said he made $20 million last year, more off the track than on.

But it takes a lot of money to build a NASCAR winner. 60 Minutes visited the headquarters of Dale Earnhardt Incorporated, the facility his father built in Mooresville, N.C. It's home to 250 employees.

Junior has some 15 versions of his car being built at any given time – different cars for Nascar's different tracks.

"It's pretty crazy, isn't it? We got more cars than anybody probably imagines," says Earnhardt Jr. "Every time I bring anybody in here that's never been around a race shop, they don't expect to see so many cars."

A few miles away from the garage is his new home. "It's like a $90,000 modular home. You'd never know it," says Earnhardt Jr.

And he gets about four days a week there, doing virtually the same thing he does when he's away. He races.

There is online racing, and then there are his go-carts that he and his buddies race on the track he built in his backyard. He admits that those toys often take a front seat to his love life.

"I was in the bathroom here. I don't know if this belongs to you," says Wallace, handing Earnhardt Jr. the book "Dating For Dummies."

"I read it sometimes," admits Earnhardt Jr. "It's pretty comical."

And what about dating? "Me and dating? I ain't no good at it," says Earnhardt Jr. "I ain't married, am I? If I was real, real good at it, I'd probably been married by now."

Why isn't he good at it? "Because I like racing. I like my job," says Earnhardt Jr. "I mean, I look forward to getting married one day. And I like being in a relationship. I like having a girlfriend. But you know, it seems to go for about three months, and gets to a point to where they're trying to drive the boat, instead of me. I run the damn show. You know what I mean? ...I'm the boss."
---
Like his father, Earnhardt Jr. is a man's man. And to this day, nearly four years after his father's death, the connection between Junior and his father is downright spooky.

"Do you think your dad was watching when you ran into trouble at Sonoma?" asks Wallace.

"Yeah, I mean, he would have to be. I think he had a lot to do with me getting out of that car," says Earnhardt Jr. "Absolutely. I don't know how else to put it. I don't want to put some weird psycho twist on it, like he was pulling me out or anything, but he had a lot to do with me getting out of that car. From the movement I made to unbuckle my belt, to laying on the stretcher, I have no idea what happened. How I got out."

"But what does your dad have to do with it?" asks Wallace.

"I don't have an explanation for it other than when I got into the infield care center, I had my PR man by the collar, screaming at him to find the guy that pulled me out of the car," says Earnhardt Jr. "He was like, 'Nobody helped you get out.' And I was like, 'That's strange, because I swear somebody had me underneath my arms and was carrying me out of the car. I mean, I swear to God."

"And that was your dad?" Wallace asks.

"Yeah, I don't know. You tell me," says Earnhardt Jr. "It freaks me out today just talking about it. It just gives me chills."

Thanks for reading CBS NEWS.
Create your free account or log in
for more features.