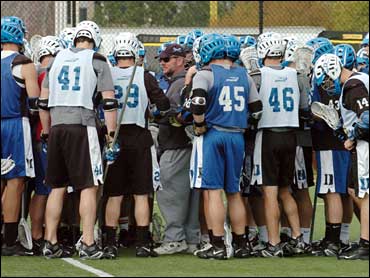 E-Mail Shocker In Duke Lacrosse Case
A lacrosse player's e-mail rant about killing strippers and cutting their skin off in his Duke University dorm room has started a chain reaction resulting in his coach's resignation, the season's cancellation and an internal probe into the university's response to alleged violence by athletes.
Wednesday's cascade of events was the latest fallout from allegations that three players on the lacrosse team raped an exotic dancer at an off-campus party on March 13. The players were white and the stripper was a black student at a nearby state college.
CBS News correspondent Trish Regan reports that the president of Duke University, Richard Brodhead, announced that five separate commissions will investigate the team's behavior and the school's response to the scandal.
The aim, he told Regan will be "To look at our own behavior, to look at the history of the lacrosse team here, and then maybe most importantly, just to ask ourselves the question — are there things we could do to teach a sense of responsibility?"
But some think the commissions are not enough.
Professor Houston Baker, who teaches English at the university, called for changes at the very top of the school administration.
"There's a kind of macho, cock-of-the-walk, boys culture that is characterizing this administration now and I hope there will be purges in the administration as there have been voluntarily, we're told, in the sports dept with the resignation of the lacrosse coach," he told Regan.
Within the community surrounding the Duke campus in Durham, the issue of racism is also being raised, reports Regan. Like many in this community, Jessica King and Spirit Mitchell, students at nearby North Carolina Central University, the same school the alleged victim attends, believe that authorities are taking too long to make arrests.
"If it was a Duke student and it was Central's football team, the situation would have been handled totally differently," Mitchell told Regan.
Duke freshman Charisma Nelson told Regan that the allegations have put a new strain on the already delicate relationship between the school and the community of Durham.
"I don't think we wanted to admit how fragile it was," Nelson told Regan. "I think this incident shed more light and just made it more evident."
No charges have been filed in the case, but sophomore Ryan McFadyen, 19, of Mendham, N.J., the player who wrote the e-mail, has been suspended. The school's president has called the e-mail "sickening" and "repulsive."
Students and townspeople have marched almost daily since the alleged attack. The woman, claims three white players, named Adam, Brett and Matt documents show, pulled her into a bathroom and assaulted her.
Protesters are angry over the school's handling of the allegations and the team members' refusal to cooperate with police. Investigators have said the athletes are sticking together and keeping silent.
Authorities have taken DNA samples from the team's 46 white players. The sole black player has been ruled out. District Attorney Mike Nifong has said that he is "pretty confident that a rape occurred," but that he does not expect to file charges until next week.
The team's co-captains have acknowledged hiring the stripper and serving alcohol but have denied that anyone was sexually assaulted at the party.
On Wednesday, authorities unsealed documents from a search warrant for McFadyen's residence, stating that less than two hours after the alleged rape, McFadyen sent an e-mail saying he was planning an encore to "tonights (sic) show." The message, addressed "To whom it may concern," said, "however there will be no nudity."
"I plan on killing the bitches as soon as the(y) walk in and proceeding to cut their skin off," wrote McFadyen, a 6-foot-6, 225-pound Atlantic Coast Conference honor roll player who was one of five Duke players from the exclusive Delbarton School in Morristown, N.J., adding in vulgar terms that he would find the act sexually satisfying. The e-mail was signed with McFadyen's jersey number, 41.
According to documents obtained by The Smoking Gun, investigators searched McFadyen's room and car. They walked away with two laptops, a memory card, a disposable camera, cash, and other items. Agents also seized a poster described as "the shocker" from McFadyen's room.
However, McFadyen's name does not match the three names the woman gave to police as those of her attackers.
N.C. Central Chancellor James Ammons called the e-mail "very disturbing" and encouraged students to remain calm.
"We do not want anyone from the NCCU family to seek retribution or take matters into their own hands," Ammons said in a statement. "We have to exercise a great level of civility as we await the outcome of this investigation. I am encouraging our students to continue to show support for the alleged victim and to continue to plan events that better educate individuals about sexual violence and racism."

Brodhead said McFadyen is the only player suspended so far, and that he was removed from campus. Brodhead also said he has heard that other lacrosse team members have changed their places of residence for safety reasons.
Shortly after the e-mail's release, lacrosse coach Mike Pressler resigned, ending a 16-year tenure marked by three Atlantic Coast Conference championships and a trip to last year's national championship game.
Brodhead would not say whether Pressler's resignation was requested, saying only, "When it was offered, I thought it was highly appropriate."
The investigation of Duke's response will be conducted by William Bowen, president of the Andrew Mellon Foundation and a past president of Princeton University, and Julius Chambers, former director-counsel of the NAACP Legal Defense and Educational Fund and a past NCCU chancellor.
The university's critics have complained that it has taken three weeks to take these actions. There have been nearly daily protests on and off campus.
Coincidentally, McFadyen attended a "Take Back the Night" march on campus on March 29.
"I completely support this event and this entire week," the player told The Chronicle, Duke's student newspaper. "It's just sad that the allegations we are accused of happened to fall when they did."
McFadyen's attorney, Glen Bachman, took over his representation late Wednesday from attorney Robert Ekstrand, who said earlier in the day that while its language was vile, "the e-mail itself is perfectly consistent with the boys' unequivocal assertion that no sexual assault took place that evening."
Bachman declined to comment on the e-mail and its contents.
The (Raleigh) News & Observer reports that during the past three years, 15 players had criminal charges brought against them, and that most of those charges were resolved in deals with prosecutors that allowed the players to escape criminal convictions.
In the warrant to search the player's room, police provided a detailed timeline of the alleged attack and some additional details of their investigation. The warrant also adds conspiracy to commit murder as one of the crimes police are investigating.
Also, in a February 2005 posting to a friend's bravenet.com guestbook, McFadyen wrote of enjoying Duke lacrosse, but noting "we have 48-hour rule so we can only drink hardcore on saturday nights ..." He also joked, in error-riddled sentences, about two fellow players "being women on the lacrosse field, menaing they both got hurt so coach rips them appart."
Thanks for reading CBS NEWS.
Create your free account or log in
for more features.