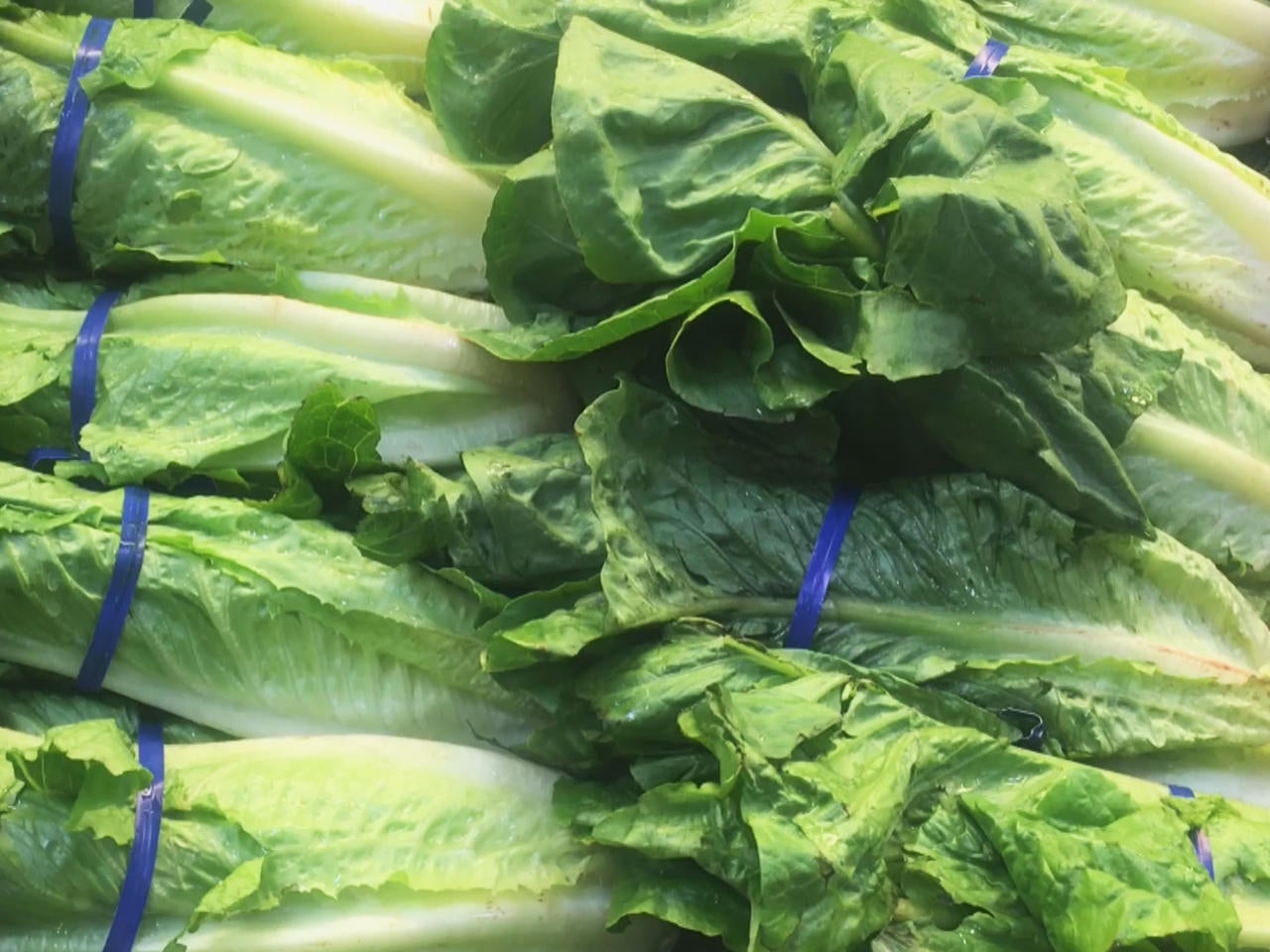 E. coli outbreak: CDC says if you don't know source of romaine lettuce, don't eat it
Federal health officials warn you not to eat any romaine lettuce unless you know where it's from, as the E. coli outbreak spreads across the country. The CDC advisory now includes whole heads and hearts of romaine lettuce, along with chopped and bagged romaine and salad mixes that include romaine.
While the government believes that the lettuce is from the Yuma, Arizona region, it doesn't know specifically who grew, supplied or distributed the contaminated vegetables.
The CDC says that it can take an average of three to four days after coming into contact with E. coli for people to start feeling symptoms.
"It was a scary process," said Mia Zlupko, a high school dancer who enjoys eating healthy foods like salads. But after eating a romaine salad from a local store in Pennsylvania, she started throwing up and having abdominal issues.
She thought she had a stomach bug. "It's kind of hard to sit there in a hospital and not know what's wrong with you; you feel so drained," she told CBS News' Anna Werner.
After four days in the hospital, Zlupko says doctors told her she might be suffering from an autoimmune disease. But just as she was heading home, "all the doctors came in and it was kind of like a big surprise, like, 'It's E. coli.'"
"We were all shocked," said her mom, Tina.
At least 64 people in 16 states have been infected with the same strain of E. coli linked to romaine lettuce. About half — 31 of them — have been hospitalized.
The CDC says most people develop symptoms like diarrhea, severe stomach cramps, and vomiting, and recover within a week. But five people sickened in this outbreak have suffered from a form of kidney failure called hemolytic uremic syndrome (HUS).
"What's concerning me at this point is there's an unusually high hospitalization rate," said Bill Marler, a food safety lawyer.
He represents Louise Fraser, who is suing Panera Bread, claiming she contracted E. coli after eating romaine lettuce at one of their restaurants in New Jersey and, as a result, was hospitalized for weeks. She says she was diagnosed with kidney failure, which required several blood transfusions. She's now suing both the restaurant and its supplier, Freshway Foods, Inc.
"The restaurant, the grocery store is responsible for any of the food that they sell you," said Marler. "If it is contaminated with a pathogen, it's defective. The chain of distribution that supplied that is ultimately responsible."
Panera Bread officials told "CBS This Morning" they "don't comment on pending litigation," but said they "have re-supplied with romaine from other regions."
Freshway Foods Inc. has not responded to our request for comment.
Sandra Eskin, the director of food safety at the Pew Charitable Trusts, says investigators will try to trace the romaine lettuce back to the farm, where it could have been contaminated by bacteria through irrigation water, animals, fertilizer or other routes. The romaine also could have been cross-contaminated in a processing facility while it was being cut, washed and bagged.
"It can be pretty frustrating for consumers when they've heard since 2011 that new food safety standards were going to be in place," Eskin said.
She says it's challenging to pinpoint the exact cause: "We know the problem was E. coli contamination; where did it come from? How did it get on the lettuce? Once that's determined, we can figure out if some of the regulations need to be tweaked."
For now, the CDC is telling consumers that if they cannot confirm the source of the romaine lettuce to not buy it or eat it, and to throw it away.
Consumer Reports is advising people to avoid all romaine lettuce because "It's unrealistic to expect consumers to figure out whether their romaine was produced in Arizona."
Doctors told Mia Zlupko she should make a full recovery. Tina Zlupko says she's glad she kept searching for answers for her daughter's illness. "Had we not gone back to the doctor and then gone to the emergency room, she could've gotten much sicker very quickly," she said.
The produce industry groups say they are cooperating fully with the government to identify the source of the outbreak, and that the health and safety of their consumers are of the "utmost importance."
They say that the harvest and shipment of romaine from the Yuma, Arizona region have been stopped.
Thanks for reading CBS NEWS.
Create your free account or log in
for more features.