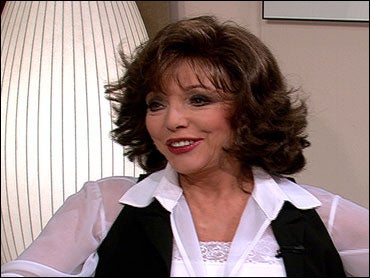 "Dynasty" Diva Joan Collins: An '80s Icon
Actress Joan Collins, who played Alexis Carrington, John Forsythe's vindictive ex wife on "Dynasty," helped to set the bar when it came to malicious scheming, cat-fighting and starting fashion trends.
Today, Collins continues to challenge herself with writing books and columns, as well as roles on television and the big screen.
The legendary 75-year-old actress sat down with Early Show co-anchor Harry Smith to chat about her iconic status during the '80s and dish on her secret to looking youthful.
"It seems like a lifetime ago. Really, so much water has gone under the bridge, I've done so much. At the same time, when I see those pictures, it doesn't seem like it was so long ago at all. Except, I don't remember any of the clothes. I don't remember any of those things. Did I really wear that? Would I have actually been persuaded to put on that thing?" Collins said.
Collins, who is known for her famous cat-fight scenes with Linda Evans, is often recognized on the street.
"'Oh, you're much prettier in person,' which they said to Dustin Hoffman in 'Tootsie' as well!" Collins said about her encounters with her fans.
The dramatic "Dynasty" diva admits that she never had plastic surgery.
"No, I'm needle phobic and I haven't had Botox because I think it's poison. I think they haven't come to the real thing to what that is, what is it, botulism?" she asked.
"We call it Botox," Harry replied.
"No, I have a very good skin serum I use - 'Ageless 15' and I believe in it totally and men can use it, too. It's great for mature women because it holds up the aging process and it's great for younger women because it prevents it," Collins said.
"Wow. You look like a million bucks," Smith said.
"Oh, why thank you. So do you - particularly in that little bow tie," she said.
Smith joked that he looks like what Harry Potter is going to look like when he grows up.
"Harry Potter is taking his clothes off the stage!" Collins laughed.
"He is going to be here next week, as a matter of fact," Smith said.

Thanks for reading CBS NEWS.
Create your free account or log in
for more features.