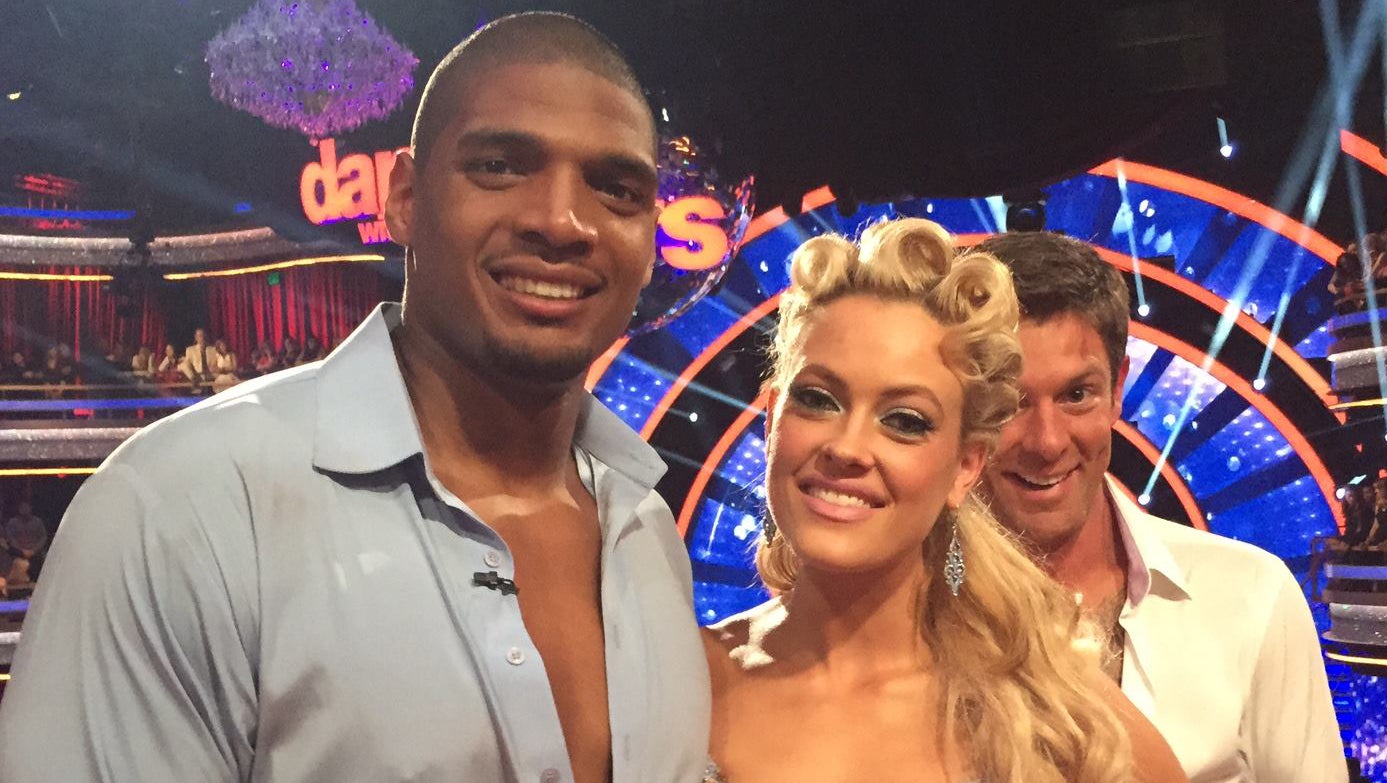 "DWTS" season 20: Week 4 gets emotional
This week's "Dancing with the Stars" took a look back through the contestants' lives to focus on each star's most memorable year, the basis for their routine this week.
This is a recurring theme on "DWTS" -- and every season it's one of the most emotional episodes, this week included. The stars recounted the most influential years in their lives and for some that meant heartache while for others it meant joyous recollections. What it really meant was a panel full of judges constantly fighting back tears.
Even with a whole slew of amazing dances, the episode still had some highlights and some strange low points. So let's take a look at the best, worst and weirdest moments from this week's many spectacular routines.
THE BEST
Nastia Luikin and Derek Hough's "Exhilarating" Argentine Tango: As judge Carrie Ann Inaba said, Nastia was "doing pommel horse" all over Derek for their Argentine tango in one of the best opening routines this season. The audience could hardly breathe during the astounding number. It was so impressive it even earned the season's first '10' score from judge Bruno Tonioli (Which would later be eclipsed by three 10s).
Michael Sam's Heartbreaking Back Story Leads to His Best Routine: Michael's dance was based on the year that his dad disowned him when he came out on ESPN, after abandoning his family years before when Michael's brother was murdered. The dance the football athlete performed was one of the best and most emotional of the night and even brought the judges to tears. Another positive was that the gravity of the performance allowed Michael to ditch his awkward, pasted-on smile from previous weeks.
Patti LaBelle is Just Fun: This week Patti had a fun dance -- a mix of '20s flapper style and New Orleans Mardi Gras -- that had the crowd cheering on their feet and the judges fawning. Patti showed a lot more technical skill than in previous weeks, and luckily for her, charisma can go a long way.
Rumer Willis Lets Her Confidence Shine: Rumer's performance was based on the year she managed to regain her self-esteem after a childhood filled with intense bullying and media scrutiny. The way she danced and performed made it hard to believe she was ever self-conscious. Demi Moore and Bruce Willis' daughter looked beautiful and her emotive dance brought the judges to tears.
Willow Shields and Mark Ballas Dominate: Willow's most memorable year was when she got cast in "The Hunger Games," because it changed everything in her life. She was able to channel that excitement into an amazing routine with her pro partner Mark, and they got the absolute highest scores of the season: Three '10's and a '9', for a shocking '39' total.
THE WORST
So Much Sadness! Wow, this was a tough episode. This week there were a lot of sad memories. We were hit with depressing stories like Michael Sam's father disowning him, Robert Herjavec's tearful recounting of his mom dying from cancer, Rumer Willis recalling years of aggressive bullying due to growing up in the spotlight, Noah Galloway retelling the time he got injured and his difficult physical and emotional recovery and Suzanne Somers talking about John Ritter's untimely death. The only upside was the power and emotion that the stars managed to channel into their dances.
Willow and Mark Forget "The Hunger Games" is About Child Murder: The "Hunger Games"actress and her pro partner performed the highest-scored dance of the season thus far, but it was still a dance based on a book/movie about children forced to murder each other for sport. They even incorporated some murder into the dance. It just felt the tiniest bit awkward. Also, every week Mark creates some of the most theatrical set pieces and routines, but it's almost beginning to feel like a crutch. It would be an interesting experiment to see what Willow and Mark could do with just an empty stage and simple, traditional outfits.
THE WEIRDEST
Len is Grumpy: Len has always been the strictest of all the "DWTS" judges, but on Monday night he was downright combative. He gave some of the week's toughest criticisms and then got into loud arguments with his fellow judges, and host Tom Bergeron, when they offered up rebuttals in defense of the dances.
Riker Lynch and Allison Holker Get Trippy: The R5 performer and his pro partner set their dance to the backdrop of white and black checkerboard walls and were decked out in bright, shiny red outfits. While the dance was fantastic, the whole thing felt unnerving -- as if surrealist director David Lynch had designed their routine.
"Three's Company" Tribute: For Suzanne's dance, she and Tony Dovolani recreated the "Three's Company" living room and danced to the sitcom's iconic theme song. There wasn't anything bad about the number, but it all felt very... awkward. It was like a fever dream you have after watching a "Three's Company" marathon while suffering from a flu.
THE BIG GOODBYE (*SPOILERS*): The final three partners in jeopardy were kind of shocking. Riker Lynch, Michal Sam and Willow Shields were all in the bottom three. After a tense and uncomfortable build-up, footballer Michael Sam was sent home.
It wasn't a huge surprise (given Michael's consistently underwhelming scores) but all three couples in jeopardy were so personable and fun we didn't want to see anyone get sent away.
FINAL SCORES
Willow Shields & Mark Ballas - 39
Nastia Liukin & Derek Hough - 36
Rumer Willis & Valentin Chmerkovskiy - 35
Riker Lynch & Allison Holker - 34
Robert Herjavec & Kym Johnson - 34
Noah Galloway & Sharna Burgess - 32
Michael Sam & Peta Murgatroyd - 30 (Eliminated)
Patti LaBelle & Artem Chigvintsev - 30S
uzanne Somers & Tony Dovolani - 28
Chris Soules & Witney Carson - 27
Next week, it's Disney night on "Dancing with the Stars." It's going to be exciting to see which famous Disney couples the partners end up choosing, and how closely they match their animated counterparts. It seems that a lot of the pro dancers have the physical proportions of Disney characters as it is.
For more "Dancing with the Stars" fun, check out this video below for a look at the best moments from this season's premiere episode.
Thanks for reading CBS NEWS.
Create your free account or log in
for more features.