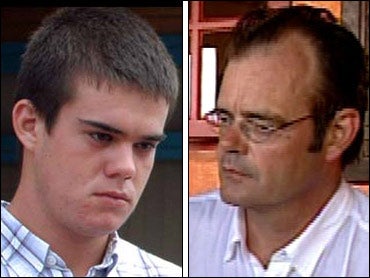 Dutch Teen's Dad Arrested In Aruba
Aruban police arrested a high-ranking judicial official Thursday in the disappearance of a young Alabama woman, and said he — along with his detained son — are suspects in the three-week-old case.
Dutch national Paul van der Sloot, 52, a judge in training, became the fifth person detained, and joins 17-year-old Joran van der Sloot and three other young men already in custody.
No one has been charged in the case.
The elder van der Sloot "is a suspect in the disappearance" of 18-year-old Natalee Holloway, said Mariaine Croes, spokeswoman for the Attorney General's office on the Dutch Caribbean island.
Joran's mother, meanwhile, told The Associated Press on Thursday that her son had changed his story, admitting to her that he was alone with Holloway on a beach the night she vanished — and did not drop her off at her hotel as he had told police. But Joran insisted that he did not hurt her, Anita van der Sloot said.
Paul van der Sloot was arrested shortly after he and his wife left the San Nicolas prison where Joran is being held, his wife told the AP. She said they received a call from neighbors saying police were waiting for them at their home in Noord, northwest of the capital, Oranjestad.
She said she called Police Superintendent Jan van der Straaten, who asked the couple to come to the police station. When they arrived, authorities "took my husband into custody as a suspect," Anita van der Sloot, 49, said, adding, "I don't know what to think."
Holloway's mother, Beth Holloway Twitty, was happy with the development.
"We are very pleased that the investigation is progressing," she said. "We feel like this will lead to more information to give us the answers we need for finding Natalee."
Joran, 17, and friends Deepak Kalpoe, 21, and Satish Kalpoe, 18, told police initially that they dropped off Natalee Holloway at the Holiday Inn where she was staying.
His mother insisted her husband had done nothing wrong and said Aruban authorities had arrested him because they were under pressure from the U.S. government and the news media to produce results.
"My husband is a man of integrity who has been working in the justice system 15 years and was taken without evidence," Anita van der Sloot said. "How can this happen? This is not about Natalee anymore. It's about enormous pressure from the [United] States and the media."
Authorities did not immediately respond to van der Sloot's allegation.
And CBS' Aleen Sirgany reports Anita van der Sloot said, of her husband, "He did everything they asked, he's the most honest person I know. I love them both."
Meanwhile, Holloway's family personally continued the search for the missing Alabama high school student.
"It's funny that we talk about how small this island is and yet so large when you are looking for one individual," Holloway's aunt Linda Allison told CBS News Correspondent Kelly Cobiella.
Repeated searches of the island have produced no trace of Holloway, who went missing in the early hours of May 30, the last day of a high school graduation trip with 124 other students. Her passport and packed suitcase were found in her hotel room.
Joran van der Sloot has been in custody since June 9, along with Deepak Kalpoe and Satish Kalpoe, Surinamese brothers. Authorities also have arrested a 26-year-old party boat disc jockey, Steve Gregory Croes.
Police say Joran met Holloway at a casino two days before her disappearance. The three young men told authorities that they took her from a popular restaurant to a beach, where Joran and Holloway were kissing in the back of the car, then dropped Natalee at the Holiday Inn about 2 a.m.
Contacted by the AP hours prior to his arrest Thursday, Paul van der Sloot declined to comment.
Anita van der Sloot, however, did speak, saying at that time that she believed her son was innocent and that he was receiving unfavorable treatment in jail.
"My son didn't do anything," she said. "I don't understand what is happening" with the case.
"He says, 'Mom, I dropped the girl at the beach. I walked with her. I left her there because she wanted to stay there. I left and I don't know what happened,"' she related, without specifying which beach.
When asked if Joran had changed his initial story, she replied, "Joran changed his story only one time. I think he was scared because he sneaked out of the house that evening. I think he was scared and wanted to cover other people, too. He changed his story once and added details."
She didn't say who Joran might want to cover for.
She also said Joran can't remember many of the details that police have been asking him.
She said she had spoken to her son several times in jail and that he was going through "mental torture." She said Joran is often interrogated for more than 10 hours a day, and she also accused authorities of turning up the air conditioning to high levels to increase the pressure on him.
"If there was anything he did wrong he would be broken by now," she said.
Croes, the attorney general spokeswoman, said the allegations of mistreatment were "not true."
"Everything is played by the rules. We interrogate people in only the ways that the law allows," she told the AP.
Croes said the law didn't permit the interrogation techniques Anita van der Sloot claims were being used.
Holloway's mother, Beth Holloway Twitty, has insisted that the three young men know what happened to her daughter and that police should press them harder to tell the truth. She has asked why the three were initially released after only a couple of hours of questioning, and arrested more than a week later.
While Anita van der Sloot had been allowed to visit her son occasionally at the San Nicolas prison, authorities denied similar access to Paul van der Sloot, saying they believed contact between the two could damage the investigation.
Anita van der Sloot said that authorities sometimes denied her access as well, including as recently as Wednesday.
"I feel like Joran is being treated differently than other people and I don't know why," she said. "And I feel a very heavy anger."
Mrs. Van der Sloot said she was eager to be with Joran as much as possible.
"I just want to get to the prison and hold him," she said. "We never know how long we'll have to visit."
Thanks for reading CBS NEWS.
Create your free account or log in
for more features.