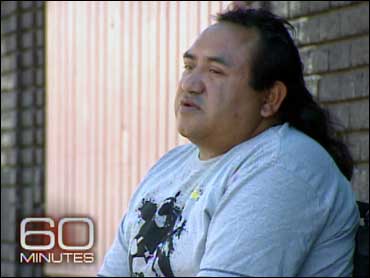 The first rule in medicine is: do no harm. But doing harm is precisely what some Los Angeles hospitals are being accused of when it comes to patients who happen to be homeless.
As CNN's Anderson Cooper reports, the claim is that hospitals don't like dealing with homeless patients, who are often uninsured and sometimes unpleasant to treat. So they literally dump them on the streets of Skid Row, even if the patients come from other places in Los Angeles, and are in no condition to fend for themselves.
While there have been allegations of hospital dumping for years, people only started paying attention to them because of a videotape recorded by a camera outside a homeless shelter.
---

The tape shows a 63-year-old homeless woman named Carol Ann Reyes wandering in the street. The pictures may seem unremarkable, but the story that goes with it is disturbing. Reyes had just been discharged from Kaiser Permanente Bellflower hospital where, after taking a fall, she had been treated for three days.

The hospital confirms she was put in a taxi and the driver was told to take her to Skid Row. Why was she wearing little more than a hospital gown? Because the hospital admits they had lost her clothes and sent her away without pants or even shoes. They did, however, give her a diaper.

"The cab came this way. He did a u-turn. Pulled around. And stopped. The driver didn't even get out of the car. The back door opened and this little lady got out in her hospital gown," says Rev. Andy Bales, who runs the Union Rescue Mission, the biggest shelter in Skid Row.

Skid Row is a 50 square-block area home to some 11,000 people, with the highest concentration of homeless in the country.

Asked if he was surprised to see Reyes get out of the taxi, Rev. Bales says, "I was stunned and shocked and frozen for a moment. I couldn't believe my eyes. She was really confused."

She was confused, investigators later found, because she was suffering from dementia. That shouldn't have come as a surprise to Kaiser hospital officials.

Their own medical records show Reyes was disoriented as to time and place. Her speech was slurred, she had extremely high blood pressure, and a persistent cough and fever. Even with these medical problems, they decided to discharge her and sent her to the streets of Skid Row.

"They're dumping a 62-year-old woman with dementia in the heart of Skid Row? That's what's going on. And it's shocking and it's criminal," argues Rocky Delgadillo, the Los Angeles City Attorney.

His office is investigating more than 50 cases of alleged homeless dumping on Skid Row. "These may be the perfect victims. Because a homeless individual dumped on Skid Row disappears into the chaos of Skid Row within minutes. It's hard for us to find them and then get the evidence that we need."

What should hospitals do with homeless patients? The California Health Code requires all hospitals to make "appropriate arrangements for post-hospital care" and for "continuing health-care requirements" before discharging any patient.

Kaiser didn't do that in Carol Ann Reyes' case, Delgadillo says. She was sent to Skid Row last March without any medication or instructions for follow-up care.

Asked what it's like down there, Delgadillo says, "Cardboard shanties. It's a dangerous place, both physically, as well as the drug dealers that congregate on Skid Row, gangs that come here to find easy prey."

"Not the kind of place an elderly woman with dementia should be," Cooper remarks.

"No, in fact, if she'd made it around the corner, she might not be with us today," Delgadillo says.

Carol Ann Reyes is with us today because a worker from Bales' mission rescued her from the street. She's now under the protection of a court-appointed conservator. She suffers from mild dementia and other medical problems. The conservator allowed 60 Minutes to videotape her meeting her lawyer, but not to ask her any questions. Her lawyers have filed suit against Kaiser hospital.

Before she was hospitalized, Reyes had been sleeping in a park, 16 miles away from the crime-ridden streets of Skid Row.

"Sometimes, individuals end up here that are just released from county jail," explains Deputy City Attorney Jose Egurbide, who investigates hospital dumping cases, and showed 60 Minutes around Skid Row.

Egurbide is part of a city effort to clean up Skid Row. Asked what the problems are that people there are dealing with, Egurbide says, "The people living on the street here, Anderson, about over 40 percent of them have mental illness issues. And, you know, over 50 percent of them have some type of addiction. … Heroin, crack, meth."

Spend a few hours there, like 60 Minutes did, and you quickly see how chaotic these streets are. Despite a heavy law enforcement presence, police wage a constant battle to maintain some semblance of order.

During 60 Minutes´ visit to just one block of Skid Row, one man passed out. No one knew whether he had hit his head, overdosed on drugs, or had some illness. So, They called an ambulance for him. Meanwhile, the police officer on the scene had to leave because there was a stabbing a short time ago on the block, and he believes that the suspect in the stabbing was standing about 100 or 200 feet away from where Cooper and the 60 Minutes team were standing at the time.

Violence is nothing new to those living on Skid Row, and neither are stories about hospital dumping.

"Have you heard about this dumping?" Cooper asked one man.

"Oh hell, yeah. It's nothing new," the man replied. "It just got noticed because they been bringing 'em down in their hospital gowns."

Homeless people, however, don't make the strongest witnesses in court. So to get hard evidence of dumping workers at several shelters, including the Union Rescue Mission, installed special cameras on the street to try to capture it. They called them "dumping cams."

"This was not to stop crime, this, it was intentionally set up to spot hospital drop-offs, or to track hospital drop-offs," Rev. Bales explains.

What's the importance of the cameras?

Says Bales, "You know, people have talked about this has been happening for over 20 years. But it wasn't until America saw a hospital drop-off on camera that it brought the kind of attention that it has brought."

After the video of Reyes' dumping was made public, Diana Bonta, a Kaiser vice president, showed up at a Skid Row press conference.

"I want to apologize to this patient. I want to sincerely apologize. I want to apologize as well to the community. I want to apologize to my colleagues, to those of you gathered here today. It is not in keeping with the policies of Kaiser Permanente," she said.

Kaiser officials acknowledged arrangements should have been made to care for Reyes at a mission. They declined 60 Minutes' request for an interview but said in a statement that from now on, they'll use vans with hospital staff, instead of taxis, to deliver discharged patients to missions.

"It wouldn't have mattered if they put Carol Ann Reyes in a limousine. They still dumped her on Skid Row," argues City Attorney Delgadillo.

This past November, Delgadillo filed civil and criminal charges against Kaiser hospital. "The complaint charges Kaiser with false imprisonment, and dependant adult endangerment relating to Kaiser's shameful and abusive conduct in the dumping of Carol Ann Reyes on Skid Row," he said during a press conference.

You might think with all the attention the Reyes case got, that hospitals would be particularly careful in how they discharge homeless patients. But just a few months later, another hospital's treatment of another patient made headlines.

Gabino Olvera is a 41-year-old paraplegic. He lives in his car, which is equipped with hand controls. He keeps his wheelchair on the seat. Olvera got into a minor traffic accident on February 7, and was brought to Hollywood Presbyterian Hospital and treated for bruises.

Hospital officials say he was discharged in the middle of the night and taken by ambulance to an address Olvera told them was his home. That address turned out to be the Midnight Mission, one of the oldest on Skid Row. The mission's dumping camera showed paramedics bringing Olvera, strapped to a gurney, inside. Staff there said they couldn't care for a paraplegic, so paramedics wheeled him back to the ambulance and took him back to Hollywood Presbyterian.

And that's when Olvera's troubles really began: the hospital acknowledged he sat in the waiting room for eight hours. When the morning shift took over, he was put in a van and sent right back to the same Skid Row address. He never made it that far – four blocks away from the Midnight Mission, he was dumped in the street.

Deputy City Attorney Egurbide arrived with police minutes later. "The witnesses were saying a van pulled up, the individual, you know, basically fell out of it and, while the drivers was just standing by and, you know, not doing anything to help him. And, you know, was literally crawling on his hands. A paraplegic man. No use of his legs. And the van just sped off," Egurbide explains. "No wheelchair, no walker, and no empathy whatsoever for this individual by the driver, apparently."

"That was the wrong thing to do, obviously," says Kaylor Shemberger, the head of Hollywood Presbyterian.

Shemberger says the woman who drove the van made a big mistake. "She violated hospital policy. She should not have dropped the patient off at that location."

"Your hospital left this man, Gabino Olvera, on the street. He's a paraplegic. Didn't give him a walker or didn't give him a wheelchair. How is that possible?" Cooper asks.

"Well, Anderson, let me tell you straight up that we're as shocked and outraged about this incident as anybody," he replies.

"So the hospital didn't think that a paraplegic man would need a wheelchair?" Cooper asks.

"Well, the driver asked, at that time, you know, 'What about your wheelchair?' And he said 'Don't worry about it. I have one at my home. Just take me there,'" Shemberger says.

"His home was a car," Cooper remarks.

"Well, we didn't know that at the time. When he came in, he gave us an address and told us that was his home. And that was the address that he instructed the driver to take him to," Shemberger replies.

That address was the Midnight Mission. The hospital's night shift workers knew that because they'd tried to take him there. But Shemberger says they never told the morning shift.

"Clearly, the communications between the two shifts is one area that fell down, and we've implemented a number of new policies to address those issues," Shemberger says. "All I can tell you, Anderson, is that this hospital has very strict policies with regard to how we transport patients. And this particular situation was an anomaly."

"How strict, though, can the policies really be, if they seem to have, at least in this case, been pretty much ignored?" Cooper asks.

"We're dealing with human nature, and a bad decision was made on the part of the van driver," Shemberger says.

"And she's the only one who's made a bad decision here?" Cooper asks.

"Well, she's the one that made the decision to drop the patient off," Shemberger argues.

"And to those who say that you're basically making a scapegoat of this low paid van driver?" Cooper asks.

"I don't think anyone is trying to make any scapegoats out of anybody," Shemberger replies.

"Has anyone else been disciplined? Anyone else who, you know the various shifts of the people in the emergency room, or who saw this patient, been disciplined?" Cooper asks.

Says Shemberger, "No."

Shemberger points out that hospital care for the homeless is only a part of a much larger problem. In Los Angeles County, about 88,000 people don't have a roof over the heads on any given day. He says there simply aren't enough shelters and clinics to care for them.

"When these people are discharged from a medical facility, they need a place to go, and we need a place to take them to that can accommodate their needs. Those resources are, you know, just lacking in this community," Shemberger says.

Asked if he thinks the hospitals are just an easy target, Shemberger says, "I think we're being unfairly pursued in these particular cases. After all, you know, we're here to take care of their medical needs, not their housing needs."

---

Hospitals may be forced to do more for homeless patients. On Tuesday, City Attorney Rocky Delgadillo reached a settlement with Kaiser hospital in the Carol Ann Reyes case. She's the woman who was dumped on Skid Row wearing a hospital gown. Kaiser agreed to new procedures for homeless patients that, if adopted by other hospitals, are expected to put an end to hospital dumping.

Produced by Michael Rosenbaum
Thanks for reading CBS NEWS.
Create your free account or log in
for more features.