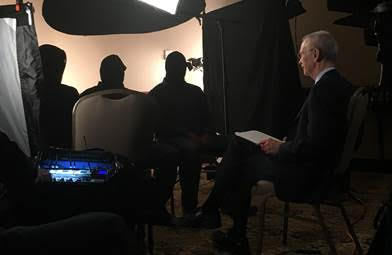 CBS News investigation exposes drug abuse among Navy SEALs
The Navy SEALs, one of the most elite special forces, has not been immune to the drug crisis -- but the leadership has ignored the abuse for years, CBS News has learned.
A CBS News investigation exposes drug use among the Navy SEALs and reveals exclusive video in which a SEAL commander addresses the drug problem within their ranks in a two-part series that begins on Tuesday on the "CBS Evening News" and continues on Wednesday on "CBS This Morning."
For the first time, Navy SEALs speak publicly about a drug problem they view is corroding their elite community in an interview with CBS News Pentagon and national security correspondent David Martin. With their identities disguised, three current and former SEALs tell Martin that multiple members of SEAL teams have tested positive for illegal drugs such as cocaine, marijuana and ecstasy and that SEAL leadership has ignored the abuse for years.
"The drug use, it's growing," one SEAL tells Martin.
After five SEALs were kicked off the teams for drugs this past fall, the East Coast SEAL Commander Capt. Jamie Sands halted all training and ordered a "safety stand down" to address the problem. Every SEAL under his command -- even those deployed around the world -- were required to watch a meeting that addressed the drug problem. The Navy provided CBS News with an edited recording of the meeting after it was described to CBS News by multiple SEALs who attended or watched it. The recording will be featured in Martin's reporting.
During the meeting, Sands told his force, "I feel like I'm watching our foundation, our culture, erode in front of our eyes." Sands also vowed to close a longstanding loophole by testing for drugs while SEALs are on the road, telling the SEALs, "If you do drugs, if you decide to be that selfish individual -- which I don't think anyone's going to do after today, I believe that -- then you will be caught."
One of the SEALs said "it's a career killer" to report drug use to the higher-ups.
"You stand up for what's right, and you get black-balled or driven out," the SEAL said.
The SEALs are also speaking out because they are concerned their ethos of being "quiet professionals" has been cast aside by those trying to cash in on the Navy SEAL brand. Books, movies, video games and fitness routines based on SEAL training have become a cottage industry -- one that is putting their teammates at danger because their tactics are being exposed. As one SEAL told Martin, "The community has got to stop seeking the limelight and exposing what they do, or it continues to put people in danger."
Thanks for reading CBS NEWS.
Create your free account or log in
for more features.