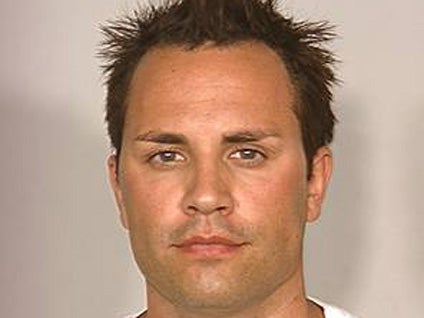 Drug-Diluting Pharmacist Gets 30 Years
A pharmacist who diluted chemotherapy drugs for thousands of cancer patients was sentenced to the maximum 30 years Thursday after tearful witnesses told a judge the scheme had cost them precious days with their loved ones.
Robert R. Courtney showed no emotion as the judge announced his sentence. "Your crimes are a shock to the civilized conscience," U.S. District Judge Ortrie Smith told him. "They are beyond understanding."
Defense lawyers, citing Courtney's "sincere remorse," had urged Smith to impose the lightest possible sentence under the terms of Courtney's plea agreement — 17@1/2 years without parole.
"I have committed a terrible crime that I deeply and severely regret," Courtney, 50, told the court in soft, shaky voice before being sentenced. "I wish I could change everything."
But federal prosecutors requested the maximum of 30 years for a "cold-blooded" crime they say hastened at least one patient's death and, as Courtney admitted, was motivated by greed.
"What did these women lose? What did he take from them to satisfy his avarice? He took their hope and quality of life," Assistant U.S. Attorney Gene Porter said.
The 30-year sentence also called for Courtney to pay $10.4 million in restitution and a $25,000 fine.
Smith had listened patiently as tearful survivors recalled their loved ones and cancer patients who were treated with drugs diluted by Courtney told their stories.
"I leave Robert Courtney in your hands for his lifetime, and in the Lord's hands for eternity," said patient Georgia Hayes, who earlier won a $2.2 billion jury award in her civil lawsuit against him. "May God have mercy on his soul."
Courtney, who was arrested in August 2001, pleaded guilty in February to 20 counts of adulterating, misbranding and tampering with the cancer drugs Taxol and Gemzar. Those counts stem from his dilution of 158 chemotherapy doses he prepared last year for 34 patients of a Kansas City doctor.
But Courtney admitted in his plea agreement he had been diluting drugs since 1992, affecting as many as 4,200 patients, 400 doctors and 98,000 prescriptions.
Prosecutors cited that admission in their 26-page sentencing memo, contending the charges to which Courtney pleaded did not reflect the full scope of his criminal conduct.
Muffled sobs could be heard in the courtroom Thursday as witnesses testified. Steven Coates showed a picture of his wife, Evelyn "Johnnie" Coates, calling her "my rock and inspiration." She died of cancer last year at age 53, shortly before the investigation became public.
Coates said his wife was not able to fulfill her dream of watching her infant grandson grow up. In the weeks before her death, she was in so much pain that she was unable to hold the boy, but remained hopeful of recovery.
"She still thought she would beat this dreaded disease, not knowing she was playing against a stacked deck," Coates said.
Since his arrest, the government has frozen at least $8 million in Courtney's personal and corporate assets, and a church has pledged to return more than $600,000 he donated to its building fund.
So many people — cancer patients and their relatives, reporters, lawyers and Courtney's own family and friends — attended the hearing that officials provided a closed-circuit TV feed to another room in the courthouse.
"Robert Courtney, in their opinion, is a serial killer in that he diluted these lifesaving substances," said attorney Michael Ketchmark, who represented victims who sued Courtney for civil damages. "They consider this his judgment day."
For Courtney, using less than the prescribed doses of medications he prepared was a way to make money. Federal authorities said he could pocket $780 on a single dose of Gemzar, for example, by putting only a small fraction of the prescribed amount into an intravenous solution.
While saying that diluting the cancer drugs probably hastened some deaths and may have caused others, prosecutors acknowledge it would be difficult to prove in court that Courtney's crimes killed patients.
In a statement to prosecutors, Courtney cited pressure to pay a $600,000 tax bill and the final one-third of a $1 million pledge to his church as a reason for diluting the drugs.

Thanks for reading CBS NEWS.
Create your free account or log in
for more features.