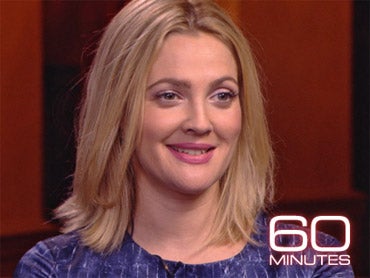 Drew Barrymore's Extraordinary Life
The story of a child star done in by fame is as old as Hollywood itself. But the story of a child star from one of America's greatest acting families, who nearly destroys herself, then bounces back to become not just a leading lady but a major film producer - that story belongs only to Drew Barrymore.
She was famous by 7, abusing drugs by 11, and at 15 was washed up and on her own. She may have come from acting royalty, but in many ways she was an orphan, a wild child raised by crews on movie sets. She is 34 now, and though she still sometimes talks like a teenager, she has become one of the most bankable stars in Hollywood, succeeding far beyond what anyone could have predicted.
How did she do it? That's what we wanted to find out.
60 Minutes and CNN's Anderson Cooper met up with Barrymore on Broadway in New York. At the height of afternoon rush hour, she stopped traffic.
It has been a while, but a Barrymore on Broadway was something generations of New Yorkers were once used to.
The Ethel Barrymore Theatre on 47th Street in Manhattan is named for her great-aunt, a legendary stage actress in the early 1900s.
Standing under a photo of her great-aunt, Cooper noticed Drew Barrymore shares the same profile with her ancestor.
"I don't wanna be too self-congratulatory about it, I just love the fact that we have this sort of family stamp," Barrymore said.
That Barrymore stamp graced silver screens from silent movies through the 1940s. Her great-aunt Ethel and her grandfather John Barrymore were considered the greatest actors of their generation.
Barrymore's great-uncle, Lionel, was a famous character actor, who will forever be known as the sinister banker Mr. Potter in "It's A Wonderful Life."
Acting has been the family business for hundreds of years.
"Going back to Georgiana Drew and John Drew, and my great-grandfather Maurice Barrymore, and it was such a sort of circus of odd, interesting people that loved acting," Barrymore told Cooper.
"There are Barrymores that have been acting since George III was in power," he noted.
"Like the 14th century, it dates back to the family tree and I thought, 'Well, I'm not crazy if I feel this magnetic bloodline pull to do this thing," Barrymore said.
She felt the pull as a child, but she'd been pushed into the business long before that: when she was just 11 months old, she starred in a commercial for dog food.
Her big break however came at the age of 6 in the blockbuster hit "E.T."
Her scene-stealing portrayal of Gertie made her an international star; movie audiences loved the precocious little girl, and so did director Steven Spielberg, who Barrymore calls her "Godfather."
"I've always said about Drew that she's tenaciously optimistic," Spielberg said. "And she had really the kind of imagination that not only invited E.T. into a reality within herself, but it invited all of us to believe that what Drew was seeing was true."
On the set between takes, Barrymore used to talk with E.T. She'd tell him her secrets.
"I liked hanging out with him. And I would bring him lunch, and put a little handkerchief around his neck," Barrymore remembered.
She knew he was a fake, but, "that red beating heart just said so much to me. And I just felt like I could talk to him."
It turns out the little girl with the famous family was pretty much on her own. Her father, an actor, who struggled with drugs and alcohol, was rarely around.
Barrymore's mom, who also acted, had to work to support them both. On the movie set, she says she finally found a home.
"When I did E.T., it sort of solidified the only family I know are these film crews. These gypsies. These filmmakers. That was the solidification and the clicking revelations of 'This is what I want to do with my life and this is where I'm going to survive,'" Barrymore told Cooper. "It was the perfect family."
Asked what it was like when the movie was over, Barrymore said, "That was the devastating part. Was just, 'Okay, it's over.' How do you keep this going?"
There were plenty of other acting jobs for Barrymore after E.T., but there were plenty of other temptations as well.
Her mom became her manager, but neither she nor her child seemed very much in control. By age nine, Barrymore and her mom were regulars at nightclubs in Los Angeles and New York.
Growing up, Barrymore says she had no discipline or a parental authority to tell her something was right or wrong. "Quite the opposite. It was more like, 'Can you get me into that club?' It was very excessive and wild and hedonistic," she said.
She started smoking when she was nine. "Not something I'm proud of at all."
She had her first drink around the same time. "I thought the two went really nicely together," Barrymore joked.
By age 11, she had smoked her first joint. Asked who gave her the marijuana, Barrymore said, "My friend's mom, actually, just to make it sound even crazier. Yeah. I was raised around, you know, hippies."
When she was 12 years old, Barrymore tried cocaine.
"Some people don't survive, though, that experience phase," Cooper remarked.
"Yeah, I mean, I also don't think that it has to be so heavy. You know? It's like, 'Oh, it's just so tragic.' No, it wasn't," Barrymore said.
"It was an extraordinary experience. I went through it. And I learned a lot. And did I learn it in front of everyone, which was righteously embarrassing? Sure. But you know what? It made me stronger," she said.
It may have made her stronger, but at the time it wasn't clear she'd get through it. At the age of 13 she was forced into rehab, and ended up in treatment on and off for more than a year.
"When you were in rehab, you dad called you," Cooper said. "But he was calling to ask you for money."
"Yeah," Barrymore said. "Great dad. Yeah, he would ask me for money on birthdays and, you know, inappropriate times. And I just wrote him off like, 'You're not a father.' I just learned you cannot emotionally invest in people who are not attainable."
She had also learned that she could legally separate herself from her parents. She discovered that - from of all places - a movie she starred in. It was called "Irreconcilable Differences."
At 15, out of rehab, Barrymore petitioned the state of California to emancipate herself, arguing she would be better off without her mother and father. The court agreed, and she was on her own.
"I did what I had to do to get there, which was play by the rules and re-figure out my life and disconnect myself from the people I knew and the lifestyle I knew. And you know, prove that I was a responsible citizen with a good head on my shoulders. And I did. And therefore, I was rewarded by being emancipated," she explained.
Barrymore got her own apartment, signed her own lease, and got a job working at a coffee house called "The Living Room."
"And my boss just hated me," she remembered. "At one point he was like, 'Go live your dreams and get out of my shop.'"
Her agents told her she was overweight and unemployable, but she missed acting and missed the impromptu families that film sets create.
"I missed my tribe," Barrymore said. "And I was really alone out there. And so I just started going on auditions again."
It took her years of TV movies and small roles in low-budget films, but Barrymore won Hollywood and audiences back. Her quirky sense of humor and "girl next door" appeal have made her a leading lady in a number of hugely successful romantic comedies.
"People seem to root for her no matter what the film is, no matter what role she's in or what she's doing," Cooper told Steven Spielberg.
"Well, you know, it's very easy to root for the little girl in E.T. And that little girl has grown up. But she's still the same character that she was in E.T. You know, she just has a kind of - she casts a spell," Spielberg replied.
Unlike many Hollywood leading ladies, she's remarkably approachable on screen and off. She never seems afraid to reveal too much, even if she sometimes goes too far.
In 1995, she made an eye-popping appearance on "The Late Show with David Letterman," doing a quirky dance on his desk before flashing him.
She says she has no regrets. "I felt like Pan. I was like, you know, in the forest, thinking that life was some hippy nudist colony and get on David Letterman's desk and just be free and have fun. And that's just who I was."
That is still part of who she is, but in Hollywood she is increasingly taken seriously as an actor and a producer.
This year, she was nominated for an Emmy, playing eccentric socialite Edie Beale, a woman made famous by the 1975 documentary "Grey Gardens."
As a producer, Barrymore has made movies that have grossed more than $900 million. The walls of her Hollywood office are covered with photos and movie stills she uses for inspiration.
"They just constantly remind me of what it is I'm trying to do," she told Cooper.
Her latest focus is directing. Her directorial debut is a film called "Whip It," an unusual coming-of-age story set in the world of Texas roller derby.
The little girl who grew up on movie sets is now in charge of them.
"You've created your own family," Cooper remarked.
"Absolutely," Barrymore said. "And everybody gets the chance to do that."
It's her friends who are now her family; many of them work with Barrymore on all her films. She currently isn't speaking with her own mother, and hasn't for a long time; she reconciled with her father shortly before he died in 2004.
"There are a lot of us little gypsies out there that need to go and find another place you know," she said. "A safer, healthier or just a different venue in order to develop and find ourselves. I am so lucky to live the life that I do."
Produced by John Hamlin
Thanks for reading CBS NEWS.
Create your free account or log in
for more features.