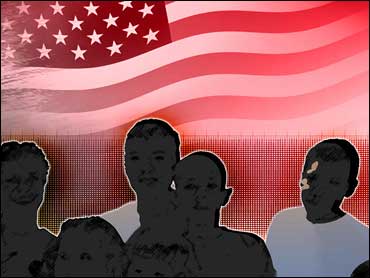 DREAM Act Dies in the Senate
Updated at 2:48 p.m. ET
The Dream Act, a bill to provide a path to citizenship for some illegal immigrants who entered the United States before age 16, died on the Senate floor on Saturday morning.
The failure of the bill - amid widespread opposition from Senate Republicans - is a major disappointment for Hispanic activists, who have grown increasingly frustrated with the lack of progress on immigration reform under President Obama.
The vote to end debate on the Dream Act and move to a final vote received only 55 votes, short of the 60 votes needed to overcome a Republican-led filibuster. Forty-one senators voted no.
Three Republicans - Indiana's Dick Lugar, Utah's Bob Bennett and Alaska's Lisa Murkowski - were among the yes votes. Five Democrats voted no: Max Baucus and John Tester of Montana, Kay Hagan of North Carolina, Ben Nelson of Nebraska, and Mark Pryor of Arkansas. The bill had already passed the House and is supported by President Obama.
Dream Act Passes House, Likely Doomed in Senate
The Dream Act would have allowed illegal immigrants to apply for citizenship if they entered the United States as children, graduated from high school or gotten an equivalent degree, and have been in the United States for at least five years. They must also have no serious criminal record and agree to complete two years of college or military service. Applicants would have had to wait ten years for citizenship, pay any back taxes and undergo background checks before gaining legal status.
While Democrats cast the bill as providing opportunity for upstanding young people who are not at fault for their illegal status, Republicans hammered it as offering "mass amnesty" that will encourage more illegal immigration.
The bill has little chance of passage under the new, more Republican Congress taking office in January.
Senate Majority Leader Harry Reid vowed to move on comprehensive immigration reform this year, saying in April there were "no excuses" for failure. Mr. Obama also called for movement on comprehensive reform this year. That didn't happen, but Hispanic groups, a growing and crucial voting bloc that largely backs Democrats, pushed for passage of the Dream Act as a first step in that direction.
Republicans say they are unwilling to take action on comprehensive immigration reform or any other immigration bill until America's borders are secure. They accused Democrats of moving forward on a Dream Act vote now for political purposes.
Illinois Democratic Sen. Dick Durbin, a leading proponent of the measure, strongly denied that claim before the vote. He showed photos of successful young people who could gain citizenship under the bill, including the leader of the UCLA marching band, and argued that the bill was about providing opportunity to those who deserve it. He also called for Republicans to back the bill in what he said would be an "act of political courage" for members of the GOP.
"This is our moment in history to show our courage," Durbin said, referring both to votes on the Dream Act and on repeal of the military's "Don't Ask, Don't Tell" policy that was also taking place Saturday. Young people who had traveled to Washington in hopes of convincing senators to vote for the bill looked on from the Senate gallery as he spoke.
After the vote, Durbin lamented the fact that Republicans rejected the proposal -- which previously had stronger bipartisan support -- even after Democrats made a number of adjustments to the bill to appease GOP concerns.
The failure of the Dream Act gives more ammunition to Hispanic leaders who have begun to publicly wonder why Democrats have failed to move forward on their priorities. It appears unlikely that many will move toward Republicans, however, in light of widespread support in the GOP for the controversial Arizona immigration law as well as the rhetoric from some Republicans on "birthright citizenship" and other immigration-related matters.
Democrats say comprehensive immigration reform should include provisions to improve border security and include stiff fines for those that hire illegal immigrants. They say illegal immigrants applying for citizenship should be forced to learn English, pay a fine and "get to the back of the line," in the words of Mr. Obama.
Durbin and other Democratic proponents of the Dream Act nevertheless insisted today they would continue try and pass the measure, as well as comprehensive reform.
"We have to have bipartisan buy-in" to pass comprehensive immigration reform, Sen. Chuck Schumer (D-N.Y.) said. He acknowledged that support isn't there now but said "it might happen" because of the "rightness of the issue" and also because of the political clout of the Latino community.
"I don't think any party can succeed writing off such a large part of America," he said, referring to the Hispanic vote.

Thanks for reading CBS NEWS.
Create your free account or log in
for more features.