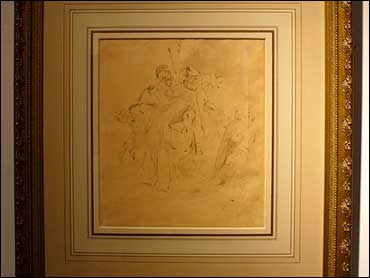 Drawing Of Masterpiece Found In Trash
A Eugene Delacroix drawing of one of his own paintings that hangs in the Louvre Museum in Paris has been returned to a gallery in Milwaukee, Wisconsin, nearly two years after it was stolen.
A man walked into DeLind Gallery of Fine Art on Friday afternoon and said he found the drawing in the trash, gallery director Michael Goforth said.
"I was literally crying when he returned this," Goforth said. "It's irreplaceable. It's a French national treasure."
The sepia drawing is called "Entry of the Crusaders Into Constantinople." Delacroix, a French romantic artist, drew the battle scene around 1840 as a study for a larger painting that hangs in the Louvre in Paris. The drawing was priced at $45,000 and had been owned by a private collector who gave it to the gallery on consignment.
A man who frequented the gallery was the only visitor there when the drawing was taken in July 2005, Goforth said.
Shortly after the man left, Goforth went to photograph the drawing for a prospective customer, he said. But the drawing was gone from the easel sitting on a table in another room.
Goforth was the only person working when the theft occurred. The gallery, which had no cameras at the time, has since upgraded its security, owner Bill DeLind said, declining to elaborate.
Police sent a detective to investigate, but because Goforth did not see the man steal the drawing, authorities could not search his residence, he said.
DeLind said he suspected the thief was someone he knew who had been leaving him messages and putting on his car fliers that contained a picture of the drawing and the words: "Have you seen this artwork?"
On Friday afternoon, another man walked into the gallery and told Goforth he found the drawing in the trash with the gallery's name on it, described the drawing to Goforth and asked him what he would give him for it.
Goforth knew it was the Delacroix piece and offered $100. The man left and returned with the drawing, asking Goforth not to involve police. Goforth agreed and gave him the money.
Milwaukee police Capt. Christopher Domagalski confirmed Friday night that a theft occurred at the gallery on July 21, 2005, and said the case was still open. He said police had not heard from the gallery.
At the time of the theft, the gallery's insurance company reimbursed the collector who lent it to the gallery. Goforth said he planned to contact the insurance company Monday and expected it to ask the gallery to sell the drawing for them.
He said he had no doubt the drawing was the original. "I knew it was the real deal right when I laid eyes on it," Goforth said.

Thanks for reading CBS NEWS.
Create your free account or log in
for more features.