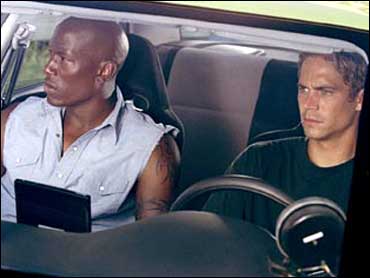 Drag Race Deaths, Fast Film Linked
William Lacasse Jr. had just pulled out of a gas station in his mother's Corvette when two cars zipped by and flashed their hazard lights at the 17-year-old in a challenge to race.
Lacasse floored it.
Moments later, he crashed into a concrete light pole and was killed - another victim in a string of deaths around the country that some are blaming on "2 Fast 2 Furious," a movie about street racers that hit theaters three weeks ago.
Illegal street racing has been around for decades, but police departments are stepping up traffic patrols around some theaters for fear drivers will try to imitate the risky stunts in the movie, the follow-up to 2001's "The Fast and the Furious."
Teenagers "think drag racing is a movie," said Miami police Lt. Bill Schwartz. "They don't understand that those people are stunt drivers, and that they can get killed."
Universal Studios said in a statement that any attempt to link accidents to its movie is unjustifiable and would "confuse cause and effect." The studio also fended off similar criticism of the 2001 movie.
The National Highway Traffic Safety Administration said that connecting fatal crashes to drag racing is difficult but that the year the first movie came out, at least 135 people died in accidents from possible races. That is almost twice as many as the year before.
In South Florida, at least nine people have died from illegal street racing in the past three years, according to the Florida Highway Patrol. No figures for previous years were immediately available.
In California, at least two deaths have been linked to the new movie, including that of a 15-year-old boy who was mowed down by a 13-year-old drag racer while playing basketball outside his home. In Georgia, a 17-year-old girl on her way to see the film died when her friend's car crashed in a race.
Lacasse's death June 6 in Miami was among several Florida accidents blamed on the release of the sequel. A racing accident in Miami hospitalized two families; a young woman lay in a coma after being hit by racers earlier this week; and a truck driver was killed Thursday in a fiery wreck caused by two racers.
Though his mother insisted Lacasse had not been racing, other relatives blamed his death on "2 Fast 2 Furious," which was filmed in the Miami area.
Lacasse's father, a police officer, told WTVJ-TV that his son was on his way back from seeing the movie. The elder Lacasse said he would never have let his son borrow the car if he had known the young man was going to see "2 Fast 2 Furious."
The California Highway Patrol recently arrested the drivers of six cars for racing on Interstate 280 in the San Francisco Bay area at more than 120 mph. The CHP said the six had ticket stubs in their cars indicating they had just seen "2 Fast 2 Furious."
In Texas, the police in Plano, near Dallas, posted extra officers on stretches of highway close to two big multiscreen theaters where the movie was playing. Police said the extra manpower succeeded in preventing any accidents.
Police in Boca Raton, Fla., stepped up patrols outside a theater as well and issued a remarkable 52 tickets for speeding and reckless driving on the movie's opening night.
Ryan Holroyd, 18, who has been drag racing at a South Florida racetrack for two years, said racing on the streets is foolish.
He called the street primitive compared with the track, where "if something does go wrong or you get hurt, there are ambulances. And you've got the lights and the timing."
"I see all these little import cars running around town cutting people off. It's stupid. There's no reason to drive like that. No respect for the car," Holroyd said.
By Holly Hickman
Thanks for reading CBS NEWS.
Create your free account or log in
for more features.