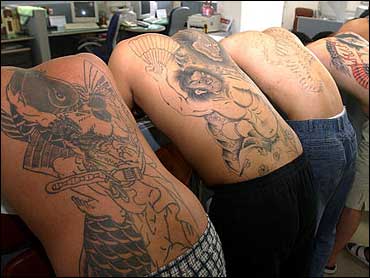 Draft Dodging South Korean Style
Koreans have a curse - "You should be tattooed!" - that reflects the ancient practice of using tattoos to brand thieves and slaves.
But a nationwide police search launched this month for men with tattoos has rounded up a new breed of criminals - young men who use the body art to try to evade the country's mandatory military service, crucial to its defense against communist North Korea.
About 170 men have been arrested for "willfully tampering with their bodies to avoid military duty" - a crime punishable by up to three years in prison. National media showed the disgraced young men, handcuffed, heads bowed and shirts removed to reveal large tattoos of dragons, scaled fish, birds and roses.
Although there is no law against tattoos, South Koreans consider them symbols of disgrace, often associated with gangsters. Likewise in Japan, tattoos carry a stigma for their association with the "yakuza" gangsters who cover their bodies with them.
South Korea's conscription law rules men with large tattoos unfit for the military because they cause "abomination among fellow soldiers."
Before they reach 30, able-bodied men must serve for at least 26 months in South Korea's 650,000-member military, which faces the communist North's 1.1 million troops across a heavily guarded border.
Most see military service as a sacred duty of manhood. By law, those seeking top government jobs or running for parliament must reveal not only their own service records but those of their children.
"In South Korea, you are not a man until you finish your military duty," says Chang Myong-ki, 40. "If you don't behave in a manly manner, they might ask you, 'Have you been to the military yet?"'
But some complain of having to interrupt careers and schooling to serve. Disenchantment has grown after repeated scandals showed many of the country's rich and powerful pay bribes or help their sons get U.S. citizenship to keep them out of the military.
Authorities regularly hunt for draft-dodgers. To win exemptions, some turn to overeating or fasting. Some have doctored X-rays or had surgery to damage ligaments or knee cartilage. A few have even feigned insanity.
With old perceptions fading fast, tattoos are increasingly popular among young South Koreans. Hundreds of tattoo artists operate illegally - without medical degrees, as required by law - soliciting customers through the Internet, and offering a new loophole for young men seeking a way out of the draft.
"There is a need to warn those who would do anything to avoid military service," Judge Kim Sung-keun said this month as he sentenced a 24-year-old father of two young children to eight months in prison for using tattoos to avoid conscription.
Authorities base their arrests in some cases on a suspect's history of military physicals. If a young man goes through one exam without overly large tattoos, but comes back for another round with an outsized dragon and secures an exemption, he would be under suspicion.
Investigators also have questioned tattoo artists about their customers' motives.
In the early 1980s, the country's military junta launched a crackdown on political dissidents and organized crime under its "campaign for social purification." Many with tattoos were sent to military-run camps, regardless of their criminal history.
"I am afraid that the draft-dodgers are bringing back the bad image to tattoos," said an operator of a Web site for tattoo-lovers, who gave only his last name Song.
In ancient times, Korean fishermen turned to full-body tattoos believing they brought protection from sea beasts and shipwreck. In old Korea, authorities tattooed "Thief" or "Stealer of Government Money" on the foreheads of criminals. Slaves wore tattoos on their forearms showing who owned them.
Confucianism, the centuries-old primer on social behavior, urged Koreans to "preserve the body, hair and skin inherited from ancestors."
Today, however, plastic surgery, hair dyeing and piercing are booming industries.
When soccer star Ahn Jung-hwan scored his winning goal against Japan earlier this month, he threw off his shirt and flashed tattoos on both shoulders.
"In the following days, I had 10 times more people visiting my Web site," said Kang Ho, a Seoul tattoo artist who calls South Korea's regulations on tattoos "out of date" and "ridiculous."

By Sang-Hun Choe
Thanks for reading CBS NEWS.
Create your free account or log in
for more features.