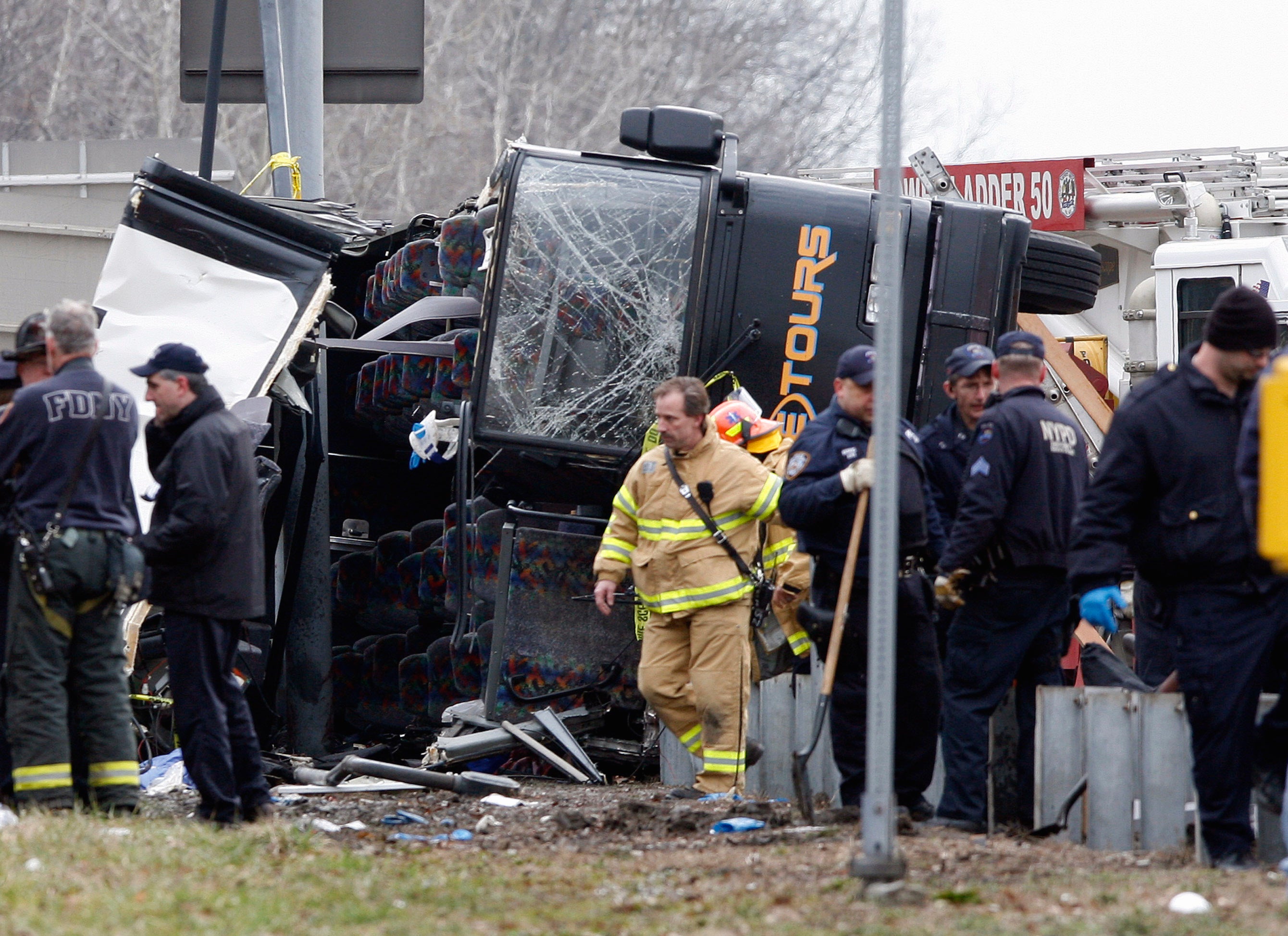 Dozens of "Chinatown" bus companies shut for safety violations
(CBS/AP) WASHINGTON - Twenty-six bus operations that transported more than 1,800 passengers a day along Interstate 95 highway between New York and Florida have been closed for safety violations in what U.S. officials say is the government's largest single safety crackdown of the motor coach industry. Most of the 233 bus routes serviced by the companies either departed from or terminated in New York City's Chinatown district.
"Safety is our highest priority," said U.S. Transportation Secretary Ray LaHood. "Especially during the peak spring and summer travel seasons, we are working hard to remove any bus or driver that places passengers and other motorists at risk on the road."
The U.S. Department of Transportation's Federal Motor Carrier Safety Administration (FMCSA) announced as part of the inspection process, law enforcement officers are inspecting brakes, lights and engine defects. Bus drivers are also inspected to ensure they are operating in full compliance with hours-of-service, medical fitness, commercial driver's license and other federal safety rules.
"Rain or shine, at any given location, federal, state and local police are on the ground conducting bus safety inspections that ultimately help save lives," said FMCSA Administrator Anne S. Ferro. "Our goal is to make bus travel as safe as possible - every trip, every time."
The motor coach industry transports more than 700 million passengers a year in the U.S., roughly the same as the domestic airlines.
Teams of officials for the Federal Motor Carrier Safety Administration, armed with legal orders declaring the bus operations imminent hazards to public safety, swooped down Wednesday on companies based in six states: Georgia, Indiana, Maryland, New York, North Carolina and Pennsylvania. Officials withheld details about the operation until Thursday.
The shutdown orders were aimed at the companies' headquarters and at bus pickup locations.
Besides the shuttered bus operations, 10 people - company owners, managers and employees - were ordered to stop all involvement in passenger transportation operations, including selling bus tickets, the Transportation Department said.
The shutdowns are the culmination of a year-long investigation by the safety administration that focused on three primary companies: Apex Bus Inc. and I-95 Coach Inc., both of New York, and New Century Travel Inc. of Philadelphia. Each of the three companies oversaw a broad network of other bus companies, officials said. The other bus operations targeted in the crackdown were companies that were affiliated with one of the three primary companies but have other names.
Phone calls and emails to the three companies seeking comment were unanswered.
Safety officials have long complained that their attempts to put unsafe bus operators out of business are frequently thwarted by "reincarnated carriers" that simply reopen for business under a different name or in a different location, or that transfer their buses to an affiliated company that shares similar ownership. Buses belonging to such rogue companies are known in the industry as "ghost" buses because they are frequently painted white with relatively little decoration to make it easier to repaint them with a new company name.
Bus industry officials said they have been urging the government to crack down on unsafe operators and were aware of the investigation before the shutdowns.
"These businesses have been doing all they can to operate far below the accepted level of safety," said Dan Ronan, a spokesman for the American Bus Association.
Federal safety investigators found all of the carriers had multiple safety violations, including a pattern of using drivers who didn't have valid commercial driver's licenses and failing to administer alcohol and drug tests to drivers, according to the safety administration. The companies also operated buses that had not been regularly inspected and repaired, and their drivers were violating work schedule and rest requirements and didn't have proper qualifications, officials said.
The safety administration began investigating the network of carriers operating along I-95 following a series of deadly bus crashes last spring.
On March 12, 2011, a bus returning to Chinatown from an overnight trip to a casino in Connecticut hit a barrier in the Bronx, toppled on its side and slid into a sign pole with such force that it was sheared in half from front to back. Of the 32 people on the bus, 15 were killed, and the rest were injured, some severely. The driver, Ophadell Williams, has pleaded not guilty to charges of manslaughter and criminally negligent homicide.
Documents released by federal accident investigators show the bus was speeding at the time of the accident and that Williams' driving privileges had been suspended 18 times over 20 years. World Wide Travel of Greater New York, the bus company, was ordered to shut down for safety violations after the accident. The National Transportation Safety Board is scheduled to hold a meeting Tuesday to determine the probable cause of the crash.
In May 2011, a bus traveling from North Carolina to Chinatown veered off I-95 in Virginia, hit an embankment and overturned. Four passengers were killed and 50 were injured. The driver acknowledged falling asleep, according to court documents.
There were 24 motor coach crashes last year, resulting in 34 fatalities and 467 injuries, according to an unofficial tally kept by Advocates for Highway and Auto Safety.
Thanks for reading CBS NEWS.
Create your free account or log in
for more features.