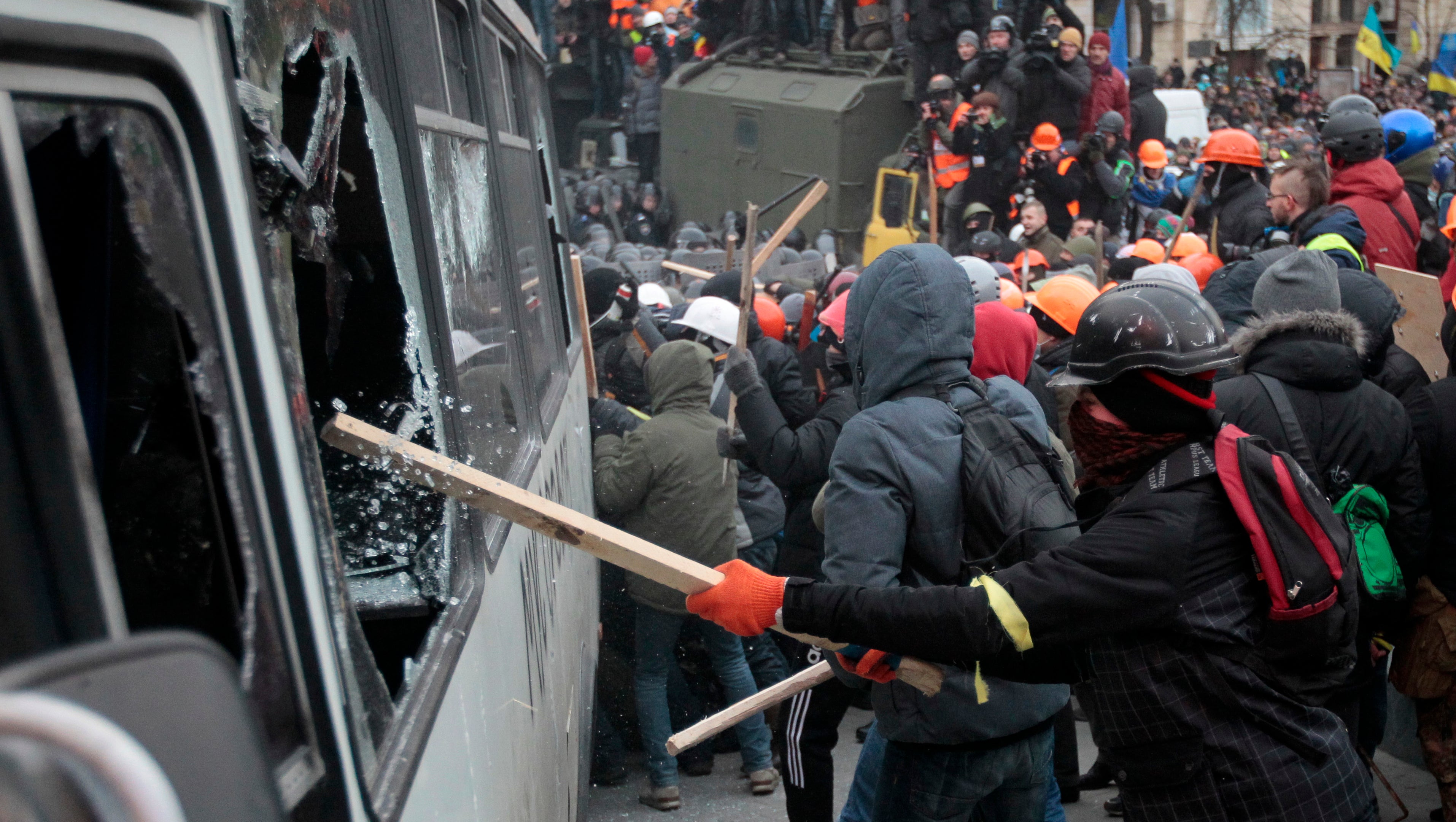 Dozens hurt as police and protesters clash in Ukraine
KIEV, Ukraine -- Anti-government protests in Ukraine's capital escalated into fiery street battles with police Sunday as thousands of demonstrators hurled rocks and firebombs to set police vehicles ablaze. Dozens of officers and protesters were injured.
Police responded with stun grenades, tear gas and water cannons, but were outnumbered by the protesters. Many of the riot police held their shields over their heads to protect themselves from the projectiles thrown by demonstrators on the other side of a cordon of buses.
The violence was a sharp escalation of Ukraine's two-month political crisis, which has brought round-the-clock protest gatherings, but had been largely peaceful.

Opposition leader Vitali Klitschko tried to persuade demonstrators to stop their unrest, but failed and was sprayed by a fire extinguisher in the process. Klitschko later traveled to President Viktor Yanukovych's suburban residence and said that Yanukovych has promised to create a commission to settle the crisis. Another opposition leader, Arseniy Yatsenyuk, said that Yanukovych had called him to offer negotiations.

The U.S. Embassy called for an end to the violence. "We urge calm and call on all sides to cease any acts provoking or resulting in violence," it said in a statement.

The crisis erupted in November after Yanukovych's decision to freeze ties with the European Union and seek a huge bailout from Russia. The decision sparked protests, which increased in size and determination after police twice violently dispersed demonstrators.

But anger rose substantially after Yanukovych last week signed an array of laws severely limiting protests and banning the wearing of helmets and gas masks.

Many of Sunday's demonstrators wore hardhats and masks in defiance of the new laws. They set several police buses on fire and some chased and beat officers.

Police responded with tear gas and stun grenades. Water cannons were also fired at the protesters in temperatures of -8 C (18 F), but the clashes continued.

The harsh new laws brought a crowd of tens of thousands to the protest at Kiev's central square on Sunday.

While most remained on the square, a group of radicals marched toward a police cordon several hundred meters away blocking an area housing government offices and began attacking riot police with sticks to push their way toward Ukraine's parliament building. The crowd then swelled to thousands.

The blasts of stun grenades echoed and plumes of smoke rose above the crowd. Activists chanted "Shame!" and "Revolution." The Interior Ministry said more than 70 police were injured, four of them seriously; there were no immediate figures for protester injuries.

The ministry also said a criminal case had been opened on charges of mass disorder; convictions under that charge could bring prison sentences of up to 15 years.

Klitschko's top allies, who stood by his side at the peaceful rally earlier in the day, didn't show up at the site of the clashes for the most of the day. Instead, they called for a peaceful means of protest from nearby Independence Square and condemned the clashes.

"No power in the country is worth losing at least one human life," protest leader Arseniy Yatsenyuk said from the stage at the central square as the clashes dragged late into the evening a few hundred meters away. "That is why I condemn the violence that took place just now."

Scores of opposition leaders and journalists have been attacked, harassed and prosecuted, since the anti-government protests started Nov. 21.

Yanukovych's government has ignored previous demands made by the opposition.

Opposition leaders denounced Yanukovych's legislation as unconstitutional and called for the formation of parallel governing structures in the country.

"The power in Ukraine belongs to the people," Yatsenyuk said.
Thanks for reading CBS NEWS.
Create your free account or log in
for more features.