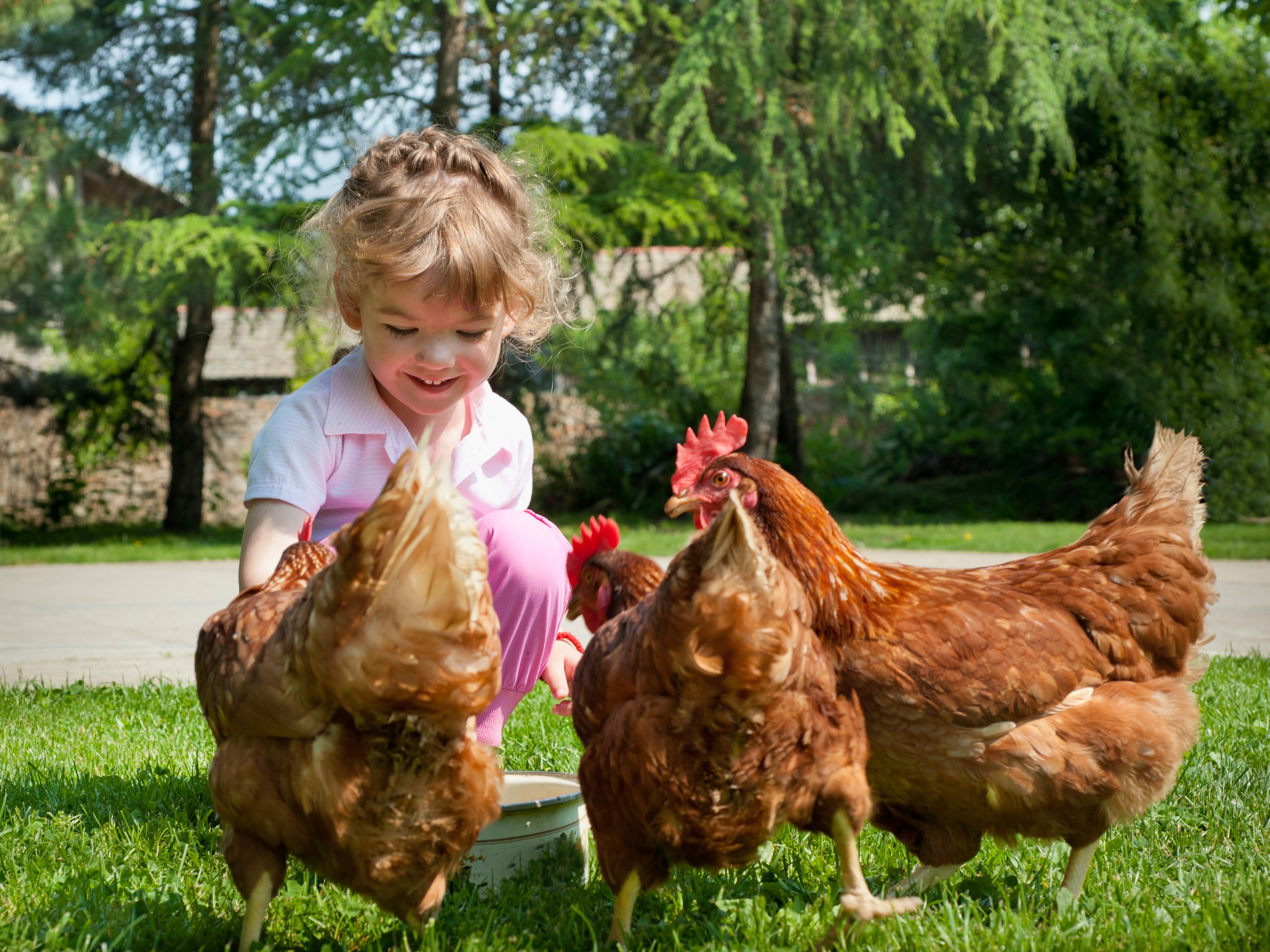 Don't kiss your chickens: Backyard flocks spread Salmonella, CDC warns
Beware: Kissing a chicken could make you sick. As a growing number of Americans embrace the back-to-nature trend of raising their own backyard poultry, federal health officials warn that unsafe (and overly affectionate) handling can spread Salmonella.
So far this year, the Centers for Disease Control and Prevention says at least 181 people in 40 states have been infected with Salmonella from direct contact with live poultry such as chicks, ducklings and chickens, many of which were kept in small backyard flocks. Thirty-three people had to be hospitalized.
"Many ill people in these outbreaks reported bringing the live poultry into their homes, and others reported kissing or cuddling with the live poultry," the CDC said in a statement. "These behaviors increase a person's risk of a Salmonella infection."
Kissing and cuddling chickens? It happens all the time, according to Traci Torres, CEO (Chief Eggsecutive Officer) of MyPetChicken.com, a leading online retailer of backyard chickens and supplies. "People are definitely snuggling with their chickens," she told CBS News. "Just after you handle them, make sure you wash your hands well." Torres, who keeps two dozen chickens herself at her home near the company's headquarters in Monroe, Connecticut, says in her experience, many families consider them lovable pets, and children may be especially tempted to nuzzle up with a baby chick.
"I do recommend against kissing your chickens," she added.
Torres says this issue has actually been on the radar for years among people involved in poultry care, but she believes there's little reason to worry as long as they follow safe practices.
"Instances of Salmonella in backyard flocks are much lower than commercial processors," she said. "Salmonella is in poop, it's in dirt -- you can get it any time you don't wash up properly. We recommend, just like the CDC, some common sense preventions: always wash with soap and water or use a hand sanitizer. We recommend people keep a hand sanitizer in their coop."
No one keeps tabs on exactly how many Americans are raising chickens in their backyards, but the numbers have been increasing in recent years. A decade ago, when Torres was getting into the business, she says the online community backyardchickens.com had "maybe 4 or 5,000 members. Now it's over 350,000." Most keep chickens as pets or to enjoy a steady supply of fresh eggs. "Ninety-five percent of our customers name their chickens, and nobody's going to eat someone that they've named," Torres said.
But even seemingly healthy chickens need to be handled carefully: "Live baby poultry can carry Salmonella and still look healthy, but can spread the germs to people," the CDC warns.
In recent months, investigators traced some of the Salmonella cases to young chicks and ducklings purchased at a number of different hatcheries around the country. Contamination can occur in a number of ways, including mice or rats tracking the bacteria into a chicken coop. Torres said chickens fed a healthy diet of whole grains tend to have a lower level of Salmonella in their guts, but the risk cannot be eliminated completely.
Salmonella is a bacteria that more typically spreads through eating contaminated food or undercooked poultry. Symptoms include diarrhea, vomiting, abdominal cramps and fever; young children, the elderly and people with compromised immune systems are especially at risk for severe illness and potentially life-threatening complications.
Between 1991 and 2012, the CDC says 45 outbreaks of Salmonella were linked to contact with live poultry, accounting for more than 1,500 cases of illness and 5 deaths. That's just a tiny fraction of the estimated 1.2 million Americans who get sick from Salmonella each year.
For people who want to keep a small brood in their backyard, the CDC offers the following safety tips:
Wash your hands thoroughly with soap and water right after touching live poultry or anything in the area where they live and roam. Adults should supervise hand washing for young children. If soap and water are not readily available, use hand sanitizer until you are able to wash your hands thoroughly with soap and water.
Do not let live poultry inside the house, in bathrooms, or especially in areas where food or drink is prepared, served, or stored, such as kitchens, or outdoor patios.
Children younger than 5 years old, adults older than 65, and people with weakened immune systems should not handle or touch chicks, ducklings, or other live poultry.
Do not snuggle or kiss the birds, touch your mouth, or eat or drink around live poultry.
Stay outdoors when cleaning any equipment or materials used to raise or care for live poultry, such as cages or feed or water containers.
Don't eat or drink in the area where the birds live or roam.
Don't give live baby poultry as gifts to young children.
Thanks for reading CBS NEWS.
Create your free account or log in
for more features.