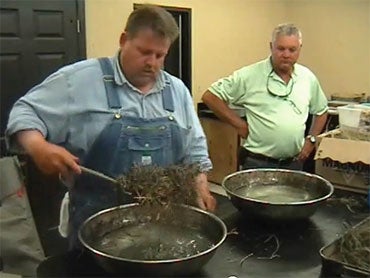 Don't Fear Halloween Costumes!
Fifty percent of parents make Halloween costumes for their kids, and fifty percent buy them, FamilyFun magazine contributing editor Lee Woodruff told The Early Show co-anchor Rene Syler.
"It depends on how much time you have, how creative you are, and also what the kids want — some have really set ideas on who they want to be," Woodruff says.
She offered a wide range of suggestions on directions spooked parents could go in, with the holiday fast approaching.
STORE-BOUGHT COSTUMES
Some of the most popular ones available in stores focus on characters from the big screen. Aside from the usual superhero favorites such as Spider-Man, characters from recent animated films like "Shrek" and "Shark Tale" have captured the imaginations of many kids
They include:
DELUXE CHILD SHREK & SHREK DONKEY COSTUME
Price: $34.99. Available at Costume Craze.com
DISNEY PRINCESS COSTUME COLLECTION
Cost: $34.98. Available at disneydirect.com
LENNY & OSCAR COSTUMES from SHARK TALE
Cost: $27.49. Available at CostumeCraze.com

HOMEMADE AND STORE-BOUGHT COSTUMES

FamilyFun has some fun homemade costume ideas in its October issue and more than 100 more on its Web site, FamilyFun.com. The costume creations can even be expanded to include an entire family. For instance, FamilyFun's "Farmer Rings the Bell" is shown as a toddler costume, but the rest of the family can easily dress up as well in the farm-related theme. Parents overwhelmed with too little time can mix the homemade with the store-bought, especially with so many cute plush costumes for sale. Not only are they adorable, but they're hassle-free and warm.
FARMER FAMILY
Farmer Mom and or Dad, as well as kids, can easily be made by pairing jeans or overalls with a flannel shirt and straw hat. Those that have a Radio Flyer wagon can use it to shuttle young kids around. Related costumes include farm animals and a sunflower.
FARM ANIMAL COSTUMES
Tom Arma makes adorable animal costumes (rabbits, pigs, lambs, etc.) for babies and tots. Cost: $49.99. Available at LillianVernon.com
ROOSTER
From Rubies, the largest costume manufacturer.
Cost:$30.00. For retailers go to rubiescostumecompany.com

HOMEMADE COSTUMES
You don't necessarily have to be crafty to make your own costume. There are many easy and inexpensive options. Anything to do with nature or animals is always a hit among the younger set, as well as characters or TV personalities from children's programs.
BLUE BUTTERFLY
The hat, boots and plump belly for this costume are made with batting -- making it just right for those cool autumn nights when most little creatures prefer to stay safely tucked into their cocoons. The wings are made from cardboard, cellophane and paint.
JUMBO ELEPHANT
A warm and wonderful costume easily made from an old grey sweat suit with a few snips and tucks, and a bit of paint.
CONSTRUCTION WORKER
The well-known children's program "Bob The Builder," as well as the many hit home improvement shows, have made dressing up as a construction worker a popular choice among kids of many ages. Super easy to pull together with jeans, a flannel shirt, construction boots, and a toy hard hat and tool belt.
CROCODILE WRESTLER
An appealing costume for those kids who are fans of TV personality Steve Irwin from Animal Planet's "Crocodile Hunter." Pair a khaki button-down shirt with khaki cargo or walking shorts. The crocodile is made from foam and paint.
BUBBLE BATHER
FamilyFun.com's all-time number one costume came from one of the magazine's readers! Made with balloons, an old tub and pink sweatsuit.
BAG OF GROSS-EERIES
This costume, also from FamilyFun's October issue, fills the bill for kids who like the gross-out factor. Most of the artwork can be printed out from FamilyFun's Web site.
Thanks for reading CBS NEWS.
Create your free account or log in
for more features.