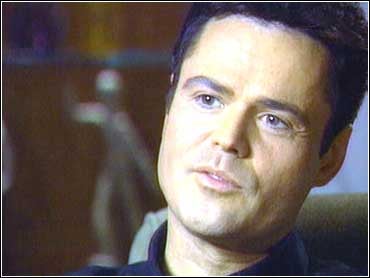 Donny Osmond Confronts Panic
Donny Osmond has been performing in public since he was 5 years old.
"I grew up in front of a television camera," said Osmond, the former child star who in recent times has hosted a daytime talk show.
"Once that camera turned on, once I got on stage, once I heard the roar of the crowd, and I heard the music, whew! I was on Cloud Nine," he remembered.
But the stage also terrified him. About four years ago, he was diagnosed with social anxiety disorder, a condition that causes an irrational fear of social or performance situations. For Osmond, that fear exploded into panic attacks, as 48 Hours' Harold Dow reported in February.
---
"There are times I remember before I walked on stage," he said, "where if I had the choice of walking on stage or dying, I would have chosen death."

Osmond's problem has its origins in his childhood stardom. He first began feeling anxious when he was 11. Being a star at such a young age "took its toll," he said.

"Ever since I started in the business, I knew at least somebody in that audience is looking at me all the time," he said. "So I've got to be perfect."

His sister Marie, who had coped with her own marital crisis - a separation - remembered seeing her brother struggle with his fear.

"When we worked together on the previous show in the '70s, there would be times he would be in his dressing room, and he would just, you know, have really really difficult times," she said. "I just thought he was over-stressed."

Like many child celebrities, Donny had trouble making it as an adult star. When he finally had another hit as the star of the musical Joseph and the Amazing Technicolor Dreamcoat, he felt even more stress than he had as a child.

"Now the pressure was even greater to be perfect," he said.

The pressure triggered a full-blown panic attack. "I thought I was actually going crazy in my mind," he said. "I remember shaking in bed, and I just, I couldn't get out of bed. Something was wrong, and my wife took me to the hospital."

"I felt like he was having a nervous breakdown," said his wife Debbie. "He kept saying, 'I can't stop shaking; there's something wrong with me.'"

At one point, he was having trouble performing. The musical's producers brought in therapist Jerilyn Ross to work with their star.

Ross, who runs the Anxiety Disorders Association of America, diagnosed Osmond with social anxiety disorder.

She believes that the problem started when Osmond was a child performer. Said Ross: "He was judged as a tiny child - if he missed a step when he was dancing or he didn't hit a note or he wasn't funny enough. I mean these are incredible pressures for anybody."

To help him overcome it, she showed Osmond how to confront his fear. "I kind of taught him to play with the fear, instead of running from it," said Ross, who hersel has suffered from panic attacks. "He was telling me he gets butterflies in his stomach. I said, 'OK, let's let the butterflies fly in formation. Let's give them a color, even a name.'"

The exercises worked. After three days of therapy, Osmond learned to deal with his problem. He sometimes still struggles with fear, but says he now knows how to work through these moments.

"I know when I walk out there, I'm not going to give the best performance," he said. "I'll make a mistake. I'll trip. I'll do something stupid. But it's OK; you pick up and just move on."

Panic: Main Page
Thanks for reading CBS NEWS.
Create your free account or log in
for more features.