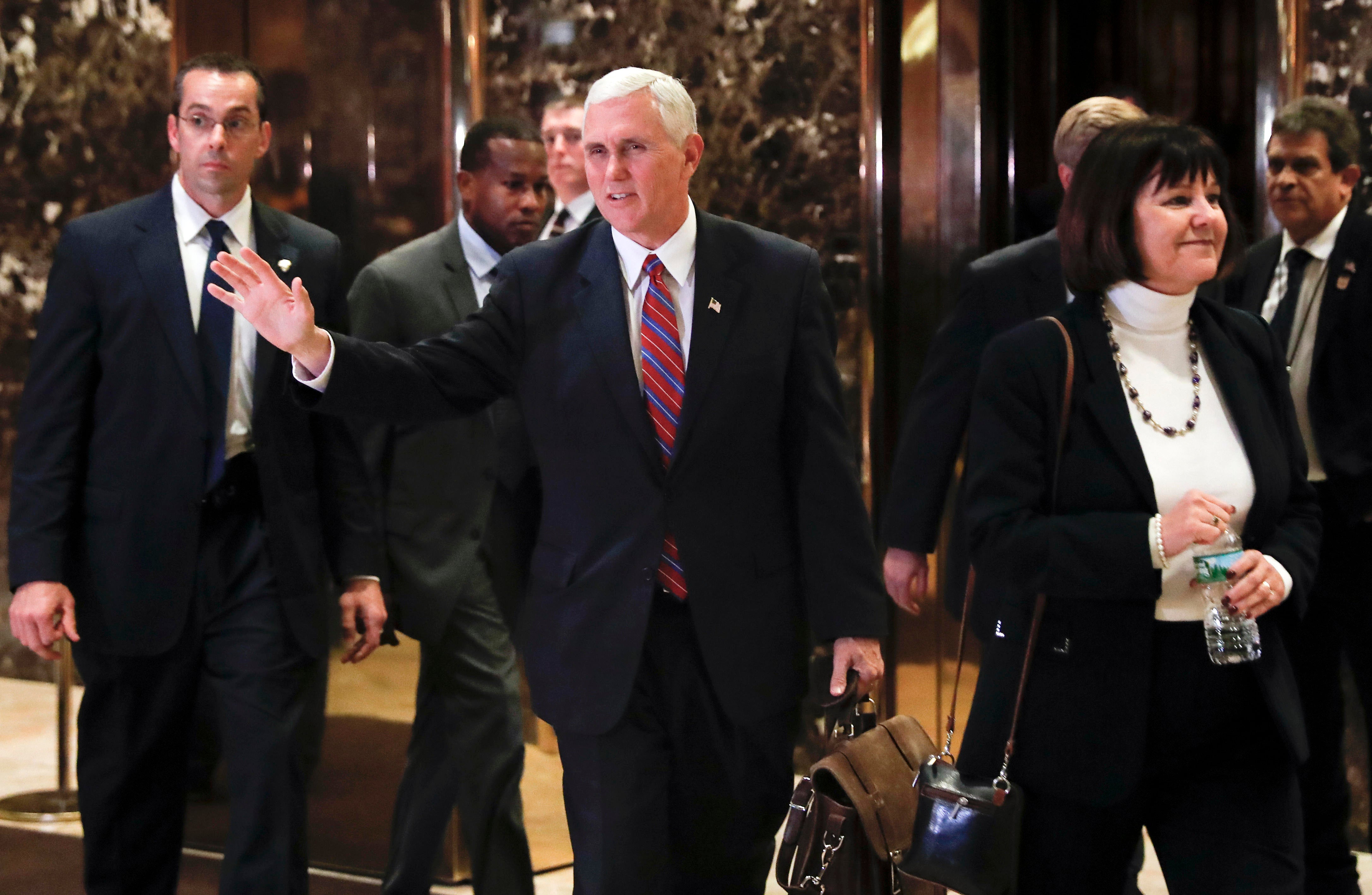 Mike Pence revamps Trump's transition team, purging lobbyists
President-elect Donald Trump continues to shake up his transition with only 65 days until he assumes the Oval Office.
Mr. Trump's advisers were coming and going from Trump Tower Tuesday amid a flurry of changes to his transition team. The Trump transition is revamping almost everything. Vice President-elect Mike Pence -- who now heads the transition -- purged the team of the many registered lobbyists, leaving them short-staffed but closer to Trump's campaign promise to "drain the swamp."
On Twitter last night, Mr. Trump seemed to be responding to reports of internal chaos, saying the process of choosing his Cabinet is "very organized," and only he knows "who the finalists are."
On Wednesday morning, Mr. Trump took to Twitter to deny a New York Times story that depicted chaos in the transition process.
Advisers insist stories of infighting are overblown, but agree there is an amateur look and feel to their first week on the job, reports CBS News correspondent Major Garrett.

The president-elect tried to sneak out of Trump Tower for dinner Tuesday, after staff told reporters he was in for the night. His meal was captured by fellow diners, instead of the traveling press.
Earlier, Mr. Trump and advisers met with Vice President-elect Mike Pence for more than six hours to get the transition back on track, discussing Cabinet nominations and early legislation.
Former Goldman Sachs partner and Trump loyalist Steven Mnuchin is the frontrunner for treasury secretary.
Alabama Sen. Jeff Sessions is now favorite to serve as attorney general.
Also at Trump Tower was one-time campaign rival Ted Cruz and retired Lt. Gen. Keith Kellogg, a national security adviser during the campaign.
Also joining the national security transition team is Frank Gaffney Jr. -- labeled by the Southern Poverty Law Center as "one of America's most notorious Islamophobes," and who last year defended Trump's proposed Muslim ban as "common sense."
Questions are being raised about Mr. Trump's top picks for secretary of state – Rudy Giuliani, whose private team reportedly held contracts with the government of Qatar.
Giuliani has also given paid speeches to an Iranian opposition group that was once on the State Department's list of terrorist organizations.
After defense hawk John Bolton's name surfaced as another possible head of state, Republican Sen. Rand Paul objected, calling him "unfit" for the job.
"You want to have a diplomat in charge of diplomacy, you don't want a bomb thrower," Paul told CNN. "I think Giuliani and Bolton are very similar, Bolton just has a more extensive cheerleading background with regard to war in the Middle East."
Republicans currently have just a narrow one-seat majority in the Senate, meaning any defection -- by senators like Rand Paul -- could pose a serious roadblock to confirming Mr. Trump's top Cabinet picks.
Mike Pence heads to Washington Wednesday to tour his new home and have lunch with Vice President Joe Biden at the Naval Observatory.
Thanks for reading CBS NEWS.
Create your free account or log in
for more features.